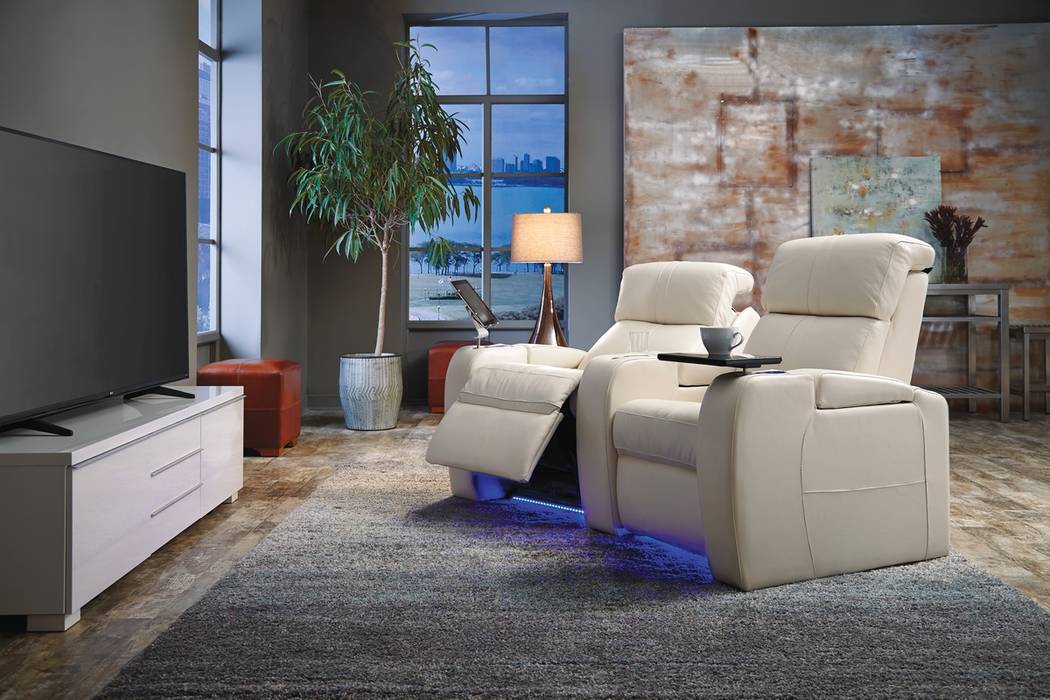 The "modern" upholstered reclining chair was introduced as home furniture in 1928. However, the earliest known recliner was actually developed in the mid-1800s for Napoleon III, the nephew of French emperor Napoleon Bonaparte. He wanted a portable chair that could convert into a more comfortable lounger and then lay all the way down into a cot for sleeping.
That was then and this is now. The new mantra being chanted during the Winter 2017 Las Vegas Market, the furniture and home decor trade show held in January, was "This ain't your grandpa's (or Napoleon's) recliner." Reclining furniture has combined technological innovations from the automotive industry and integrated it with contemporary designs.
Recliners still have the built-in footrest and can be set in one of three positions: the normal "closed" position, the fully reclined position and a position halfway between these where the footrest is extended but the back is still upright ("TV" position).
The two most popular recliners are pressback and handle. Pressbacks have no handles or levers but operate by movement: lay back by pressing against the back of thechair.Handle recliners rely less on body strength and therefore need less wall clearance than pressbacks because the entire base actually slides forward as the back lays down. This reduces the overall space needed behind the piece.
Larry Crink, president of sales and product developments for DeLandis Furniture, was showing recliners that look like a stationary piece of furniture.
"Design is everything," he said. "Study the recliner, or motion furniture as we sometimes call the product, and look at the front and back. The long side handle has disappeared and replaced with a button with electronic capabilities that controls all chair and headrest movement.
"Most are slimmed down and tapered. We still carry the oversized traditional looking recliner that many people still prefer, but the product is changing with the times."
According to Crink, young people have taken an interest in recliners and want something modern — not the old-fashioned recliners they remember from their parent's home. They want an integrated, multifunctional system for entertainment, computing, sleeping, wardrobe and storage.
"Millennials are buying recliners that are traditional but with style," he explained. "The newer models are sleek and not clunky. They are equal to a stationary chair but with more attributes. That's because individuals are sitting in them as they work on their laptops, recline to watch television, read a book, spend time on the phone, or adjust the chair to lay back and take a nap. These recliners are made with luxury leather and other fine upholstery materials and are competitively priced."
Crink pointed out that many homes now have extensive entertainment centers, maybe a room with a 66-inch television screen and sophisticated sound system.
"We're showing recliners that seat two people with all the amenities of a single recliner," he said. "These units have USB ports because people are spending more time in the recliner with all their electronics. This is not disposable furniture. It can last a lifetime."
Cameron Sellers is director of marketing at Palliser Furniture. Palliser chairs come with oversized buttons that move a chair from upright to full lift.
"These multifunctional chairs can recline all the way back to where the legs are elevated," she said. "For an older person with health issues, this is important if the person has problems with his or her legs or swelling of the feet.
"Later, the chair can lift to a standing position where the person can just walk away. There's no need to sit and rock in an attempt to get momentum to stand up."
Another Palliser collection of recliners is called Zero Gravity.
"This collection takes comfort, health and wellness to a whole new level," she said. "Think about astronauts at liftoff. The zero gravity position, developed by NASA to counter G-force stress during rocket launches, evenly distributes body weight from head to toe.
"You can fully invert the recliner with power push buttons and have adjustable control over infinite seat and back positions. Pressure or pain or stress on the back, neck and hips can be diminished for a truly unique sense of relaxation."
Palliser offers recliners in more than 200 fabrics and a variety of colors that can be coordinated with other pieces of furniture.