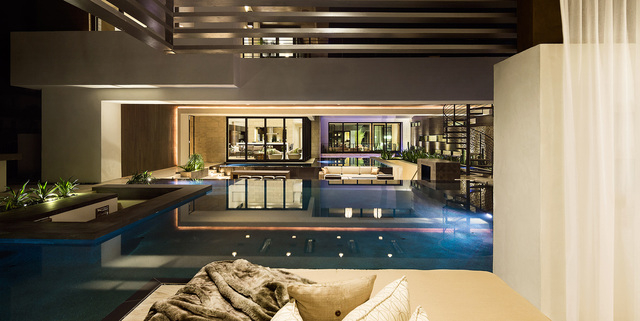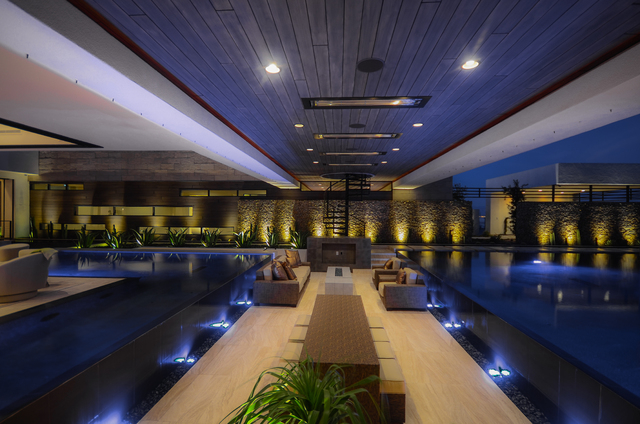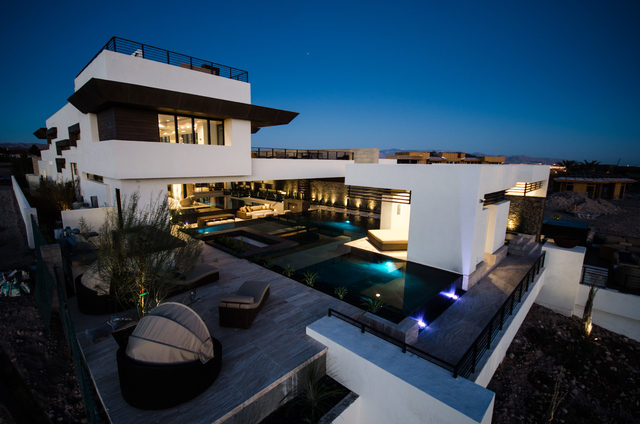 There was a time when "outdoor living" meant a wheeled barbecue grill and a few lounge chairs on the backyard patio deck, but today it's as if homes have been picked up and turned inside out.
Builders and designers are bringing interior comforts into the backyard with everything from full kitchens to living-room spaces dotted with cozy furniture and flat-screen TVs. Swimming pools, often created as entities unto their own, are also being integrated into the designs of these outdoor retreats.
It's not just about dropping a pergola and some chairs onto the pool deck and calling it an outdoor family room, but creating more of a seamless transition between home and yard that is both functional and pleasing to the eye, according to experts.
"Before, going back 10 years, people would say, 'I want to swim laps, my kid would love to play volleyball,' things like that, whereas today as important as that is: How does it look? How can I make it look aesthetically pleasing and move it from the inside to the outside?" said Mitch Martinez, general manager of Anthony &Sylvan Pools, Las Vegas, which recently received a 2014 Luxury Pools magazine Pinnacle Award for excellence in pool construction and design.
Achieving this kind of indoor-outdoor transition can mean bringing the home's interior flooring into the backyard and opening up patio areas onto the pool deck "so that everything kind of flows into the design," Martinez said.
Pool decks are being constructed out of materials such as travertine pavers, stamped concrete and stone-washed aggregates to add color and texture, as well as complement the surroundings, he said.
Something resorts do quite well is bring in elements that add to the entire pool experience and homeowners are gravitating toward this as well. Details such as fire pits and spas are always popular with residents, but now the idea is to blend them with the pool rather than treat them as separate elements, Martinez said.
There are also more requests for amenities such as sunken bars that are built at pool level so swimmers can just paddle up, lean their elbows on a countertop and eat or drink, as well as options such as in-pool lounging spaces, he said.
"You can have wet steps or little shallow entry areas to the pool where you can put lounge chairs into the water, and maybe adjacent to that would be where they could put an actual seating couch, coffee table, so you have kind of a living room around the pool," he said.
Homeowners also venture away from the white, plaster finishes that have always given pool water its sky-blue color. Today's darker, aggregate surfaces turn the water a richer shade and provide a reflective quality so that the pool is essentially mirroring the surrounding landscape, Martinez said. Also, aggregate surfaces with pebble-shaped glass beads, for example, or abalone can add some sparkle as the sun hits the pool floor, he said.
Martinez also noted that simple, linear pool designs are the most requested across all price points and he doesn't see that changing. Straight lines "always kind of stay in vogue" as opposed to the kidney shape or free-form, lagoon style that has essentially come and gone, he said.
At the high end of the market, beauty in simplicity is being taken to a new level, as well as this turn toward integrating inside and outside living.
Blue Heron, a local developer of luxury residences that works with Anthony &Sylvan, artfully fuses water throughout its architecture, with elements such as trickling water walls that flow from one level of a home to another, and long, narrow water troughs that mirror the surrounding light and shadow.
The backyard pools are what owner and co-founder Tyler Jones calls "huge water features" that bring together both beauty and function. Their vanishing borders, for example, skim the edges of outdoor pathways and open-air rooms that appear to be floating on the water. Interior and exterior essentially appear to be an extension of one another.
At the same time, homeowners can open the giant doors of media rooms with drop-down screens and watch a movie from across or in the pool, or cool off their homes with cross breezes that skim the water.
"Really, what it comes down to, it's about how do you utilize these water features. You know, their beautiful to look at … but whether it's a family or people who are just entertaining a lot, we want to make them always very functional," Jones said.
"We have clients that tell us that they spend just as much time in these outdoor spaces that they do inside and that makes us really happy, and that's the whole idea of it," he added.
Anthony &Sylvan Pools has partnered with Blue Heron several times in creating The New American Home that is the showcase of the National Association of Home Builders International Builders' Show. The two companies will collaborate on the 2015 New American Home, which will be unveiled during IBS Jan. 20-22 in Las Vegas.