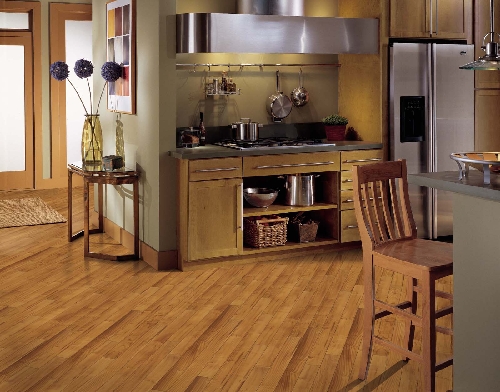 DEAR DESIGNER: We are redoing the floor in our kitchen and would like to have some information about vinyl flooring instead of the tile flooring we currently have. In advance, thank you for your assistance. — Emily
DEAR EMILY: Given the advances in technology and manufacturing today, vinyl flooring is a great alternative to hard surfaces like ceramic or porcelain tile. Until a few years ago, I was not a fan of vinyl flooring and would have recommended replacing your tile with a newer style of tile or wood. Because today's vinyl flooring is stylish, durable and practical, I've become an admirer.
Sometimes people get vinyl flooring confused with linoleum flooring. Although both are resilient flooring choices, there are a few differences that may help you decide which is best for your application.
Linoleum flooring started appearing in European markets around 1860, and started being produced in America in 1872. Linoleum is from the Latin word "linum," which is the word for linseed, and oleum means oil. Linoleum is made up of raw and natural ingredients: linseed oil, pulverized limestone, wood flour and cork dust. It is considered one of the more "greener" floors, when you don't consider the energy used in manufacturing and shipping. Because of strict Environmental Protection Agency laws, most of it is now manufactured in Europe and must be transported here.
Linoleum is a durable floor that is made by inlaying little chips and pieces of solidified natural products, making it a solid product. It comes in varying thicknesses and usually comes on a roll that is 6-foot, 7-inches wide. It resists spills and has a lot of design variety, but not as many as vinyl. Linoleum is pricier than vinyl. Its design is consistent throughout the thickness of the product, making it a good choice for high-traffic areas.
Vinyl flooring has been around since about 1947. Vinyl is a man-made product made of chlorinated petrochemicals. It is made up of three or four layers. The bottom layer is usually made of felt or vinyl. The next layer is a printed layer. On top of that is a clear wear layer that will protect the printed layer from scratches and wear.
In higher-quality vinyl there is an additional foam layer under the printed layer, and sometimes an enhanced urethane protection on top. You pretty much get what you pay for in vinyl floors and their prices range from very inexpensive to average.
With the help of computers and cameras, vinyl has a broad range of design. You can have an inexpensive, durable floor that looks so much like ceramic tile or wood, your guests will need to touch it in order to believe it is not real. There have been countless occasions where I was in a room, standing on a vinyl plank floor and would hear someone say, "I love this wood floor." I am always surprised at how good it looks. When you look at the pictures accompanying this article, you can see what a great looking vinyl plank floor Armstrong makes.
Vinyl plank flooring comes in various plank sizes and is installed by interlocking one plank at a time. Vinyl tile is in the shape of tiles; some have printed grout lines, while some do not. Like linoleum, you can get vinyl in sheets instead of tiles or planks. But unlike linoleum, which is a good quality product, roll vinyl is usually at the lower end (quality and price) of the product line and should be used in areas where there is not a lot of traffic.
Vinyl floors have always been great for kitchens and bathrooms. Now I can comfortably recommend using vinyl plank flooring in family rooms, dining rooms and living rooms when a nice area rug is included in the flooring budget.
Both types of flooring, linoleum and vinyl, can be appreciated when a glass dish is dropped on them. Although there are no guarantees the glass won't break, your chances of the dish staying in tact are much greater on these resilient floors.
Both floorings give the room a warm feel. You can walk across them in bare feet on a cold night and not get the chill you feel with ceramic tile. The urethane coating on top makes these floors easy to care for. Sweep, dust and damp mop and you are done. The only places vinyl and linoleum are not recommended are on steps.
I have always been a person who likes natural surfaces. I love wood, stone, granite and almost any product of nature. But I am truly impressed by the great look and function of these newly designed vinyl floors. I enjoy suggesting them in my design plans when it serves my clients' need for function and style.
Cindy Payne is a certified interior designer with more than 25 years of experience, a member of the American Society of Interior Designers, as well as a licensed contractor. Email questions to her at deardesigner@ projectdesigninteriors.com or send them to her at Project Design Interiors, 2620 S. Maryland Parkway, Suite 189, Las Vegas, NV 89109. She can be reached online at www.projectdesigninteriors.com.