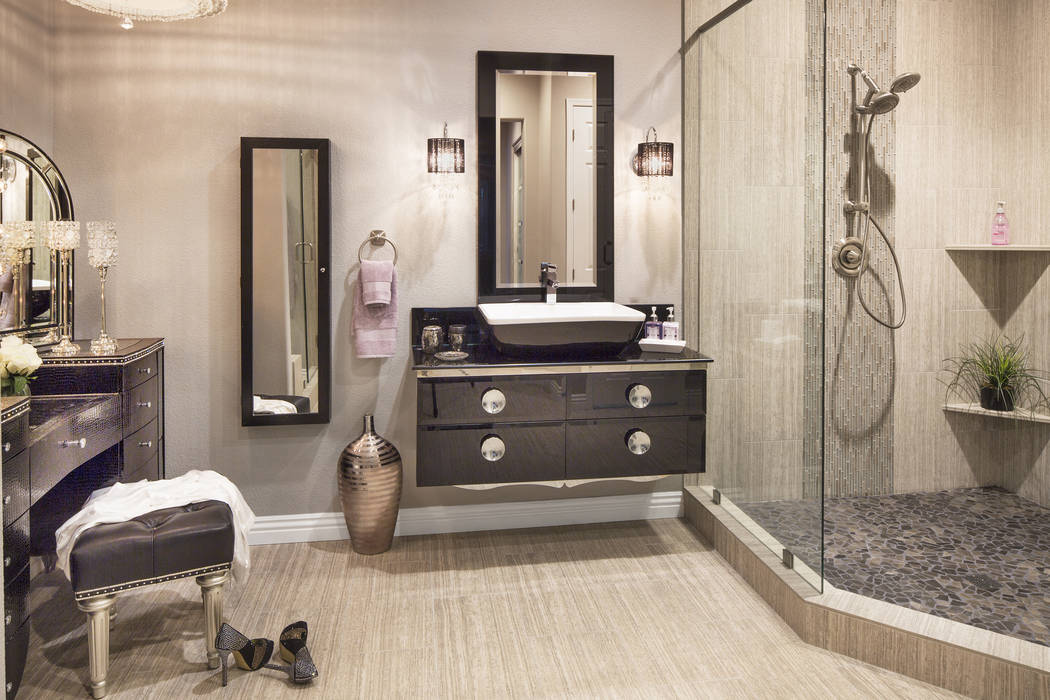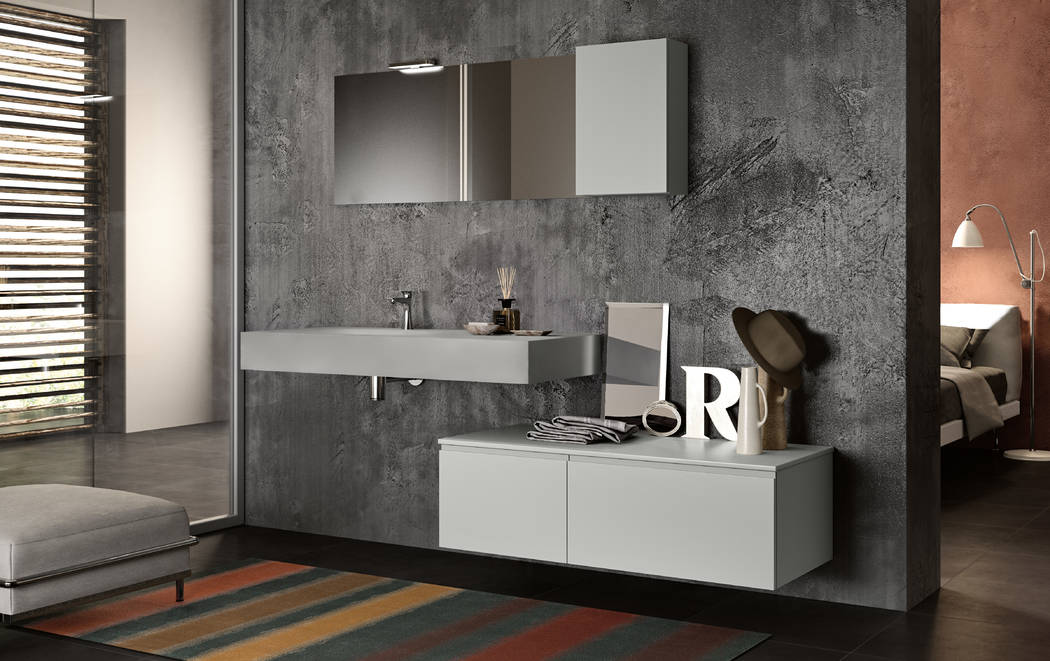 Some do-it-yourself bathroom remodelers, in the name of cost-effectiveness, will opt for an inexpensive sink-vanity-cabinet combo package from a local home improvement store. It's a typical move that may work for a small guest bathroom or powder room, but unfortunately, it can also create some storage dead space and mess in the long haul.
That bulky cabinet can become a dusty catch-all for toiletries and household items, and the footprint of the all-in-one package may take up too much room if bathroom space is limited. In this situation, opting for a wall-mounted vanity can give a small space a functional and aesthetic lift.
Jane Cunningham, principal designer and owner of Las Vegas-based Room Resolutions, gets a lot of requests for wall-mounted vanities and toilets these days. Wall-mounted vanities force a homeowner to be tidy.
Clients might ask for open shelves above vanities, which exposes toiletries or sundry items, but the move keeps the homeowner from cluttering the space. Add some rolled towels on top of the vanity to give it a spa look, Cunningham added.
"People like the idea of that clean, contemporary look. Nothing catching dust under it. It's easy to reach underneath, and it keeps a nice sleek look," she said.
If you do like a bulkier, traditional look for a vanity, some homeowners will simply remove the legs from a larger cabinet, the designer said. Doing so can still open up the space visually.
Susan Rowland, a designer and hospitality associate with European Bath Kitchen Tile and Stone in Las Vegas, said her team has seen a definite uptick in requests for wall-mounted vanities. Wall-mounted toilets for new builds and remodels also are very popular, particularly for their ability to set the toilet at the desired height. Her team turns to popular brands like Kohler and Toto, as well as sleek European offerings like Gessi from Italy.
"There has really been a big European influence in the U.S. in the past 10 years," she explained. "It's so much cleaner under the toilet and vanity. … It's a real minimalistic look."
With wall-mounted vanities growing in popularity, Rowland is also seeing a growing trend toward wall-mounted faucets. "People like how you don't have to clean around the crevices of the faucet so much," she added.
The bathroom isn't the only place you'll find clever uses for wall-mounting strategies. Here's a look at some clever and appealing wall-mount trends designers are using today.
Fireplaces
Cunningham has seen more requests for wall-mounted fireplaces. Homeowners aren't simply stuck on a modern look, either. Homeowners are opting for traditional looks with stone and other heavier-looking accents.
Wall-mounted fireplaces work well in a wide range of gathering space situations. They can be accents that accompany a television, a piece of audio or video equipment, or they can be a focal point with tile or stone around them.
Wall-mounted fireplace technology has advanced dramatically through the years. Units are no longer mere decorations. Many provide a high level of heating capacity. Units tend to be very efficient, too, and can cut heating bills.
Electric units don't require a chimney or flue pipe installation, either. Cunningham's team likes to use Arizona-based manufacturer Modern Flames for many of its wall-mounted fireplace requests.
"You turn a fan on, and it can really heat an entire space. … It's a wonderful aesthetic to have that crackling fireplace, too. … I'd say every other house we've worked on this year has asked for a wall-mounted fireplace," she said.
With electric wall-mounted fireplaces, homeowners don't need to worry about fire hazards, either. Units contain the fire and are properly fireproofed to minimize any heat emanating from the back or side of the device. Cunningham even installed one recently on a cork-covered wall.
Outside the box
Jill Abelman, owner and principal designer with Inside Style in Las Vegas, says she's surprised she doesn't see more wall-mounted furniture, but she herself tries to mix in some furniture wall-mounting creativity into designs where she sees fit.
"It is a huge space saver, and there are many ways to be clever with it," she said.
Abelman likes to use wall-mounted media consoles and even simple, well-placed bath cabinets to save space and keep clutter away. With people using so many small technology devices, she says even small niche shelves in some areas can serve as functional desks and storage spaces. She also likes wall-mounted plants. For smaller bedrooms, she loves wall-mounted nightstands.
"Wall-mounted nightstands can really be a perfect solution for tight spaces … and even if there is adequate space (it) can look sleek and modern," she said.
With some of her own outside-the-box design ideas, Cunningham has mounted chairs to walls, either as a means to store them or even to actually have them serve as seating. "We've found that a lot can really be done with seating," she added.
Cunningham says she has also seen clever wall-mounting strategies for desks in bedrooms and offices. Some may use a combination of heavy metal or iron bracings with a certain type of wood to create a sturdy wall-mounted desk free of restrictive drawers underneath it. Like toilets, the desk can be set at the height preferable to the user, too.
The designer has also seen desks that are built on a hinge and can fold into the wall. When folded up, the back of the desk can serve a dual use with a map or whiteboard on it.
"It's very creative. It can look like a piece of art on a hinge," she said.
Finally, don't sell short the functionality of simple, clean floating shelves in hallways, bedrooms, offices and living areas, she adds. Cunningham likes floating shelves that are between 8 and 10 inches deep. If smaller ones are used — say, roughly 2 feet long — a homeowner can display items in an aesthetically pleasing way by arranging them as a gallery on the wall.
"It's like a gallery of photos, but you may display dolls, trophies and other things," she added.