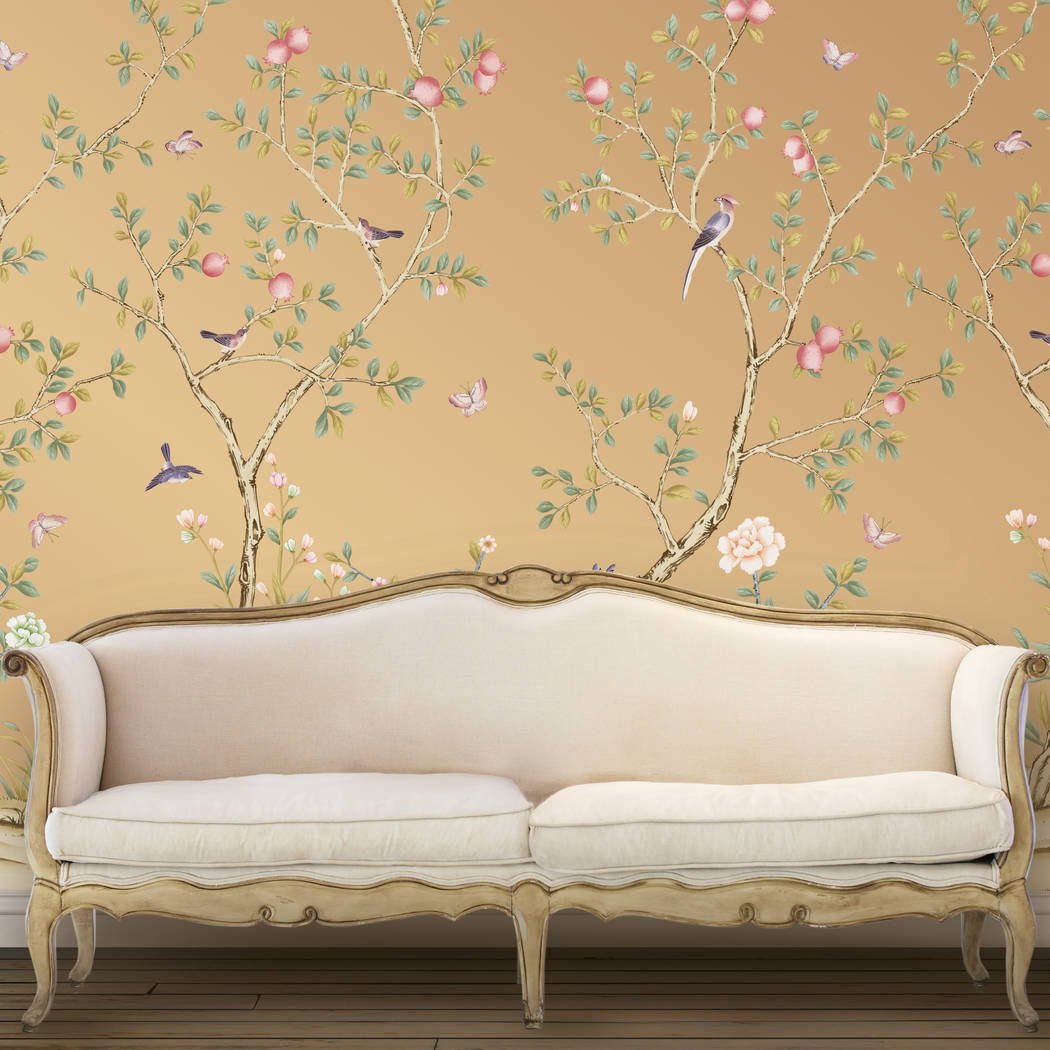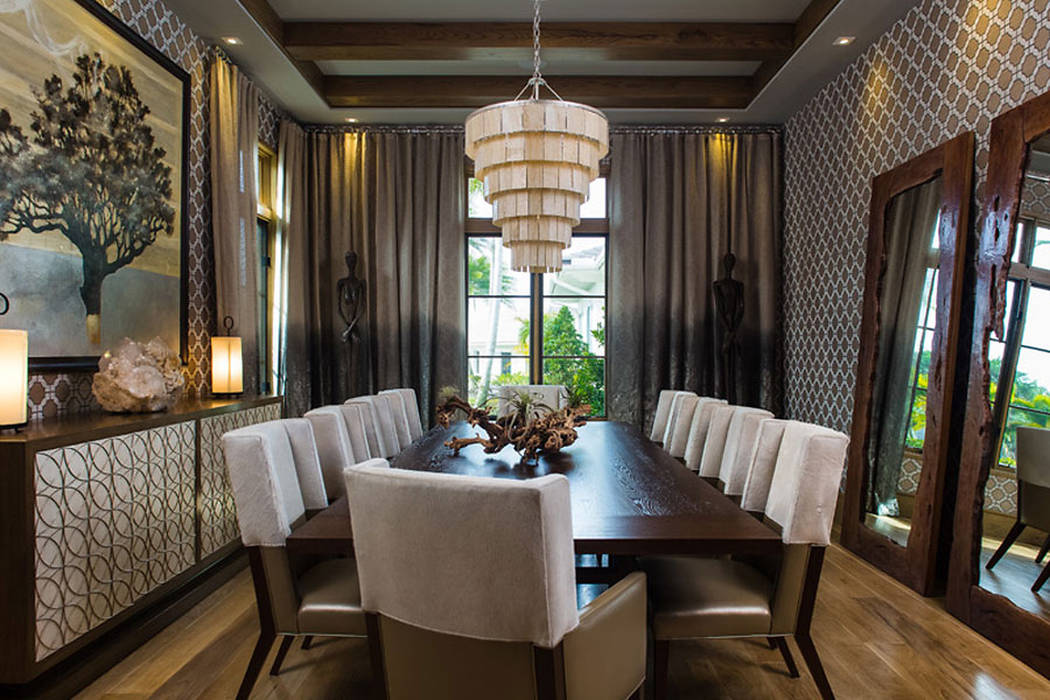 It's an incredible time for blank space. Walls that begged for print or texture can now be swathed in rich patterns and luxurious materials that can quickly be put up and taken down as your design tastes evolve.
Throw away the idea of cramped floral designs and eye-straining stripes in traditional, bland colors, said Ben Johnston, creative director of Benjamin Johnston Design in Houston.
"After the last 20 years of bare walls being in vogue, wallcoverings are back in a big way, because designers and consumers are hungry for anything but plain wall," he said. "They allow us to be expressive in a way that feels fresh all over again."
Wallpaper — or rather, wallcovering, as it is now known due to its versatility and ease of putting up and taking down — is receiving much attention from designers and DIY decor enthusiasts.
"The sheer variety of options and materials has never been greater than they are today," Johnston said. "Think big, bold and custom graphic patterns and custom options. You can literally create something that is bespoke and one-of-a-kind."
If you find a wallcovering you love, buy it in bulk, because wallpaper is like lipstick and can be discontinued quickly. It is often made in lots, so if you buy the same pattern at a later date, the hues might not match.
Wallcoverings are a relatively inexpensive way to update your space, he said, and they make a bold impression without the long-term commitment of a remodel.
"Paper is easy to change when you become tired of it or when you are ready to redecorate, so it's a great way to have fun in your home and to highlight your personality," Johnston said.
There are several trends in the design industry that cater to the upper end of the luxury residential market, including handmade and hand-detailing wallcoverings.
"People want their walls to have the touch of the artist, whether they are made entirely by hand or are simply hand-embellished," Johnston said.
There is a wide array of artisan-made products from experimental, forward-thinking decorative surfaces using nontraditional materials such as beading and mother of pearl, to the use of various husks and pulps to create incredible textural surfaces.
"In the more traditional styles, we are seeing stitched, silk-screened, hand-painted, appliques and digitally enhanced motifs used in inventive ways," Johnston said.
Hand-painted murals that are designed to drape the walls of an entire room have come back into play.
"Each panel is a portion of a scene that, when pieced together, becomes a 360-degree story for your room or hallway," he said. "Many of these are hand painted as well, so everything from the background to each individual paint color can be customized to coordinate exactly with an heirloom rug or just to the client's (or) designer's color preference."
A favorite that continues to gain ground with consumers is grass cloths and hemp. The simple, and mostly inexpensive, material gives a rich texture to your space. It also has the feeling of a handmade product without the cost. It has an incredible amount of embellishments to consider, including silk screen details, metallic foils and patterns.
"This is a great way to get started with wallcoverings, and the number of colors available is almost as endless as paint colors," Johnston said.
Digital photography shines on contemporary wallcoverings, pulling planets, waterfalls and striking sunsets into your space with surprising results.
"You can base a wallcovering on an image and then scale it to a size and scale that is unique to you and your space," Johnston said.
Rather than using a small floral pattern that is repeated countless times in a small pattern, you might want one giant floral arrangement that fills up an entire wall, he said.
"What an incredible way to pack a punch in your spaces," he said. "They even allow you to pick your materials on which it's printed, with endless opportunities to customize from silks to vinyl, foils to dimensional color fades."
Geometric patterns make a contemporary aesthetic for a home that needs a little modern play on its plain walls. But don't stop at the four walls. Consider the fifth wall that gets little love over your head.
"For clients willing to take a bit more risk in their spaces, we often cover the ceiling in a space with wallcovering, typically one that supports the room's walls," Johnston said. "I've also used it to line cabinetry, either behind glass so you can enjoy the pattern every day or sometimes behind doors so you have a bit of surprise when you open it."
Drawers lined with wallcoverings or standing screens with bits of the wallcovering's color or texture can add a bit of unexpected flair to the space.
Social media lifted the lid on wallcoverings, revealing consumers' penchant for paper in blank spaces.
"Instagram and Pinterest have exposed a wider audience than ever to inspirational images that utilize wallcoverings in inventive ways," Johnston said. "It has the net effect that consumers are more daring than they used to be in years past."
Putting up, and putting up with, new designs and textures is quick and easy with a relatively new product that can be smoothed on and peeled off without damaging the walls, said Jennifer Matthews, Tempaper Design director and owner.
"Years ago, when you planned to install wallpaper, it came with high costs and typically included hiring an installer," Matthews said. "With Tempaper, there isn't a need for a large budget or installer. It is the perfect DIY tool which now attracts a much broader audience. And no more messy pastes or glues."
Pinterest is packed with people who play with Tempaper as art or accent for their home.
"(Clients) line bookshelves, drawers and trays, wallpaper open cabinets and bookcases, cover stair risers, wrap furniture and backsplashes," Matthews said.
The company's fall designs that are catching the eye of consumers include the Distressed Gold Leaf, Deco Peacocks, florals and geometrics. Matthews sees retro bold geometrics continuing to be hot in 2018, as well as color blocking and Asian and global motifs taking a larger corner of the market.
The beauty of Tempaper is that clients can try bold trends without much investment of time or money.
"When it comes time to remove Tempaper, simply start at a corner and peel off," she said. "We recommend that you apply Tempaper to smooth, primed and painted surfaces with semi-gloss or satin or eggshell finish."