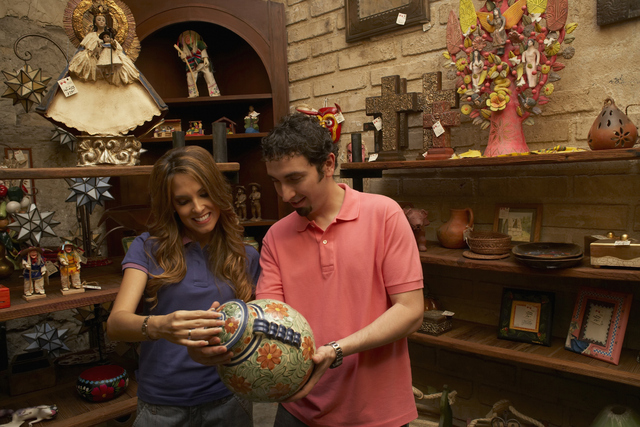 "There is no creation without tradition. No one creates from nothing." — Carlos Fuentes (1928-2012), Mexican novelist and essayist
Unless one is an avid collector, I don't think many of us spend a lot of time thinking about antiques. A lot of things (and people) get called "antiques," but what does it really mean.
I spent some time this summer on the East Coast and in the South, and one thing that made a big impression on me was the huge number of antique shops that are literally everywhere. And they are here in Las Vegas, too. So, it made me think more about it.
It's interesting how some people deem things to be antique and it's also interesting how some shopkeepers label them.
The definition of antique reads something like this: "a collectible object such as a piece of furniture or work of art that has a high value because of its considerable age."
So then the terminology is questionable: What is collectible and what is considerable age?
Again, definitions include "an item worth collecting," "of interest to a collector" and "an item valued and sought by collectors."
Being curious myself I did a little more searching online.
The Antique HQ website explains: "Antique is an object of considerable age valued for its aesthetic or historical significance. In the antiques trade, the term refers to objects more than 100 years old."
Whew, that lets a lot of us off the hook — I mean those things we own.
So something your mom purchased when you were young and you inherited it doesn't necessarily make it an antique. It's a collectible and — let's face it — just something you wanted.
The site goes on to say that some dealers have lowered the standard for an antique and "believe that items over 50 years old should be considered an antique. Those who are reputable antique dealers say the 50-year definition lowers the standard to a point that dealers can sell collectibles under the name of antiques."
That's a little confusing.
So what is a collectible? And today I'm not referring to wine or records!
The site also mentioned two other words we hear a lot: vintage and retro. Vintage to them means something "cycled back into fashion or less than 50 years old … generally applied to the time period 1960-1979." The time period 1950-1959 is generally referred to as retro.
It also brought up the subject of price, which is important to most of us. The terms "antique" or "collectible" have no real effect on the value of an item. It's like with any retail item — it depends on how many of us want it. The cost and value are determined mostly by demand.
All of this makes sense but doesn't necessarily mean every site or store you visit will follow the same guidelines. Personally, I love antique malls and fairs, and drool over a lot of pieces of furniture and art.
The price is always an issue, and most often dealers will not make any "adjustments" to their prices. Once again, I'm sure it depends on how many people show interest in the item.
So I guess the point is: Older things can take on a whole new meaning — and price. If you are inclined to like these things just do your research. Try to find other similar things and always make price comparisons. A beautiful "antique" piece of furniture or art is always a plus to any decor.
Carolyn Muse Grant is a founder and past president of the Architectural &Decorative Arts Society, as well as an interior design consultant/stylist specializing in home staging. Send questions to creativemuse@cox.net.