Wooden artwork now sought after by galleries
September 4, 2015 - 3:18 pm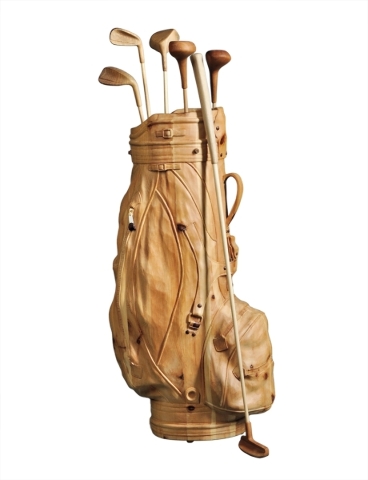 Glass, pottery, bronze, silver and, of course, paper and canvas are all used to make important, and often expensive, works of art. But wood has been somewhat neglected as art, although highly regarded for useful furniture.
Eighteenth-century furniture was made with hand tools and decorated with carvings, inlay and the selection of attractive grain in the woods. The 19th century increased the amount of carved decoration. By the 1890s, there were Black Forest benches, tables, hall trees and other furniture held by life-sized carved wooden bears.
Twentieth-century craftsman and artist George Nakashima (1905-1990) made his unique wooden art furniture from slabs of wood. Wendell Castle (born 1932) made modern furniture, including a carved wooden coat and hat rack holding a wooden coat, and a park bench that appears to be growing from a tall tangle of vines.
Artists today are using wood to make sculptures, statues, puzzle boxes and huge burl bowls that are sold at art galleries, not furniture stores. Now is the time to start collecting wooden art. There are artists making everything from realistic to abstract and science fiction inspired carvings.
Go to art shows, or just browse the Internet and find the carvings that you admire. Trust your taste. There are caricatures, humorous figures, life-size statues and tiny imaginary animals.
A talented Italian artist, Livio De Marchi, makes lifelike carvings of everyday items. He leaves them unpainted so the wood grain and defects will show. A golf bag with six clubs, a single piece of carved wood, sold for $3,240 at a recent Skinner auction in Boston.
Q: I have two gunpowder dispensers that I believe are from the Civil War era and belonged to a relative who fought in that war. One is made of copper and the other of leather. Both are in great condition and work well. One still has grains of gunpowder in it. Is there any monetary or historical value to these items? I'm considering donating them to a museum.
A: First, get rid of the gunpowder! Old explosives can be dangerous. You can take the powder flask to a gun range and ask them to dispose of the residual powder.
Reenactors and people who collect Civil War memorabilia might be interested in your powder flasks, especially if you can give them information about your ancestor and his service in the Civil War. Powder flasks that are signed or have decoration sell for more than plain powder flasks. A signed copper Civil War powder flask sold for $47, and another for $135 recently. Leather powder flasks with historically significant decoration sell for $100 or more.
Q: I recently bought a bankers chair by W.B. Moses & Sons dated 1914. There doesn't seem to be much information about their furniture. What can you tell me about the company and its furniture?
A: W.B. Moses opened a furniture store in Washington, D.C., in the 1860s. Business expanded and, by 1898, W.B. Moses & Sons occupied several buildings, including shops and manufacturing facilities. The company redecorated some of the rooms in the White House in 1881, supplying new carpeting, drapes and furniture. Value of your chair is $50-$100.
Q: I received a lamp from my mother-in-law. It's brass, has a pierced corrugated frame over a burner and a small plaque on the front that has a wolf and reads "Permissible Miners Flame Safety Lamp, Safety Lamp Co. of America." It also has a tag with the number 28 and a hook for hanging. Can you tell me a little about its history and value?
A: You have a coal miner's lamp, made by the Wolf Safety Lamp Co. of America of Brooklyn, N.Y. Until the development of safe electric lamps in the early 1900s, coal miners used flame lamps to provide light. Lamps with open flames could ignite flammable gas or dust and cause explosions, so safety lamps were invented to enclose the flame.
Before World War I, Wolf was a distributor for safety lamps made in Germany. After the war, the company made lamp tools and accessories and their own safety lamps that burned naphtha, vegetable oil and carbide. Wolf operated until the 1960s.
Your lamp burned a mixture of carbide and water. The "permissible" engraved on the lamp means it passed safety tests and was approved by the U.S. Bureau of Mines (in 1921), and the hang tag represents the miner's number. Your lamp is from the early 1920s and is worth about $100.
Q: I have a hand-painted plate marked with a crown above a circle with an eagle inside. The name of the company is written around the circle. It looks like it might be Carrolton or Carrinton Pottery Co. Can you identify the maker?
A: Yes! The mark you describe is one of several used by Carrolltown Pottery Co., founded in Carrollton, Ohio, in 1903. It joined seven other potteries to form the American Chinaware Corp. in 1929. After the merger ended in 1931, Carrolltown Pottery continued to operate on its own until at least 1936.
Tip: To avoid breakage, glasses should be stored with the rims up. The rim is weak and easily chipped if bounced on a hard surface. Keep the glasses a half inch apart and never stack one inside the other.
— Terry & Kim Kovel's column is syndicated by King Features. Write to: Kovels, (Las Vegas Review-Journal), King Features Syndicate, 300 W. 57th St., New York, NY 10019.