Housing advocate pursues transitional residences for homeless vets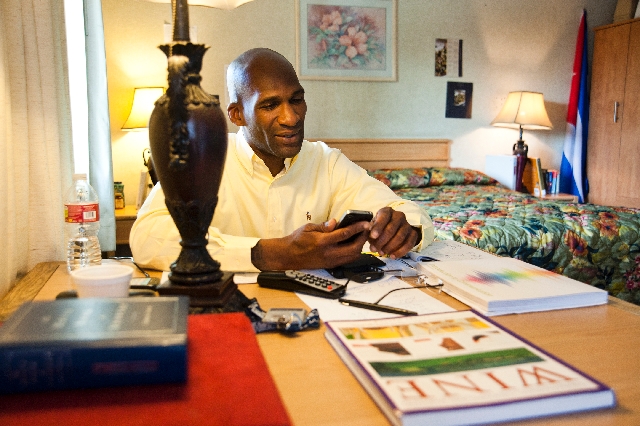 Forgive Arnold Stalk for not wanting to talk about homeless veterans.
He's been talking about them for decades, ever since Las Vegas and Clark County hired him to assess Southern Nevada's housing issues 23 years ago.
We had a homeless veteran problem then. We still have a homeless veteran problem. And by problem, Stalk means that there is not enough housing for veterans who struggle, for whatever reason, to live independently as civilians.
Stalk, the city's former housing division chief, does not want to talk about the problem. Not anymore. He wants to fix it.
"I don't want to go to any more conferences and talk about it," says Stalk, 58. "I don't want to hand out water bottles when it gets hot. I've been building housing for four decades. Those of us who are in it know the problem. It's time to stop the talking. I want to build housing."
Last summer, he bought the Econo Lodge on Las Vegas Boulevard, the same motel where 9/11 terrorists stayed just weeks before hijacking airplanes and crashing them into the World Trade Center. With the help of federal and state grants and donations from private companies, Stalk turned the motel into Veterans Village, a 125-room facility that provides transitional housing to veterans and their families.
During the next three years, Stalk plans to create 900 units of housing for the valley's homeless veterans. The next Veterans Village will be somewhere in Henderson with a similar facility planned for Boulder City .
Stalk, who has a doctorate in architecture and an affinity for living spaces, retired from the city a few years ago. He decided to make homeless veterans a priority in his retirement.
Las Vegas Boulevard may seem like an illogical place to start his efforts, but Stalk says it makes perfect sense. There's a large concentration of homeless in the area and other services are easily accessible.
"We're right smack-dab in the valley. We have a partnership with the RTC for transportation. There are more jobs per capita on this street than anywhere else in the country," Stalk says. "This is the kind of thing that makes neighborhoods better and stronger."
■ ■ ■
As of January 2012, there were 62,619 homeless veterans in the United States, according to Veterans Affairs.
Locally, there are about 1,350 veterans living on the streets, says Shalamar Cabrera, director of U.S. Vets, a nonprofit that provides transitional housing and other programs to veterans.
In 2009, President Barack Obama launched an initiative to end veteran homelessness by 2015. Since then, the number of homeless veterans has decreased by 17.2 percent.
Homeless veterans are predominantly male, but the number of homeless female veterans is rising, says Tamara Collins, the Urban League's program manager of the Supportive Services for Veterans Families.
The VA is throwing money at the issue, dedicating $1.4 billion in grants to nonprofits that provide housing to veterans this year. But it will take a lot more than government money to solve this problem, Stalk says.
To get creative and build community involvement, Stalk has reached out to private businesses for help. Home Depot awarded a $600,000 grant to Veterans Village, which paid for remodeling the 1960s-era motel. The money helped with a new roof, electrical wiring and more. Other companies and private individuals have stepped forward, giving new beds, furniture, dishes, food, books, computers, everything needed to fully stock a living facility.
There is a constant need for supplies. Stalk knows he'll have to depend on the kindness of strangers to provide help when Veterans Village needs it. He's been known to post messages on Facebook asking for diapers, formula, bread and incidentals we take for granted in daily living.
"I think there's such a decades-long dependency on the government funding projects. Providers, public officials, all of us do it. We're all waiting for that big grant in the sky to come down," Stalk says. "And it's not going to happen anytime soon. We do need the government to help. We do need the grants they provide. But we also need to look to the private sector. Every aspect of this project is a public/private venture."
■ ■ ■
At Charleston and Las Vegas boulevards, Veterans Village is in an area that, during the day, is sketchy, at best. At night, especially on the weekends, all of downtown's ills come to the forefront. Some even end up in the motel's lobby.
"What used to be a motel clerk is now a triage specialist," Stalk says.
People walk in at all hours of the day, asking for help. They're offered coffee, something to eat. Then the phone calls start. The goal is to find a bed and a program for the person in need, veteran or not.
"We don't take people right off the streets, but no one leaves the facility without some kind of immediate help," Stalk says.
Of course, Stalk has violated his own policy, moving mountains of bureaucracy to take in veterans in immediate need.
Dennis Galli, an Army veteran with a wife, a kid and another on the way, walked into Veterans Village five months ago and asked Stalk for help. His employer, an Alabama welding company, had sent him to Las Vegas to do a job that fell through. Stranded, Galli and his family stayed at the El Cortez until the per diem money ran out. That's when Galli, 29, heard about Stalk.
He ended up with a room for his family and a job. Galli is now an intake coordinator for Veterans Village. Galli had always hoped to work with veterans, imparting his knowledge to them and sharing his own experiences as an Iraq war veteran with post-traumatic stress disorder, or PTSD. Now, he is in a position to do just that.
"This is God's work that Arnie's doing," Galli says. "I've met a lot of people in my life, but I haven't met any better than Arnold Stalk. He does things because he wants to and he cares."
Veterans Village is designed as a short-term answer but there is no clear definition of short term. It depends on the person, Stalk says. Some stay a month or two while others will be there for a year or more.
Army veteran Ohiji Corbin, 36, has lived at Veterans Village since February. He doesn't know how long he will stay. Right now, he is simply grateful for the room, which is a lot like dormitory life in the military.
He has a bed, a television, a private bathroom, a minifridge and a desk where he does his schoolwork. Corbin is studying culinary management at the University of Nevada, Las Vegas.
When he moved to Las Vegas from Georgia in 2012, he struggled to find a place to live. After he left the Army in 1999, he got into what he calls "a bit of trouble." He served five years in prison for fraud.
Though he vowed to clean up his life after his prison term, Corbin discovered that people don't want to hire an ex-felon or rent an apartment to one. He moved to Las Vegas to start fresh and learn how to cook. Still, he couldn't clear background checks for an apartment.
He slept on the couches of friends and classmates until he discovered Veterans Village.
It is changing his life.
"Without this, I don't know where I'd be," Corbin says.
Contact reporter Sonya Padgett at
spadgett@reviewjournal.com or 702-380-4564. Follow @StripSonya on Twitter.