How you can get Patti LaBelle's sweet potato pie in Las Vegas
November 17, 2015 - 12:00 pm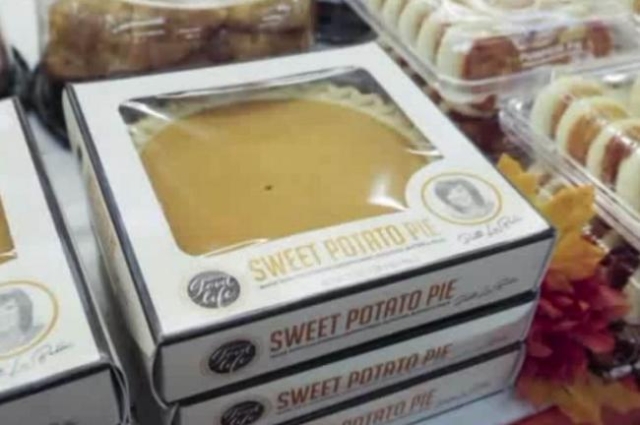 By now, you've probably seen this video — the one posted on YouTube last week by James Wright titled, "My Review On Patti LaBelle sweet potato pie review." You've also probably seen headlines like, "Wal-Mart sells out of Patti LaBelle sweet potato pie."
Associated Press on Monday reported Wal-Mart — the only retailer carrying the pie — sold roughly one pie per second across the country this past weekend.
"We need something like 2 million pounds of sweet potatoes, and that's not something easy to get," Kerry Robinson, vice president for bakery and deli at Wal-Mart, told AP. Most stores couldn't predict when they would have the pie in stock again, but at this rate, your chances of finding one are low.
But there may be hope in the Las Vegas Valley. We called some Wal-Mart stores around the valley that usually carry the pies, and of 28 stores, got one hopeful answer — but you'll have to act fast.
Many calls were answered with, "Our warehouse is out and we have no idea when we're getting them." Another bakery employee told us, "They're a hot item right now."
An employee with the Wal-Mart Supercenter on South Fort Apache Road told us, "All of the Wal-Marts in the country are probably out of that pie."
A desperate call for this pie to a Wal-Mart on East Tropicana went like this:
"Can you direct me to the bakery, please?"
"If you're calling about the Patti LaBelle pie, we don't have any."
A few other calls rang through until the line went dead, but we would bet it's because they're tired of calls about the pie. A call to the Wal-Mart on Marks Street in Henderson gave us hope, however, telling us to contact the store on Eastern and Serene avenues.
This Wal-Mart (2310 E. Serene Ave.) said they put out "15 cases at 11 o'clock," meaning if you're dying for this pie, you better get there by Tuesday afternoon.
A few other bakery employees mentioned to just keep calling and check as early as possible, as they're first-come first-served. You can check the Wal-Mart website for local updates on who has the pie — but they might sell out by the time it's listed.
Oh, and in case you haven't seen the video that started it all, see it below.
Have you managed to get your hands on this pie? Contact Kristen DeSilva at kdesilva@reviewjournal.com. Find her on Twitter: @kristendesilva