Hundreds turn out for Festival of Trees and Lights
November 28, 2010 - 12:00 am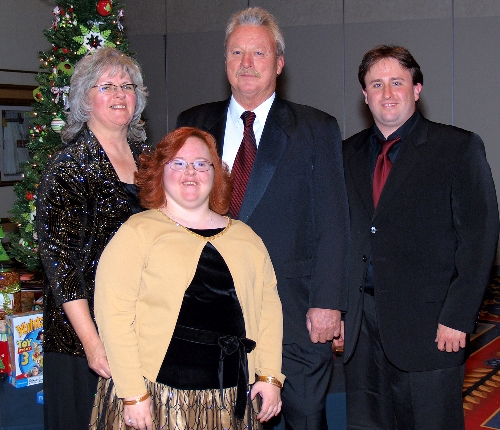 The 22nd Annual Festival of Trees and Lights benefiting the Down Syndrome Organization of Southern Nevada was Nov. 18 at Paris Las Vegas. The event attracted 600 guests.
During the cocktail reception, the Las Vegas High School choir entertained. Guests, including Gloria and Mark Fine, Lieuchi and Jeffrey Fine, Lynn Wiesner, Susan and Barry Becker, Melinda and Bob Brown, Betsy Rhodes, Brian McAnallen, Sandy Windom, Christina and Joe Cain, Fran Fine, Beth Miller, Ginger Rossiter, Allyn Shulman, Beverly and Peter O'Connor, Terri and Robert McBeath, Shirley Goldstrom, Sheri Goldstrom, Cindy and Doug Hensley, Zoe Allison, and former first lady Dawn Gibbons, admired the decorated Christmas trees designed and donated by volunteers.
Bidding took place for the trees, which were surrounded by elaborate presents pertaining to the tree's theme. Also up for bid were wreaths and gift baskets fashioned by designers, and children's handmade Christmas ornaments.
Earlier in the evening, the trees and wreaths were judged by designers Carolyn Fowler and Richard Clawson. The music of Scottish bagpipes performed by Desert Skye Pipe and Drums played as guests filled the ballroom for dinner and a live auction. Pianist Christopher-Joel Carter played during dinner.
Master of ceremonies Rick McGough introduced Mrs. Nevada America 2010 Susie Monahan, and Miss Nevada International 2010 Brittany Williams. Presenting sponsors were Harrah's Foundation, Susan Fine Family Trust and the Shulman Family Foundation. Gala event sponsors were Ideal Supply Company and Robyn and Brad Englert.
Corporate sponsors were Fidelity Investments, Boulevard Invest LLC and Miracle Mile Shops. Down Syndrome Organization's board chair is Janis Kelley, Sue Covey is executive director and Shelley and John Rhodes were the event chairmen. The organization's Inspirational Award was given to the Treants Family: Robert, Kathy, Brianne and Shawn. The Community Care Award recipient was Dr. Kenneth Misch, who formed St. Rose Pediatrics and has taken care of many Down syndrome children.
The Community Impact Award went to the Southern Highlands Charitable Foundation. Nick Calarco received the Volunteer of the Year Award.
Christian Kolberg conducted a live auction for two trees. One was the "Wicked" Tree of Emerald City with myriad gifts, including sparkling red high heels and a $500 American Express card, that sold for $6,500. The second tree was "Scotch on the Rocks" that included items associated with and made in Scotland, which was won for the bid of $5,000.
Two couples bid $2,000 apiece for the Desert Skye Pipes and Drums to play at their private party.
More guests enjoying the event were Sheryl and Ed Guthrie, Barbara and Jim Silvestri, Michelle Territo, Patricia and Richard Wright, Dayvid Figler, Susan Bush, Monti Levy, Beverly and Mike Mykisen.