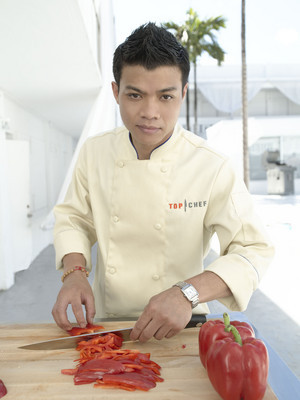 Some chefs seek the spotlight, while others have a decided preference for toiling in obscurity. And since Hung Huynh of Las Vegas is of the former group and not the latter, it's particularly fortuitous — and maybe even fated — that he was the winner of the third season of Bravo's "Top Chef."
Tom Colicchio, executive chef of Craftsteak at MGM Grand and a "Top Chef" judge, said he was impressed with the quality of this season's contestants.
"I think this group had a little more depth," he said. "I think on the top end they were the same, but overall there was just a stronger, deeper pool of competitors."
And because of that depth, Colicchio said the winner was not a foregone conclusion.
"It's never obvious anybody's going to be the winner," he said. "It's a week-by-week competition." A contestant may make one mistake and end up going home, he said.
As for Huynh, the show was all about the exposure.
"It has nothing to do with the money," he said. Well, he conceded, it has something to do with the money.
But "more," said Huynh, the 29-year-old sous chef at Restaurant Guy Savoy at Caesars Palace, "it's being able to be discovered nationally — exposed through the media."
Colicchio pointed out that the contestants are seen by some of the best chefs in the country.
"When would they have the opportunity to cook for a panel like this?" were it not for the show, he asked. "I think it does a lot for one's career."
Huynh clearly doesn't shun the limelight.
"I definitely want to have a TV show and stay in the media," he said. "That's why I really got into cooking, to be on TV, teach people how to cook."
And he wants to travel — "almost what Anthony Bourdain does," he said, referring to the chef of the Travel Channel's "No Reservations" fame.
Huynh is doing a bit of that now, as he works his way through media interviews from across the country. But he also has been back at work, somewhat intermittently, at Guy Savoy, which is featuring some of his winning dishes by serving them in the bar.
Huynh said he has gotten a lot of support from the restaurant and the hotel, which has paid his salary during the six weeks of the competition and succeeding media hubbub. And it was also partly because of the restaurant that he auditioned for the show in the first place. Huynh said he was a big fan of the first two seasons of "Top Chef" and thought about auditioning for season three, because he heard that casting calls would be in Las Vegas.
"And then the producers came into Guy Savoy looking for space to do the casting calls," he said. "So it was a great opportunity."
One of a couple of thousand people who competed for the 15 slots on the show, Huynh said he interviewed and sent in videos before being chosen.
"It was a long process," he said. "And here I am."
"Here," for the time being, is Las Vegas, and Guy Savoy. And actually, it's somewhat of a quirk — and a testament to the city's standing as a leading restaurant city — that he's here at all. During his study at the Culinary Institute of America in Hyde Park, N.Y., Huynh did a six-month externship at Aureole at Mandalay Bay. The long hours didn't help him feel at home in the city, and he was glad to leave.
"I promised myself I'm never going back to Las Vegas ever again," Huynh said.
But seven years later, while working in New York, he saw an online ad for Guy Savoy, applied and got the job. He's been there since April 2006.
And for now, he said, "I'm concentrating on Guy Savoy. It's a great place to work. Of course I have to move on eventually. I just don't know where."
PRAWNS WITH PALM-SUGAR-COCONUT GLAZE, CUCUMBER-RADISH SALAD AND OCEAN-SCENTED RICE
Shrimp:
3 tablespoons oil
1 tablespoon sugar
8 large shrimp, peeled and deveined
1 tablespoon fish sauce
1 teaspoon tamarind paste
1 teaspoon chili sauce
1 tablespoon coconut milk
Coconut froth:
1 cup coconut milk
2 tablespoons butter
Rice:
1 sheet of Kombo (dried seaweed)
4 cups water
1 cup rice
To make shrimp: In a saute pan, heat oil. Add sugar and stir until caramelized, then add shrimp and remaining ingredients. Cook until shrimp loses transparency.
To make coconut froth: Heat ingredients. Once heated, blend with hand blender until frothy.
To make rice: Boil Kombo in water; reduce halfway until 2 cups of water are left in pot. Add rice and cook for 20 minutes.
Serves 4.
HAMACHI, POTATO CHIPS, TOMATO VINAIGRETTE & PEA SHOOT SALAD
Tomato vinaigrette:
1 pint yellow cherry tomatoes
3 ounces extra-virgin olive oil
2 ounces sherry vinegar
1 teaspoon mustard
1 teaspoon sugar
Salt and pepper, to taste
Fingerling potato chips:
9 fingerling potatoes
Oil for frying
Hamachi:
1 pound raw hamachi
Pea shoot salad:
6 cups pea shoots
Drizzle of olive oil
Drizzle of lemon juice
Salt and pepper, to taste
To make tomato vinaigrette: Place all ingredients in blender and blend until smooth consistency.
To make fingerling potato chips: Slice fingerling potatoes to transparency. Using a frying pan, fry potatoes in oil at 300 degrees until brown and crispy.
To prepare hamachi: Thinly slice raw hamachi; set aside.
To make pea shoot salad: Season pea shoots with olive oil and lemon juice. Add salt and pepper to taste.
Serves 4.
Contact reporter Heidi Knapp Rinella at hrinella@reviewjournal.com or 383-0474.