Inside the lives of tech fanboys
November 17, 2015 - 2:40 pm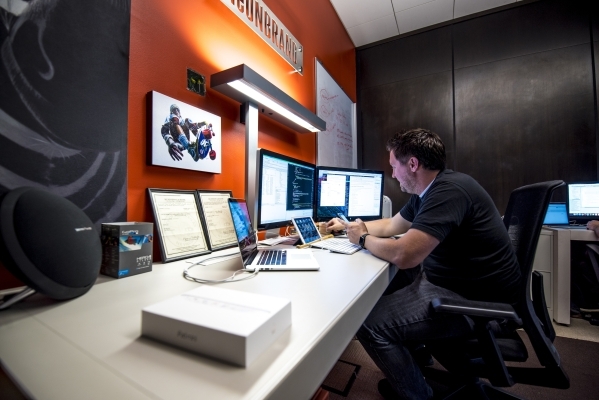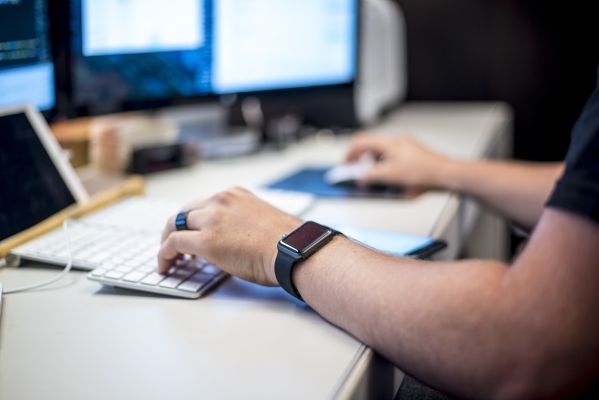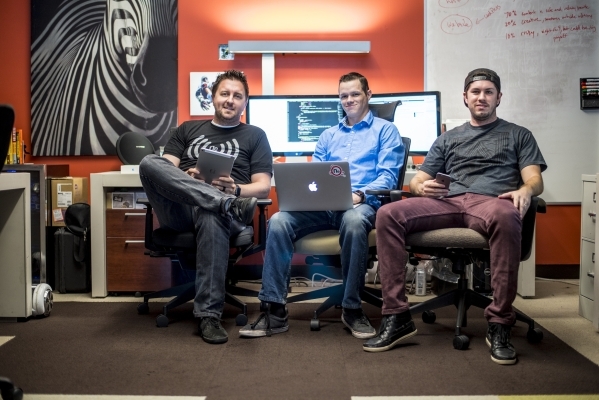 The inside of NeONBRAND, a web design and social media firm, could be mistaken for an Apple storefront.
Among the four guys who stare at their computers, there are Apple desktops, laptops, iPhones, iPads, iWatches and even an Apple TV.
"Never leave home without it," Kenny Eliason, owner of NeONBRAND says as he pulls out the Apple TV from his backpack.
In the office, there is a mixture of longtime Apple users and new converts. While all of them have come to love the products Apple puts out, some of them would cross the line to call themselves fan boys.
In the past eight years Apple and Android operating systems have competed in the release of new products ranging from phones to tablets. While embarking on a mission to release the newest and trendiest devices, the companies inadvertently created die-hard fanatics who pledge allegiance to certain products.
Some, like Eliason, have spent hours upon hours waiting in lines for a new item to be released.
"We all know we're crazy," he says, referring to the group of people arriving at 2 a.m. on any given day to wait for an Apple store to open in seven hours.
John Hawkins, a longtime developer who has been building websites for nearly two decades, has also become an Apple fanboy.
Prior to his conversion, Hawkins had a Windows computer and a standard flip phone.
That began to change in 2007 with his first Apple purchase.
He wasn't going to fall for the Apple craze.
With the news that Apple was about to launch what would become known as a smartphone, he wasn't going to be one of those guys to get an iPhone.
But as the product launched in 2007 and he saw people walking around, Hawkins couldn't resist.
"It looked too cool not to have one," he says.
And that was the day Hawkins became a fanboy.
"It was more powerful than my first computer," he says. "Everything about (the iPhone) is amazing. Even the packaging it comes out of is gorgeous."
He got his first iMac seven years ago.
"It made me wonder why I waited so long to make the switch," he says.
It hasn't stopped there.
Hawkins has purchased Macbooks, every assortment of iPod and currently owns one, two, three, four, five Apple TVs.
"I usually get a little chuckle when people hear how many Apple TVs I have," he says. "It makes sense, though. It's one for every TV."
He has cycled through each iPhone update and anxiously awaits the newest Apple TV.
The reason why he is such a die-hard, he says, is how easy it is to use each device from the moment it is taken out of the box.
As someone who works with technology, he says it makes life easier how each product works well with one another.
He has seen reviews and complaints about applications people can get on other mobile devices.
"Apple regulates the types of apps there are, so when you get them, you know they're gonna work," he says. "It's like the wild wild West (for applications on Android). They only work 50 or 60 percent of the time"
While he never waits in lines for the newest sensation — why wait when you can preorder? — he has cycled through whatever comes out.
His ultimate goal as a fanboy would be to journey to Cupertino, Calif, headquarters of Apple Inc., to attend a product launch.
Eliason agrees with Hawkins about the connectivity and how every product integrates and works well with other Apple products.
But, one of the biggest reasons he is a fan of Apple is the experience.
"You are buying the experience," he says.
He became a convert when, like most people, he got the first iPhone.
"It is a gateway drug," he says. "You start with an iPhone and next thing you know you're buying $5,000 worth of Apple products."
He has tried other products, but nothing feels as good as using Apple.
Now, he doesn't just buy Apple products. He tries to convert others.
Take for example Spencer Guier, a web design and development specialist with NeONBRAND who was a Windows guy for years.
"But I believe if you give someone an Apple tablet to play with for a while, they are going to fall in love," Eliason says.
And that's what happened with Guier. Working in the office together, Eliason got the Windows user to try his Apple.
Currently, Guier has the most Apple products on his desk.
"I would now describe myself a fanboy," he says.
He even once asked his wife to wait eight hours in line for a new product — it was a birthday present so she consented.
Not all are Apple aficionados.
On the other side of the aisle is Robert Morgen, a self-proclaimed Android man.
"I'm not one of those people who just refuses to try iOS," he says. "I tried it, and I don't like it. In my opinion, Android is better."
Morgen is a health benefits adviser at HealthMarkets. His job relies heavily on reliable technology ranging from using social media to managing documents from multiple devices.
He had been using a "dumb phone" — a standard flip phone — for this and thought an iPhone might help.
But when he first got it, Morgen was underwhelmed.
"I didn't like the feel, the form and how it functioned," he recalls.
He decided to try Android when it was first featured on a device.
"It worked for me," he says.
He has switched back and forth among devices such as the Samsung Galaxy products and various tablets.
Each time, he reads the reviews, talks to people and decides what is the best option for him.
Another reason he prefers Android to Apple is the options.
"With Apple, it's just the iPhone and that's it," he says. "Android has the variety I like."
Like Hawkins, he never waits in line for a new product.
Both say while they have their opinions, they would never get into a fight.
Eliason hasn't gotten into a fight per se, but he has gotten into disagreements with people.
"I remember leaving one and thinking, 'You're just ignorant,' " he says.
But in the end, though they will stick with their beliefs, they respect everyone who might choose something different.
"In this day and age there are certain things you don't talk about," Morgen says. "Politics, religion and mobile platforms."
— Contact reporter Michael Lyle at mlyle@reviewjournal.com or 702-387-5201. Follow @mjlyle on Twitter.