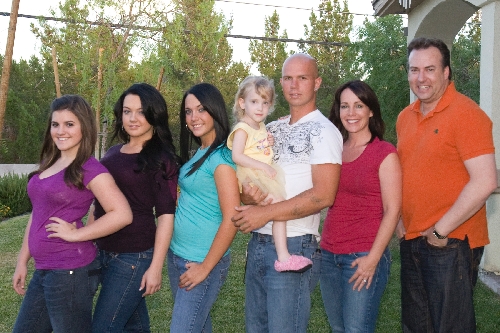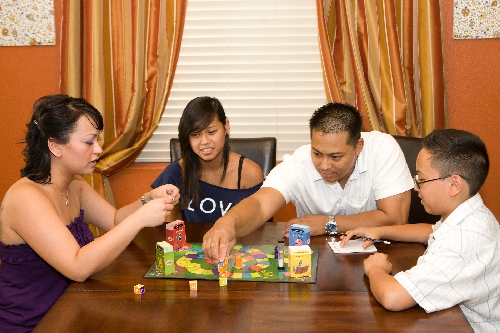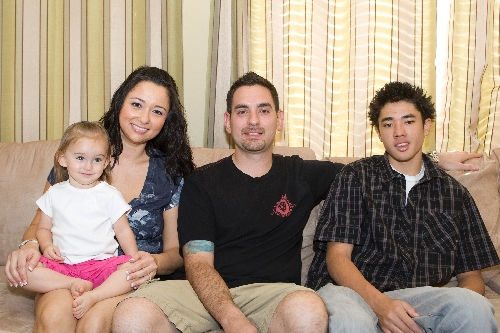 How does a happily single, child-free guy become an instant dad?
Easy, offers Dan McElhattan III. "Just add life and stress."
All joking aside, instant fathers — men who marry a woman who already has kids — are a unique subset of the parental universe.
Instant dads experience the marital equivalent of going from zero to 60 in six seconds flat. And while fatherhood never comes with an instruction manual, they, unlike standard-issue fathers, never had a chance to enjoy that transitional married-but-childless honeymoon period most dads do.
But instant dads are, by necessity, adaptable guys. And, when push comes to shove, an instant dad is as authentic a dad as any other guy who'll be unwrapping a new tie or enjoying breakfast in bed this morning.
McElhattan, 40, hadn't planned on becoming an instant dad, although he had dated a few single moms. But when he met Mary, now his wife of six years, the portrait of her kids that she had behind her desk signaled that he might be facing the prospect sooner rather than later.
Not long afterward, when Mary's boss invited Mary and McElhattan to a barbecue, they started dating.
McElhattan married into a family with four children , now ages 13 to 23, and he and Mary since have added to their family a 3½-year-old daughter.
That's "the way it goes when you find the love of your life. Kids are a factor, but not the factor. The fact is, you love your wife," he says.
"I never expected to jump into the prepackaged deal," he adds. "But when you've found the right woman … ."
Before meeting his future wife, Gerald Chin, 30, says his dating partners tended to be "single women, no strings attached."
When Chin, a chef, met Maureen — they dated for three years before marrying in 2008 — "we just got along real well," he recalls. But he didn't know until a few days after they started dating that she had a son, now 11, and a daughter, now 15.
"I've always liked kids — I've always been like a kid myself — and she was really nervous about introducing her kids to me, because she didn't want to confuse the kids or want me to be afraid of the kids," Chin says.
The meeting took place at a salon where both Chin and Maureen used to get haircuts. Chin recalls that Maureen didn't introduce him as a boyfriend but as "my friend."
"The girl, she kind of knew what was going on at the time," he adds. "Girls are always more mature than boys. Her radar picked it up."
But the meeting went well. "I thought they were cute kids," Chin says, and the kids seemed to get along well with him, too.
A few weeks later, Chin even soloed with the kids for the first time, taking them on an outing to Madame Tussaud's wax museum. "We all got along," he says. "It's crazy."
Dating Maureen, and getting to know her children, had a surprising effect on Chin. Not only was he thinking that dating a woman with kids might work out, but, he says, "it kind of made me think about what I was doing in my dating life, like maybe it is time for me to grow up."
Nick Cusumano met his future wife, Tanya, about six years ago while vacationing in Las Vegas. Cusumano, a New Yorker, and Tanya stayed in touch after his return home, having an occasionally up-and-down long-distance relationship.
When things turned serious and "it came to the point where one of us needed to make a move," that decision fell to Cusumano, because Tanya had a then-9-year-old son.
Cusumano had to adjust not only to instant fatherhood but life in a place very different from the Bronx.
He had met Anthony before moving here. "During the couple of trips I had made here previously to making the big move, we met and we'd done movies and all that good stuff," he says.
They got along great. Anthony's dad "was in Las Vegas at that point, but he wasn't really in the picture," Cusumano explains, "so I think he really adapted to me fast."
Cusumano and Tanya married three years ago and, in addition to Anthony, their family includes a year-and-a-half-old daughter named Emma.
While the three dads all are convinced that they've made the right decision, they concede that the road to instant fatherhood wasn't always smooth.
McElhattan, for example, discovered that some of Mary's children were more accepting of mom dating, and perhaps marrying, a new guy — a guy who wasn't their biological dad — than others. There were occasional anger issues, he says, and some "challenging" times.
Objections to jumping into a premade family came from other directions, too. McElhattan says his own parents' initial reaction to the news that he was dating a woman with four kids was "are you nuts? Are you serious? What are you getting into?"
But, when they met Mary, "she connected with them so fast," he says.
Some of Chin's friends gave him a hard time. "My friends are all single and young, and they're like, 'Are you stupid? What are you doing? She's got kids.' Basically: Watch out."
For guys who are used to living alone, simply moving into a home filled with other people — a home in which they are, in effect, the outsider — can be difficult.
That was "a little bit strange," Chin says, adding that the adjustment was even more weird because he, Maureen and the kids were living with her parents at the time.
"But the good thing was I got to see the kids every morning when I woke up," he continues. "I think it built up a real strong relationship."
Cusumano and Anthony had an easier time adapting to their new living arrangements, probably, Cusumano suspects, because "he was really looking for someone to have that (father-son relationship) with."
Still, Cusumano says, it was odd, "without a doubt, to wake up one morning and there's a little 9-year-old boy looking to hang out with you."
It did take Cusumano a bit of time to figure out the parameters of his newly assumed parental role. If Anthony needed discipline, for example, "I didn't really know what my position was on that, and I didn't really plan for that," he says.
Yet, Cusumano adds, Anthony never once aimed the sharpest arrow in the stepkid's quiver — "You're not my father" — his way.
"I have always been waiting for that, up until this day, and it has never been said," Cusumano says. "And I really love him for that, because I always feared that would come, and that would really hurt."
Chin also learned early on that fatherhood can be about decidedly nonabstract concerns. Once, while he was still living with his roommate, the kids came by for a sleepover and one "got sick and just threw up everywhere," he says.
The lesson he learned: Fatherhood is "not all playing video games and skateboarding."
Chin says there were moments before he and Maureen married when he wondered whether he was doing the right thing.
"Maybe right in the beginning," he says, "just because anyone would be like this. Is this the right thing for me? But, after a few months, it was all good."
In fact, looking back at how completely his life has changed during the past several years, Chin is convinced that marriage and fatherhood have been good for him.
"It's not just me thinking about myself now," he explains. "When I make decisions … I make them for the family. And I see kids come into the restaurant now and I understand if they don't want to eat something. It completely gives me a different perspective when it comes to kids and life in general."
And if further proof that instant dads are just like regular dads is needed, there's this: Chin already is freaking out over the prospect of daughter Bella driving.
"It's like, oh man, I'm getting old," he says, laughing.
Contact reporter John Przybys at jprzybys@ reviewjournal.com or 702-383-0280.
RELATED STORIES:
• SEEING DOUBLE ON FATHER'S DAY: Like Father, Like Son
• Men don't let fertility problems keep them from enjoying Father's Day