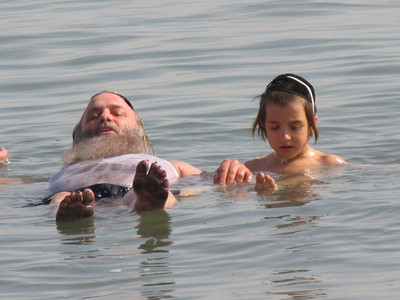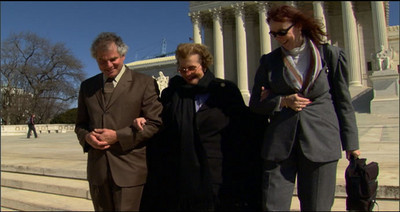 Wandering the desert has been a Jewish tradition since the Exodus.
And now, in its seventh year, the Las Vegas Jewish Film Festival is doing a bit of wandering too.
After six years at the Suncoast's 16-screen multiplex, the festival has moved — to not one but two new, and smaller, venues.
Seven of the festival's nine screenings, which begin Wednesday and run through Sunday, will take place at the Summerlin Library's theater. The festival concludes Jan. 27 in the student union theater at the University of Nevada, Las Vegas.
There's a simple explanation, according to festival founder Joshua Abbey, who heads the Desert Space Foundation, which produces the festival. (The Jewish Community Center of Southern Nevada co-sponsors this year's event.)
Cinemark, the Dallas-based chain that now owns and operates the Suncoast multiplex, "didn't wish to maintain the sponsorship" of the festival established by the previous owners, Century Theatres, Abbey says. "It's a transitional year."
The festival's move to the Summerlin Library and UNLV student union theaters means more than a hundred fewer seats for each screening; the Summerlin theater seats about 290 and the UNLV student union's theater seats 300.
By contrast, the festival's previous home at the Suncoast has more than 400 seats "and we sold that out on numerous occasions," Abbey notes. (In other words, arrive early this year.)
The festival's new venues also mean all but one of the features will be shown on DVD; to compensate, five of the nine screenings will be presented free of charge.
The change in venues also enables Abbey to realize one longtime goal: "to have the festival on both ends of the valley," he explains. "There's been a lot of desire" among Green Valley residents "not to have to schlep over to Summerlin."
But the festival reflects a geographical diversity that extends beyond its dual Las Vegas locations.
The nine featured movies take audiences around the world, from Israel to Argentina, New York to the Ukraine.
"All the films are the top tier" of movies featured "at other major Jewish film festivals," Abbey notes.
That includes two 2006 features that shared Israel's Academy Award for best picture: "Aviva My Love" and "Sweet Mud."
Two documentaries now in theatrical release also highlight the festival: "The Rape of Europa" (short-listed for this year's Academy Awards documentary competition), a documentary about the Nazi plundering of Europe's art treasures during World War II; and "Yiddish: A Love Story," which focuses on a Holocaust survivor's efforts to keep America's last Yiddish theater going.
The festival also spotlights personal labors of love by everybody from Oscar-nominated filmmaker Paul Mazursky ("Yippee: A Journey to Jewish Joy") to Pedro Banchik, a chemical engineer from Buenos Aires, Argentina, whose family-reunion video project ("De Bassarabia a Entre Rios") has become an international success.
Naturally, there's a Las Vegas connection. (There's always a Las Vegas connection.)
It's Banchik's cousin Carlos, a local resident — recent vice president of Midbar Kodesh Temple in Henderson– who attended the family reunion in Argentina marking the 100th anniversary of their family's flight from anti-Semitism in the eastern European region of Bessarabia (now located in present-day Moldova) to a new life in Argentina.
Initially, Pedro Banchik intended to make a five-minute video to mark the occasion; instead, he wound up working "20 hours a day" on what became a full-length documentary.
"I didn't have any idea how to make the film," Banchik acknowledges in a telephone interview from his Buenos Aires home. "But when I started to do it, it was like an addiction."
Less than five months later, the finished product — "a gift to my family" — attracted such a strong response that Banchik received e-mails and telephone calls from around the world (including one from Israel's Beth Hatefutsoth Museum of the Jewish Diaspora) requesting copies.
It's since been featured at several international film festivals; Banchik plans to attend his film's Jan. 27 screening at UNLV. Argentine officials also have declared it of "cultural interest for the nation" and will be shown "in all the provinces" this year, he says. "I have recognition not only from the Jewish community but the wider community. I'm proud of that."
Unlike Banchik, a newcomer to filmmaking, veteran writer-director Mazursky (whose credits include "An Unmarried Woman," "Harry and Tonto" and "Down and Out in Beverly Hills") makes his documentary debut with "Yippee."
In it, the self-described "secular Jew" takes a "Journey to Jewish Joy" to a small Ukrainian town where thousands of Hasidic Jews gather annually to sing, dance and pray at a renowned rabbi's grave.
Mazursky was inspired to join them after his longtime optician told him the journey had changed his life.
"It was an overwhelming experience," acknowledges Mazursky, who made the journey accompanied by his optician, a Los Angeles rabbi — and a Moroccan rock 'n' roll musician.
Together, they joined fellow Jews from around the world — not only Israel and the United States but Britain, France, even India and Cuba.
"You might think they're crazy," Mazursky says of the participants, "but you'll be touched."
That's the reaction "Yiddish Theater: A Love Story" has triggered in viewers, notes director Dan Katzir.
"For me, it was a passion project," he explains, one prompted by a chance meeting on the New York subway with an octogenarian actress and Holocaust survivor, Zypora Spaisman, devoted to keeping America's longest-running Yiddish theater alive.
When Katzir saw Spaisman perform, "I never experienced so much emotions in one play," he recalls. And he told Spaisman, " 'I'm a broke filmmaker, but I want to help you.' "
He did so by documenting her quest with his home video camera. That was seven years ago — and although the subject of Katzir's documentary didn't live to see its theatrical release, her passion lives on.
"You see her energy and fall in love with her energy," Katzir observes, noting that audiences are "thanking us for making them feel something."
That sort of emotion also marks the enthusiastic response to "The Rape of Europa," notes Neil Friedman, president of Menemsha Films, which is distributing the documentary about how the Nazis tried to plunder Europe's art treasures during World War II. (It was nominated for a Writers' Guild Award last week.)
It's "a real word-of-mouth success," says Friedman, noting successful runs in U.S. theaters from Salt Lake City to Chattanooga, Tenn.
"It's not about death and destruction and the Holocaust," he explains. "It's primarily a film about art."
It also exemplifies the power of documentaries, Friedman says, to illuminate subjects "you may have heard a little bit about, but once you see it, 'Wow, it's all new!' "
That's a quality "The Rape of Europa" shares with "Yiddish Theater: A Love Story," "De Bassarabia a Entre Rios" and other festival features.
After all, Abbey points out, "just because it says 'Jewish Film Festival' doesn't mean it isn't for people" — of any faith — "who love good cinema."
Contact reporter Carol Cling at ccling@reviewjournal.com or (702) 383-0272.
what: Las Vegas Jewish Film Festival
when: Wednesday through Sunday; also Jan. 27
where: Summerlin Library, 1771 Inner Circle Drive; Jan. 27 screenings at Student Union, University of Nevada, Las Vegas, 4505 S. Maryland Parkway
tickets: Free admission to five screenings, $10 for remaining four screenings (www.desertspace.org)
FESTIVAL SCHEDULE
The seventh annual Las Vegas Jewish Film Festival runs Wednesday through Sunday at the Summerlin Library Theater, 1771 Inner Circle Drive, and concludes Jan. 27 at the University of Nevada, Las Vegas, Student Union, 4505 S. Maryland Parkway.
Seating at both venues is limited; early arrival is suggested.
The complete festival schedule:
WEDNESDAY
7 p.m. "Naked Among Wolves" (1963, East Germany) — Based on a true story, Buchenwald concentration camp prisoners risk their lives to hide a small Jewish boy from their Nazi captors. In German with English subtitles. Presented by the Governors' Council on Holocaust Education; free.
THURSDAY
7 p.m. "My Father My Lord" (2007, Israel) — An ultra-Orthodox rabbi (Assi Dayan) confronts irreconcilable demands of faith and family in a contemporary version of the biblical story of Isaac inspired by director David Volach's upbringing. Winner of 2007 Tribeca Film Festival's top prize. In Hebrew with English subtitles. Presented by the Las Vegas Jewish Film Festival; free.
FRIDAY
1 p.m. "Nina's Home" (2005, France) — As World War II ends, the director (Anges Jaoui) of a children's shelter in France helps young concentration camp survivors. In French with English subtitles. Presented by the Milton I. Schwartz Hebrew Academy; free.
SATURDAY
7 p.m. "Yippee: A Journey to Jewish Joy" (2006, United States) — Award-winning writer/director/actor Paul Mazursky ("Down and Out in Beverly Hills," "An Unmarried Woman") chronicles his whirlwind journey to a small Ukrainian town where thousands of Hasidic Jews gather annually to sing, dance and pray at a revered rabbi's grave site. Presented by Temple Beth Sholom; free.
SUNDAY
1 p.m. "Aviva My Love" (2006, Israel) — When a famous novelist takes a hard-working mother with a secret talent for writing under his wing, brutal ambition and family obligations complicate her pursuit of a dream. Winner of six Israeli Academy Awards, including best picture. In Hebrew with English subtitles. Presented by the Jewish Community Center of Southern Nevada; $10 admission. (Call 794-0090 for tickets.)
4 p.m. "Sweet Mud" (2006, Israel) — A 12-year-old boy, caught between an emotionally unstable mother and the rigid equality values of their 1970s kibbutz, inspires a coming-of-age tale that captured awards at the Sundance and Berlin film festivals and won six Israeli Academy Awards, including best picture. In Hebrew with English subtitles; recommended for audiences 17 and older. Presented by the Jewish Family Service Agency; $10 admission. (Call 794-0090 for tickets.)
7 p.m. "Yiddish Theater: A Love Story" (2006, United States) — An 80-something actress and Holocaust survivor struggles to maintain a 1,000-year-old culture through Folksbiene, America's longest-running Yiddish theater. In English and Yiddish with English subtitles. Presented by Temple Bet Knesset Bamidbar; $10 admission. (Call 341-6885 for tickets.)
JAN. 27 — UNLV Student Union
1 p.m. "De Bassarabia A Entre Ríos" (2006, Argentina) — This documentary focuses on Jewish families from the eastern European region of Bessarabia (now primarily in current-day Moldova) who settled in early 20th-century Argentina. In Spanish wih English subtitles. Presented by Midbar Kodesh Temple and co-sponsored by UNLV Hillel; free admission.
4 p.m. "Rape of Europa" (2006, United States) — Short-listed for an Academy Award, this documentary explores how the Nazis plundered Europe's art treasures from galleries, museums and the residences of condemned Jews — and how art patrons and ordinary citizens tried to save prized artworks. Presented by Congregation Ner Tamid and co-sponsored by UNLV Hillel; $10 admission. (Call 733-6292 for tickets.)