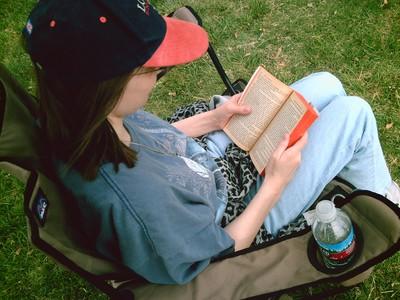 Kristin Nelson is a graduate of Cheyenne High School. She enjoys reading fantasy and adventure novels. Her favorite author is Brian Jacques, and she dreams of one day writing her own novels.
Nelson, 21, also has Asperger's syndrome, a mild form of a neurodevelopmental disorder called autism.
The severity of autism varies from person to person. According to Julie Beasley, a Las Vegas psychologist who specializes in children and teens with developmental disabilities, those with severe autism never will be able to live independently. However, many people with autism are high functioning, which means that the person's IQ is within the normal range but he or she has the communication and social skills of someone two to three years younger.
People with autism also are at increased risk of Attention Deficit Hyperactivity Disorder, anxiety and depression.
Beasley said autism affects people in several basic ways. Those with the disorder have problems in communication and socialization and often exhibit repetitive behaviors and interests.
"They tend to make many social mistakes," Beasley said. Teenagers with autism often fail to pick up on forms of unspoken communication, missing nonverbal cues such as hand gestures, facial expressions and postures that many people — especially teens — heavily rely on when speaking and communicating feelings to others. And people with autism often speak in flat, loud voices that many people find strange.
"My kids with autism will tell me this," Beasley said: "It's harder for them to figure out why people do what they do."
Autistic people often do not even know how being autistic affects them.
"I'm not fully aware of how (having autism) makes me different," Nelson said, "only that my thought process is different from normal people."
Jessica, a high school student with autism who did not want to be identified by her last name, is slightly more aware of how she's different.
Having autism, she said, "makes me more focused on some things." However, the negative side is that "it takes me longer to process things." She also knows that having autism makes her unaware of when others want her to stop talking.
Beasley also explained that people with autism often have repetitive behaviors and intense interests — for example, they may be overly interested in a topic such as the weather. Repetitive behaviors such as picking at fingers, rocking and pacing, also are exhibited by those with autism, although, Beasley said, repetitive behaviors aren't as obvious in teenagers.
A major problem faced by teenagers with autism is teasing. Beasley said kids with autism notice they are being teased more as they get older.
"Mostly it was just laughing at me for things I couldn't understand," Nelson said. She remembers one occasion when she had accidentally hurt herself, and "I couldn't understand why me being hurt was so funny."
Beasley said another way those with autism are sometimes cruelly treated by their peers is when a fellow student pretends to be their friend and then sets that person up — a situation that can be greatly embarrassing for any teenager. Because people with autism fail to pick up on social cues, they don't always notice when other people treat them poorly or differently because of their disability. Their parents, however, do.
"Other children do absolutely notice that (my daughter's different," Jessica's mother said.
She added that her daughter "has a lot of quirks," and noted that her difficulties will never go away. In fact, she said, Jessica's life may become harder with time, especially because of her lack of social skills.
Despite this, both Jessica and her mother hope she will one day go to college. While Jessica may take longer than other students because she may require a lighter course load, she hopes to become a librarian.
Jessica sometimes feels that her peers leave her out of social situations.
"I'm not really included on most of the events at school and stuff," she said. However, she added that she doesn't mind being left out, except when other students talk about events in her presence, in which case her feelings are hurt.
It's impossible to tell, just by looking, if a person has autism, Beasley said, which only becomes apparent if one talks to the person or watches their behaviors.
"We call it an invisible disability," Beasley said.
R-Jeneration