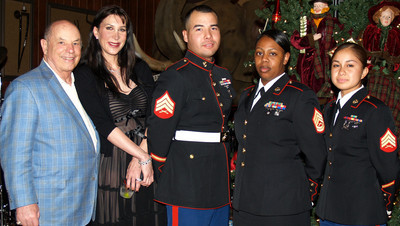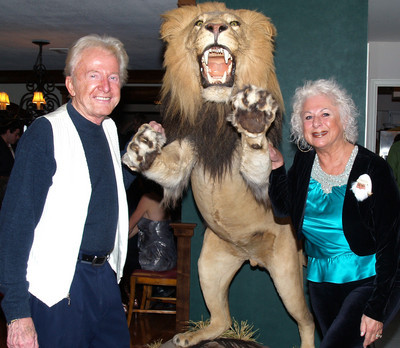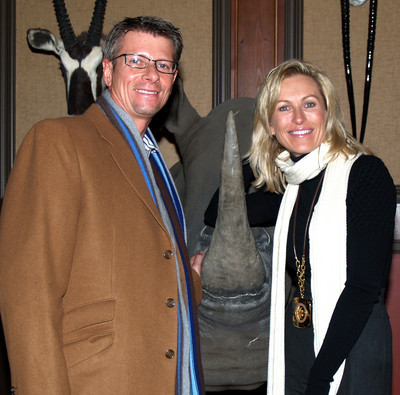 The sustaining members of the Junior League of Las Vegas hosted their annual holiday coffee on Saturday at the home of Rene and John O'Reilly.
Active League members, sustainers and their guests were welcomed at the door by Junior League President Patti Wippel, sustainers' president Carole Terry, coffee co-chairs Donna Levy and Kellie Guild, and hostess Rene O'Reilly.
A 12-foot-high Christmas tree decorated with large red ornaments graced the entry hall. All rooms boasted glowing fireplaces and were festooned with green garlands and red ribbon. A lighted miniature village sat atop the baby grand piano, where Silverado High School music student Mary Ann Taylor entertained. Fresh red rose and carnation florals were by Desert Rose High School hospitality and PACE students. The array of sweets was catered by chefs Shannon Kelly Smith and Michael Pittman of Northwest Career and Technical Academy. Gingerbread houses were donated by the East Career Technical Academy.
Presiding at the coffee/tea table were past league presidents Mary Laub, Donna Andres, Betsy Rhodes, Thalia Dondero, Janice Allen, Cheryl Purdue, Jeannette Clark, Sherry Layne and Stephanie Vogel.
The focus of the coffee is to collect the children's wish list called "Adopt-A-Bear." A committee made up of 26 members traveled to selected schools to talk to and measure more than 300 at-risk students for clothing, toys and book preference and for toys for siblings in the family.
League members adopt a bear and wrap 10 items the child desires, and the bear committee delivers the filled Santa bags back to the school to be given to the child's parents on Dec. 17.
The bear committee members present at the coffee to receive the filled bags were chairwomen Judy Beal and Debbie Levy, and members Mary Blake, Bonnie Bryan, Martha Carter Tomal, Tina Collins, Sherry Colquitt, Margaret Congdon, Nancy Corrigan, Jane Fielden, Linda Givens, Jan Greene, Mitzi Hiegel McAllister, Karen Johnston, Wendy Kalb, Susan Kubat, LuAnn Kutch, Nancy Leslie, Gayla Merrick, Sally McKinney, Margy Purdue-Johnson, Betsy Rhodes, Sally Rycroft, Nancy Shepherd, Carole Terry, Jan Titus, Lynda Wohletz and Lois Zellers.
TOYS FOR TOTS: James "Bucky" and Gianna Buchanan opened their Sunrise Mountain home for their annual Toys for Tots holiday party Saturday evening.
Invited guests were asked to bring unwrapped toys that were received by Marines in dress blue.
Guests included Judge Sandra Pomrenze, Judge Dianne Steel and Stefan Ivan Steel, Judge Bill Jansen and Nora Jansen, Judge Donald Mosley and T.K. Crab and Judge Natalie Tyrrell. Also in attendance were Regent Mark Alden and wife Tanta Has-Ocher, Lee Medick and Gregory Sonn, Karen and Fred Maryanski, Howard Cohen, Beverly and Mike Mykisen, and Barbara and Bruce Woollen.
Barbecue fare was prepared by Dave Kent and music was by Richele Panther and a five-piece band.