KFC will start serving Nashville hot chicken nationwide
January 19, 2016 - 11:14 am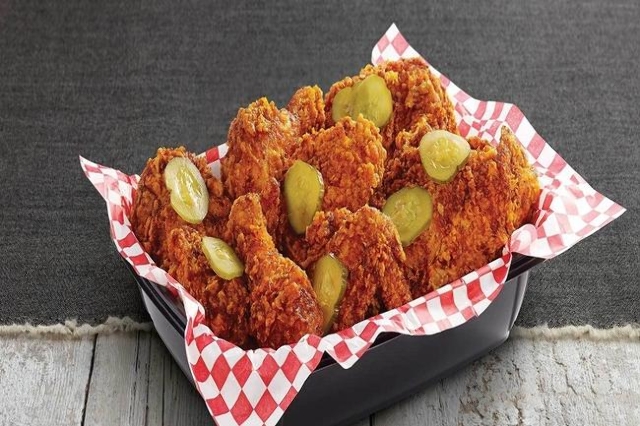 To residents of Nashville, "hot chicken" is the area's signature dish. Soon, you can get that dish pretty much anywhere in the U.S.
KFC will start serving its version of hot chicken at all 4,300 of its U.S. locations, according to Time. The fast-food giant's decision to serve its own version of hot chicken — fried chicken coated in a spicy red crust — comes after a trial run in the Pittsburgh area in which the company called "the most successful product testing in the company's recent history."
KFC will offer two different meals: chicken tenders or chicken on the bone — both of which are served with pickle chips on top to cut the spice.
Although Nashvillians say they welcome KFC's take on the hometown favorite, they're skeptical how close it will match to the original.
In an email to Time, Nashville Mayor Megan Barry said, "Hot chicken is uniquely Nashville and delicious, so who can blame KFC for wanting to recreate it? But KFC is missing one ingredient in their Nashville Hot Chicken – there's no Nashville!"
And, according to Dollye Ingram-Matthews, the manager of Bolton's Spicy Chicken & Fish, a legend in Nashville's hot chicken cuisine, "I wish them the best, but I don't really think it will change anything for us because Nashville hot chicken has to be bought in Nashville."

Contact Caitlin Lilly at clilly@reviewjournal.com. Find her on Twitter: @caitiesmith