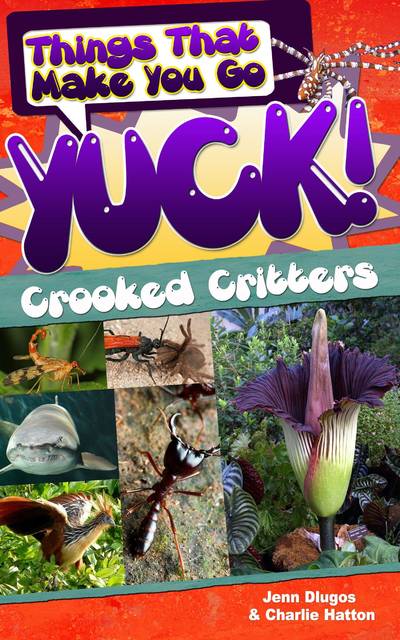 The world is a very nice place.
Well, mostly, anyhow. Yes, there are flowers and sunshine and blue skies, clouds, seasons, trees and nice people. But in the new book "Things That Make You Go Yuck! Crooked Critters" by Jenn Dlugos and Charlie Hatton, there are also some not-very-"nice" creatures on Earth.
Ever since you were small, you've known that lying, stealing and bullying were wrong. Your parents and grandparents probably taught you that, which explains why some animals lie, steal and bully. Those animals obviously weren't raised properly.
Just kidding; they "make you go Yuck!" because of their drive to survive.
Take, for example, a certain species of tapeworm.
It "has a complicated lifestyle" that includes getting inside a fish's body and controlling its behavior. That's not good for the fish, but there's nothing it can do because the fish must get eaten by a bird so the worm species can survive.
And then there's the bedbug, which definitely should make you say "Yuck!" All it takes is one pregnant bedbug and you've got major problems. "They spread like wildfire," say the authors, they leave itchy bites overnight, and they're hard to eradicate. Get bedbugs, and there's no "sleep tight" for you.
Or, get this: the tongue-eating louse, which is really a crustacean, sneaks inside a fish's mouth and cuts off the fish's tongue's blood supply. Then the louse takes up residence where the fish's tongue used to be and works as a "replacement tongue" in order to steal food from the fish. Yuck!
Skuas are birds that fake injury to lure predators away from their nests. Howler monkeys are not good neighbors: their yells can be heard up to three miles away. You don't want to eat squirting cucumbers. You don't want to be around when a shrimp snaps its claws shut. You shouldn't ask for an Amazon rainforest centipede as a pet. You don't want to live with a Huntsman Spider out back. And you absolutely want to run, run, run fast when faced with a tarantula hawk wasp or a bullet ant…
Give "Things That Make You Go Yuck! Crooked Critters" to your child, and will she do what the title says? Probably yes, as well as "Eeeeeuuuwww" and "Gross!" because that's the kind of book this is.
And yet, the squirms here are not gratuitous, Dlugos and Hatton present real science in a way that will intrigue a kid. The information is given in a way children can understand and scientific names of the creatures are phonetically spelled out, but the material is still challenging. Dlugos and Hatton write with the kind of enthusiasm for their subjects that will easily get kids excited, too, and there are lots of full-color pictures to get the ball rolling.
This book is one of four in a series, each perfect for 9- to 13-year-olds who love science. Or, if you've got a middle-schooler who needs a nudge toward the laboratory, "Things That Make You Go Yuck! Crooked Critters" is a nice start.
View publishes Terri Schlichenmeyer's reviews of books for children weekly.
About the Book
"Things That Make You Go Yuck! Crooked Critters" by Jenn Dlugos & Charlie Hatton
c.2015, Prufrock Press $7.95 / $10.95 Canada 112 pages