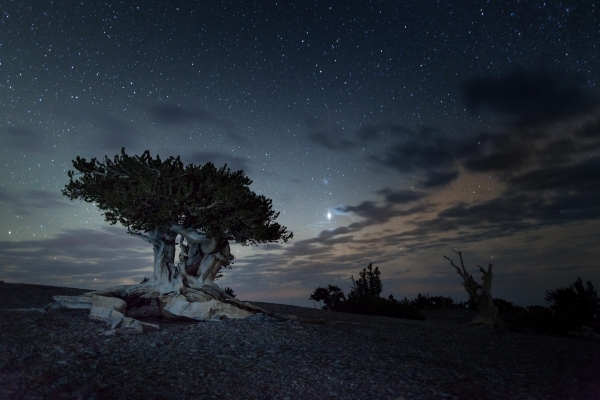 By this time next year, one of the nation's darkest skies should have a new research telescope parked beneath it, thanks to the largest donation yet to the Great Basin Observatory.
Former Nevada Power Co. President and CEO Mike Niggli and his wife, Linda, recently donated $200,000 to the fundraising campaign, pushing it well past its goal to build and open an observatory at Great Basin National Park.
Members of the park's nonprofit foundation had hoped to raise $480,000 by the end of the year to buy and set up a remote-controlled, 28-inch telescope in the Snake Mountains 300 miles northeast of Las Vegas. Instead, they collected about $800,000.
"What this really means is we have all the funds we need to build and open the telescope" and keep it operating while the educational programs are set up, foundation Chairwoman Becky Mills said. "We are beginning the purchasing process for the telescope."
Niggli said the decision to donate to the cause was rooted in his affection for "a very special national park" and one of its signature attractions: clear night skies, far from the glow of Las Vegas and other cities.
"I love to sail, and if you think about our ancestors who used the stars to navigate their way around the globe, you see skies like that at Great Basin," said Niggli, who has served on the park's foundation board for 17 years. "What better way to (protect) that than to have a world-class telescope up there that needs to have those dark skies to be effective?"
Niggli was hired as president and CEO of Nevada Power in 1998 to oversee its merger with Sierra Pacific and steer the company through the deregulation of the power industry. He left the company in 2000.
He later served as president and chief operating officer of San Diego Gas & Electric Co. before retiring in 2013.
Niggli said he and his wife maintained a house in Las Vegas after he left Nevada Power, and now they spend most of their time here.
Their gift to the observatory was part of a barrage of big donations that have rolled in since summer.
Other major donations include: $125,000 from the David Nathan Meyerson Foundation; $100,000 from the Great Basin National Heritage Partnership; $100,000 from the Mount Cuba Astronomical Foundation; $50,000 from NV Energy; $50,000 from the Robert S. and Dorothy J. Keyser Foundation; $50,000 from the George S. and Dolores Dore Eccles Foundation; $25,000 from the Roxie and Azad Joseph Foundation; $20,000 from the Cashman Family Fund; $20,000 from the Jack Van Sickle Foundation; $18,000 from the Willard L. Eccles Foundation; and $10,000 from the Community Foundation of Western Nevada Partnership Grant.
After reading about the observatory project in the Las Vegas Review-Journal, Las Vegas resident Carmela Perkins-Linsmeier contacted the Great Basin National Park Foundation and donated $10,000 in memory of her late husband, Fred R. Perkins.
Mills said she hopes to see the telescope up and running in time for the National Park Service's 100th anniversary on Aug. 25.
The observatory will be operated by the University of Nevada, Reno; Western Nevada College in Carson City; Concordia University in Irvine, Calif.; and Southern Utah University in Cedar City.
Students at those schools will be able to book time on the scope to conduct research. The images they capture will be posted online for all to see.
— Contact Henry Brean at hbrean@reviewjournal.com or 702-383-0350. Find him on Twitter: @RefriedBrean