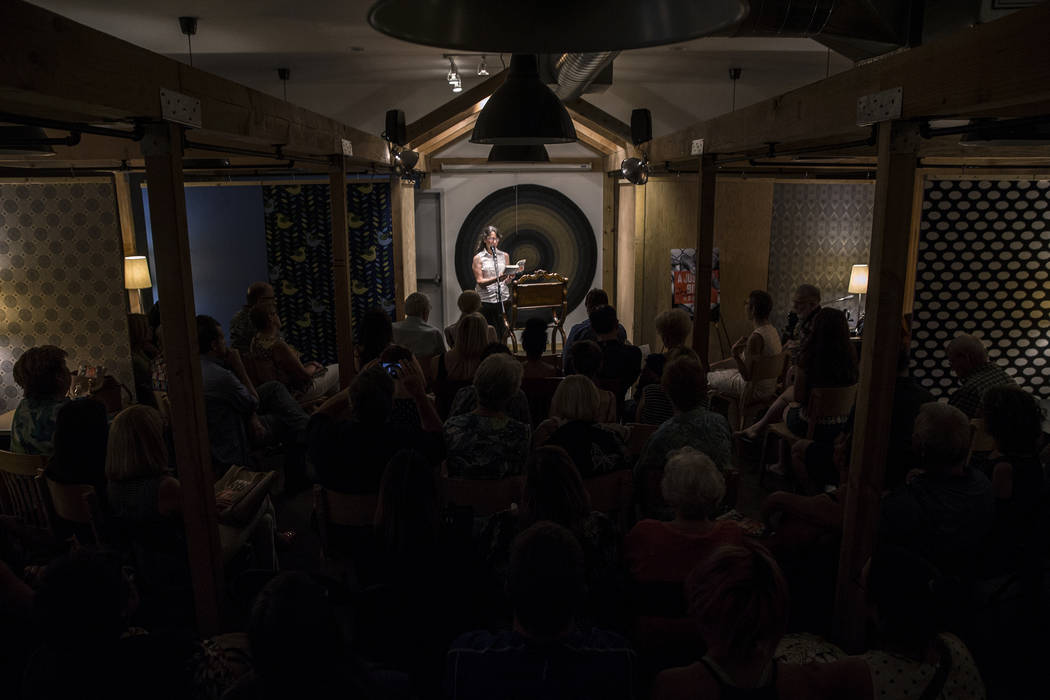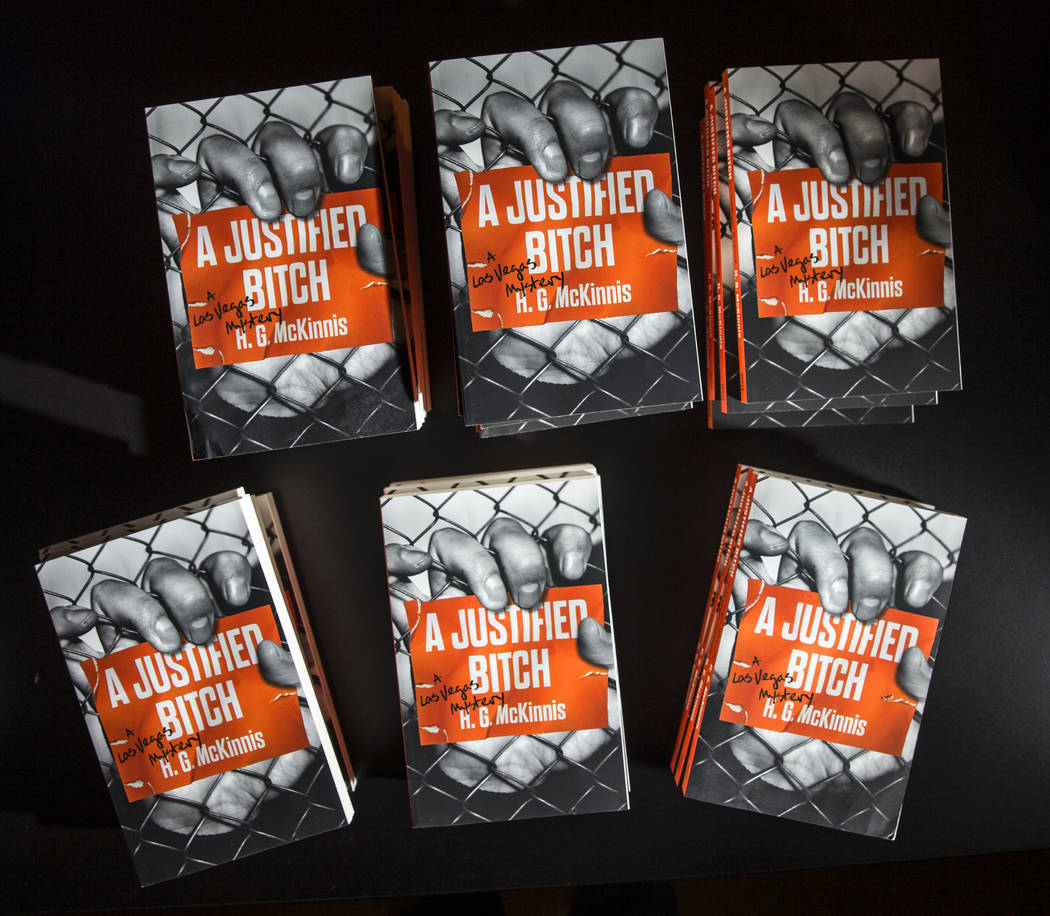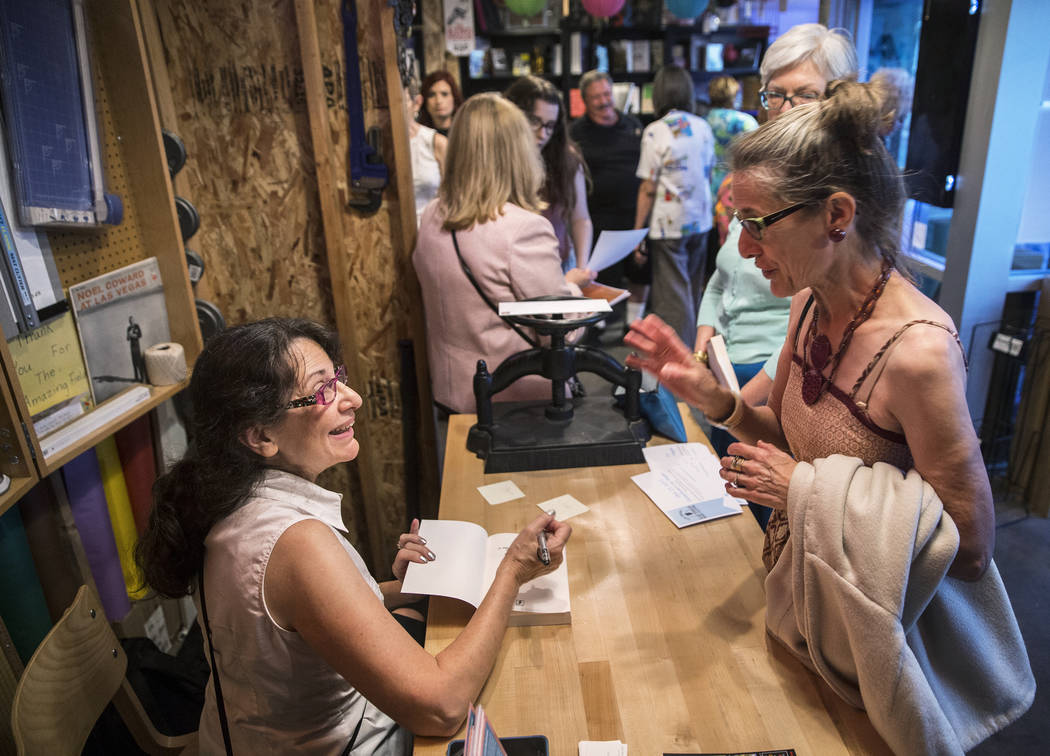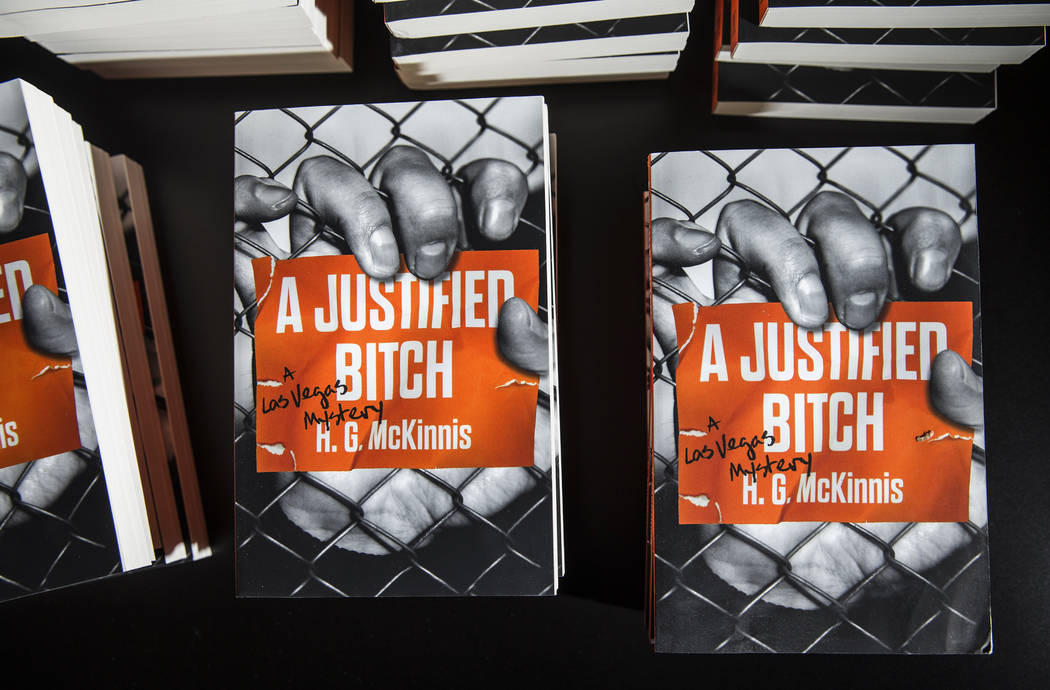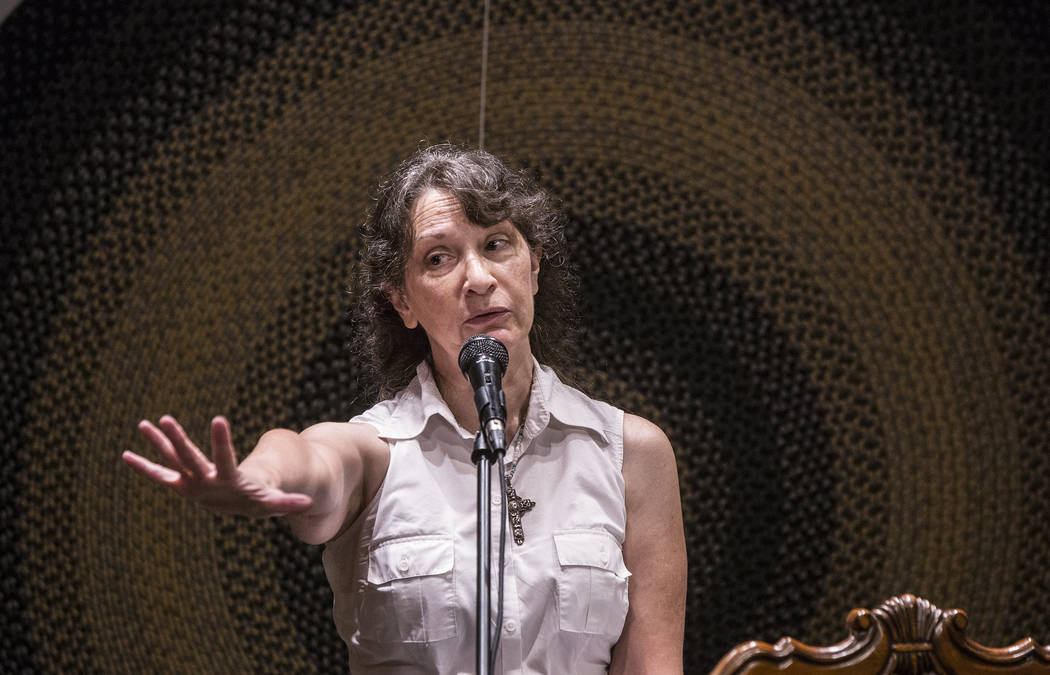 Nobody can claim that H.G. McKinnis took the easy route with her debut novel.
It is, as the book's subtitle notes, a "Las Vegas mystery." But it's also about murder, mental illness, how families work or don't work and healing, all deftly woven into the fabric of an intriguing whole.
"A Justified Bitch" (Imbrifex Books, $15) wastes no time setting up its premise: A Las Vegas woman — a hoarder and swap market savant who suffers from schizophrenia — is presented by her cat with a severed finger belonging to a neighbor. The police's discovery of the neighbor's mutilated body thrusts the woman into the middle of a murder investigation and her estranged family members into searching for a way to both help her and stitch together their frayed family.
It's an ambitious story that requires McKinnis to keep several stylistic balls in the air. She credits critiques by her late husband, Jay MacLarty — a founder and leader of the Las Vegas Writers Group and author of several thrillers published by Simon & Schuster, who died in 2010 — with helping her keep the multiple plot threads straight and the characters and world she created true to life.
"That's where I was lucky enough to know Jay. He liked me enough to actually help me out," McKinnis jokes. "He was really good at telling me where to research things and to get it so that it sounds realistic."
MacLarty also helped to liberate McKinnis from the fear that she might be taking on a bit too much.
"Jay was quite clear on this: Your first book does not get published," McKinnis says. "You hope that it will get published, but you don't go to the bank with that."
"I didn't even know people would actually end up reading it," she says, laughing. "So I didn't care."
A Las Vegas story
McKinnis, 58, has lived in Las Vegas since she was 2. Her father was a geologist at the Nevada Test Site (now known as the Nevada National Security Site), and her mother sang religious music for Jewish temples on Saturdays and at various churches on Sunday.
McKinnis graduated from Western High School. She enjoyed writing — particularly humorous pieces to make her English teacher laugh — but had no thought of pursuing a writing career. Instead, she earned a degree in theater arts from UNLV — "That's a big-money one," she jokes — and spent about 20 years working as a nude dresser for production shows on the Strip, helping dancers dress and fitting and maintaining the feathered, sparkly costumes they wore.
"When I started, there were actual nudes, women who were so incredibly perfect, and what they'd do is stand around wearing these really gigantic, expensive costumes and being nude from the waist up," McKinnis says. When shows requiring nude dressers diminished, McKinnis went to work in the convention business.
She reconnected with writing around 2000 and began taking writing classes at the College of Southern Nevada with her mother.
"I've always been kind of good at spinning a story, and I got a lot of good feedback on them, but I didn't really know what to do with them," McKinnis says.
She went to a Las Vegas Writers Group meetup. There, she met MacLarty.
"It's just a really odd coincidence that I wrote (the book) right after I met him, and he helped me with it," McKinnis says. "And by the time I got a New York agent, he got cancer."
'Edge of reality'
One of the most intriguing aspects of the book — besides its unexpected humor — is the thread of mental illness depicted. McKinnis researched the topic, but also brought a personal recognition of it to her writing.
"My family has always kind of walked the edge of reality," she says. "We could call it on a tightrope between here and there."
She also wanted to examine the support that only family members can give to one another. "I wanted to show what happens when you are so dependent on who your family is, and when it comes down to it, who else can you rely on?" she says.
About that title …
McKinnis is cryptic about the book's jarring title which, she says, some readers haven't been thrilled with. McKinnis says various definitions of the word apply at one point or another in the story.
"The word … downtown, walking around, just means girl," McKinnis says. "It used to be a huge pejorative. Now I work with girls and they all say, 'Let's all us b****** get a drink at the bar,' but it was not a (neutral) term when I was growing up.
"And it means, of course, a female dog. Then you also have the meaning to kvetch or complain. So it means all of them and does not mean all of them at the same time."
Even if the book crosses a genre or two, McKinnis says it is, at its heart, "about a tragedy that tears a family apart and another tragedy that reunites them. It's about how we deal with tragedy, because you're not getting out of here without dealing with tragedy."
An excerpt:
Bobby plopped down beside her, wearing the same shorts, T-shirt, and hiking boots he had been wearing ten years earlier when he stepped off a sixty-foot cliff in the Ruby Mountains. Helen glanced toward Bebe's house, afraid she had seen something horrific, but not sure. It could have been another hallucination, or a late-morning dream. "What do you think?"
Squinting, Bobby craned his neck toward the back fence, a sagging chain-link. Don't really know.
From the corner of the yard, Stripes crept toward them. Wary, the cat crouched in the brown grass, ears up, pupils wide, something in her mouth. Her green eyes focused on Helen, as if trying to communicate telepathically. Connection made, she crept forward, her coloring a perfect match for the dry grass, her prize poking out the side of her mouth like a mini cigar, then she zipped forward and deposited her gift at Helen's feet.
Helen stared at the offering, a woman's finger, the fingernail sporting a French manicure with a tiny fake diamond at the tip. The opposite end looked as if it had been snipped off with pruning shears, the white of the bone even with the flesh. "How about that? Bebe must have lost her press-on finger."
Bobby gave a disgusted snort. She wears press-on nails, not press-on fingers. Looks like she cut it off.
Helen's stomach knotted in sympathy. "Why would she do that?"
The baying from the next yard took on a mechanical quality, then quickly mutated into the familiar sound of emergency vehicles. When a squad of police cars screeched to a halt in front of Bebe's house, Helen realized she hadn't imagined things — the flashing lights proved that.
Contact John Przybys at reviewjournal.com or 702-383-0280. Follow @JJPrzybys on Twitter.