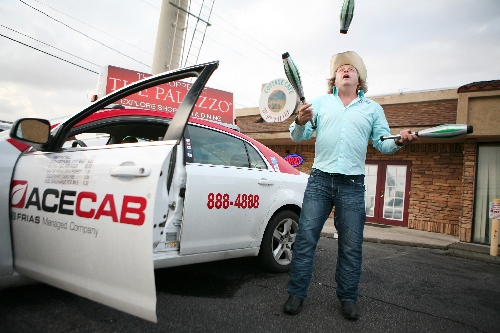 In a town overflowing with aspiring entertainers and colorful characters, Daniel Mann is the best juggling taxi driver who's famous in Ethiopia that you've never met.
Witness the impromptu show — most of his shows are impromptu, actually — Mann stages in the parking lot of the Ellis Island Casino & Brewery on a recent, stubbornly overcast morning.
Standing and dancing next to his taxi — you can tell it's his by the 8-by-10 head shot in the window bearing the words "Daniel Mann, Taxi Driver/Comedian" — Mann juggles a trio of cascading silver clubs. He juggles while doing this shoulder-jutting dance move. He balances — perfectly — his cowboy hat on his nose like a turquoise-shirted seal.
Ron Purpura and Veronica Mariaca look on with just-this-side-of-amazed smiles. They're visiting from Danville, Calif., and Mann's parking lot extravaganza certainly is the least expensive show they've seen in Vegas.
Mann's talents are "impressive," Mariaca says, while Purpura figures Mann is missing a bet if he doesn't use his juggling talents to attract fares.
"It might even get him better tips," Purpura says. "If there's a line of 10 cabs and one guy is outside juggling, right away I think I might take a ride with him."
Mann has that covered. He does juggle for passengers, if they want to see him do it. He juggles for cops in the pit, the taxi waiting area at McCarran International Airport. And he juggles to entertain other cabbies, just to pass the time and to keep his skills sharp.
But what Mann really wants to be is famous. In fact, he's already, if not halfway there, at least one-hundredth of the way there because, Mann says, he's big in Ethiopia, thanks in part to his use of Ethiopian singer Teddy Afro's music in videos he posts of himself on YouTube — 600 of them as of last week.
Mann was introduced to Afro by Ethiopian cabdrivers here. And after going to an Afro concert, "I fell in love with the (Ethiopian) culture," he says.
Mann bills himself as the world's only juggling cabdriver, although that's not quite accurate because he also tells jokes and dances, too, often in an Ethiopian style, although his Elvis moves always are a surefire crowd-pleaser.
Mann is an outgoing guy with the hyperactive enthusiasm of a sixth-grader. He talks fast, and a conversation with him skips around freely, as he juggles thoughts just like he does those flashing clubs. But he's also a nice guy, and it's easy to become caught up in his enthusiasm.
Mann — "I'm 38 10 years ago; that's my usual answer" — moved to Las Vegas about 3½ years ago from Providence, R.I. He was born in New Hampshire in what he calls a poor family — Mann's dad died when Mann was only 2, leaving his mother to raise a dozen kids by herself — and he always was a restless kid.
When he was 5, his brother accidentally let go of Mann while spinning him around. Mann broke his leg and, he says, "the whole time I was in the cast I didn't stay still. I would just walk around with the dirtiest cast you ever saw in your life."
As a teenager and young adult, Mann pursued passions ranging from boxing to acting, and even landed a few roles as an extra in movies produced back East. Then, when he was 23, Mann met a former performer from the Moscow State Circus who taught him how to juggle.
Mann decided that he wanted to be a performer. He tried out for the Ringling Bros. and Barnum & Bailey Clown College several times but never got in, and he took classes in juggling, mime, vaudeville and physical comedy.
In addition, Mann says, "I would just sit down and study Red Skelton and do his skits. I've still got his monologues in my head."
His goal? "I wanted to be famous," Mann says. "You know, move to California and be a movie star or something."
Mann became a professional, and well-known, clown — he dubbed himself "Danoe" — ultimately doing, he says, "thousands of birthday parties in Providence."
Then, while painting his house, Mann fell three stories and shattered his foot. He figured it was as good a time as any to head west, to Los Angeles, to pursue his performing dreams. But, along the way, Mann came to Las Vegas, found that he liked it here and decided to stay.
"I needed to start over. I needed to make a change," he says. "I could go only so far in Providence."
Mann performed occasionally at a comedy club here, took occasional acting classes in Los Angeles and supported himself by driving a cab. He started to juggle during odd moments on the job, mostly to perfect his skills.
Eventually, Mann began to juggle for his passengers, who seemed to enjoy it, and began recording his on-street performances, his interactions with passers-by and his conversations with riders. He started to attract a small but devoted international following.
After his Ellis Island minigig, and with about four hours left in his shift, Mann drives to the Cottage Cafe, an Ethiopian restaurant at 4647 Paradise Road, for his brunch/lunch break. There, he greets a few Ethiopian cab-driving colleagues who are leaving.
All vouch for Mann's sincere appreciation of Ethiopian culture and for his willingness to help out Ethiopian newcomers however he can.
"(He's) very human," offers Berhane Tesfagabr. "He is funny. He is always happy and he is always trying to help the people."
So, Mann continues to work toward his goal of becoming famous. His current project? "I'm hoping to get a TV show," Mann says, "like the 'Cash Cab' guy did."
Mann doesn't want to release too many details about the proposal he's working up, but the show might include some interviews with riders or celebrities, certainly some jokes and definitely some juggling.
In the meantime, Mann says he's been taped for an upcoming cable special about "what different people do in Vegas."
It's a start. And, Mann figures, he can offer something no other actor, no other comedian and no other entertainer, either here or in Los Angeles, can.
"There are a million actors around and a million comedians around," Mann says, "but there's only one juggling cabdriver."
Contact reporter John Przybys at jprzybys@ reviewjournal.com or 702-383-0280.