Las Vegas celebrities take Thanksgiving bird in hand for charity
November 28, 2013 - 10:55 am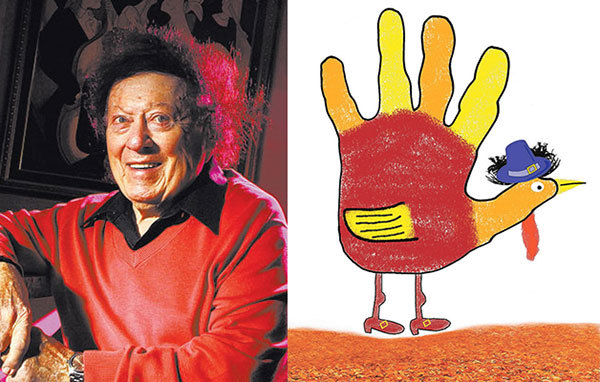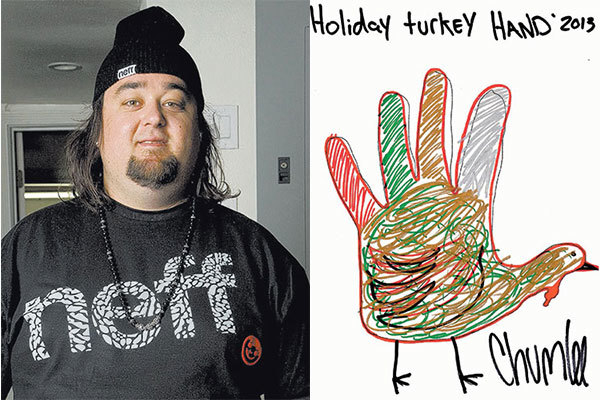 With the possible exceptions of turkey dinners and the Detroit Lions playing on TV, there's nothing that says "all-American Thanksgiving" more definitively than a child's hand turkey hanging on the refrigerator.
We thought it'd be fun to celebrate Thanksgiving by taking that nearly iconic school art project — trace your hand onto a piece of paper and then, using crayons, add to that outline feathers, feet and other tidbits of turkey anatomy — and giving it a Vegasy spin.
So, we enlisted a roster of Las Vegas celebrities, all of whom agreed to take a crack at creating their own portraits of poultry art.
All make for a great gallery of hand turkey art. But know what's really great? Our celebrity artists aren't just talented. They're generous, too, and are allowing their original art to be auctioned off online to raise money for Southern Nevada's Three Square food bank.
To bid on any of the hand turkeys, click on the link to the Ebay auction site link in the list below. Or visit www.ebay.com/usr/lasvegasreview-journal where you'll find individual listings for each item.
Our celebrity artists:
Veronic DiCaire, star of "Veronic: Voices" at Bally's, who incorporated into her hand turkey the maple leaf of her native Canada. Ebay auction site
Chef Rick Moonen of Rx Boiler Room at Mandalay Bay, who used a tracing of his own hand as a jumping-off point for a sort of Mr. Potato Turkey fashioned out of bits and pieces of actual food. Ebay auction site
(Note that, because Moonen's piece is perishable, you'll be bidding on a signed color photo of him posing with his turkey.)
Chris Allen, star of "Defending the Caveman" at Harrah's, who, in keeping with the theme of his show, offered up a male/female turkey duo. Ebay auction site
Comedian Carrot Top, who performs at Luxor and whose hand turkey features images of … well, you guess the vegetable. Ebay auction site
Comedy legend Marty Allen, whose turkey features, if you look closely under the pilgrim hat, a few thatches of his signature hairstyle. Ebay auction site
Comedy magician Mac King, who performs at Harrah's and whose turkey just may reveal how he's able to perform such marvelous tricks. Ebay auction site
Austin "Chumlee" Russell of TV's "Pawn Stars," whose hand turkey is exactly the sort of hand turkey that brings to mind our own school days. Ebay auction site
And comedian George Wallace, who performs at the Flamingo and whose hand turkey is an exercise in Zen simplicity. Ebay auction site
(Note: When a celebrity artist finished off his/her turkey using computer software, you'll be bidding on a printed image — the only printed image we'll ever make — of the drawing.)
Each auction runs through Thursday, Dec. 5, and every penny raised will go to Three Square.
So peruse our artists' work, bid a few bucks, and walk away with both a one-of-a-kind collectible and the satisfaction of having helped out a good cause this holiday season.
And in the meantime: Happy Thanksgiving.
Contact reporter John Przybys at jprzybys@reviewjournal.com or 702-383-0280.