Las Vegas chapel does 'Rocky Horror,' 'Star Trek,' Elvis weddings — VIDEO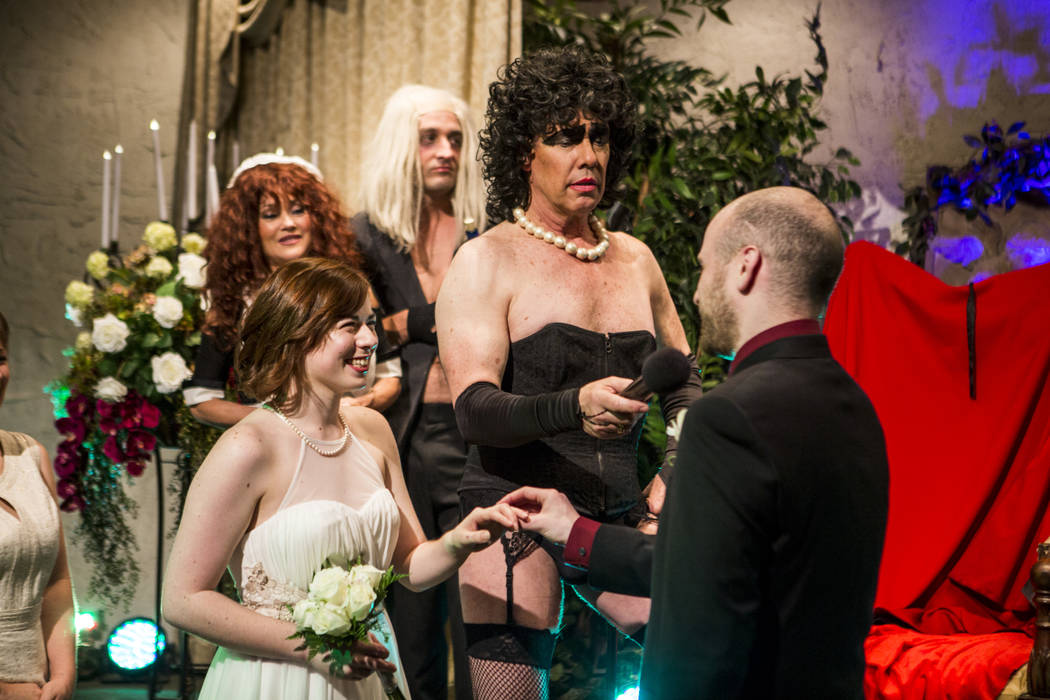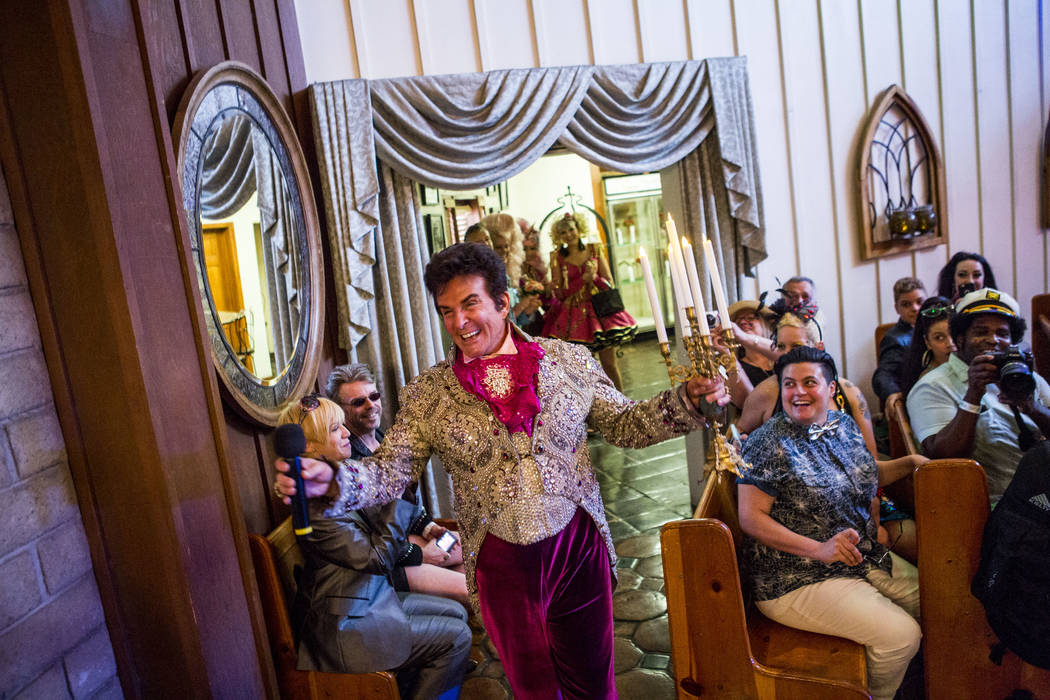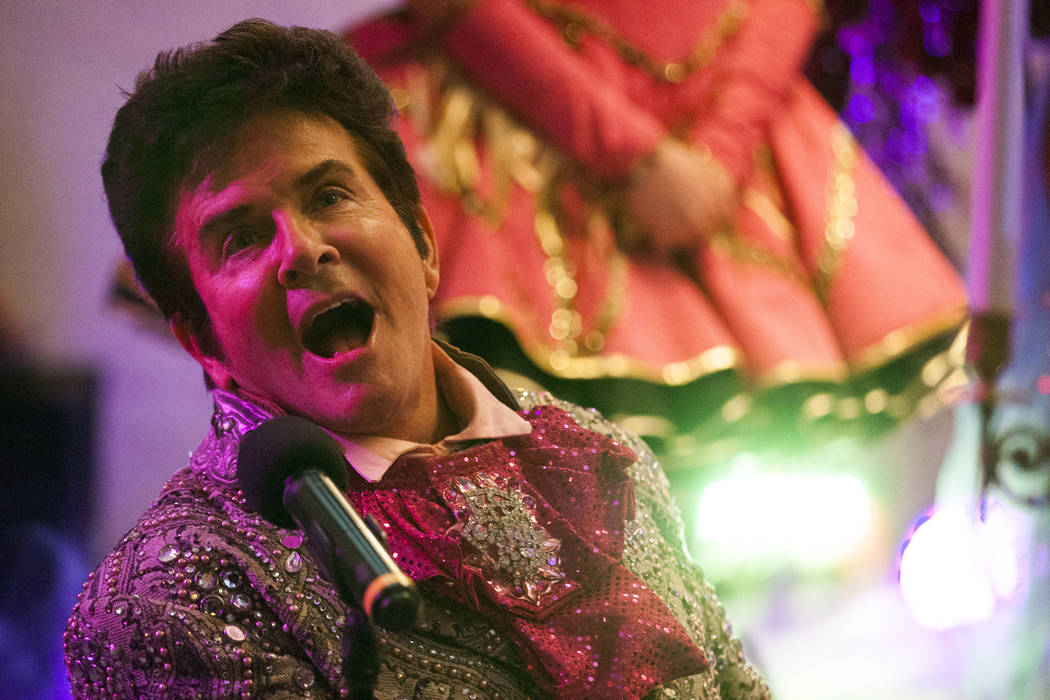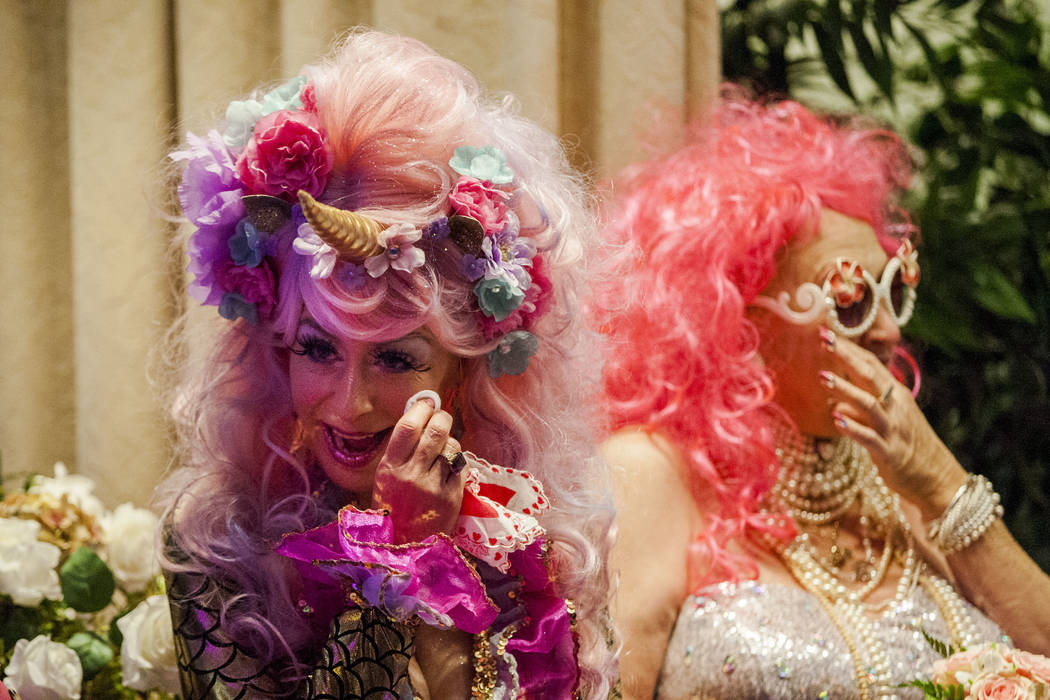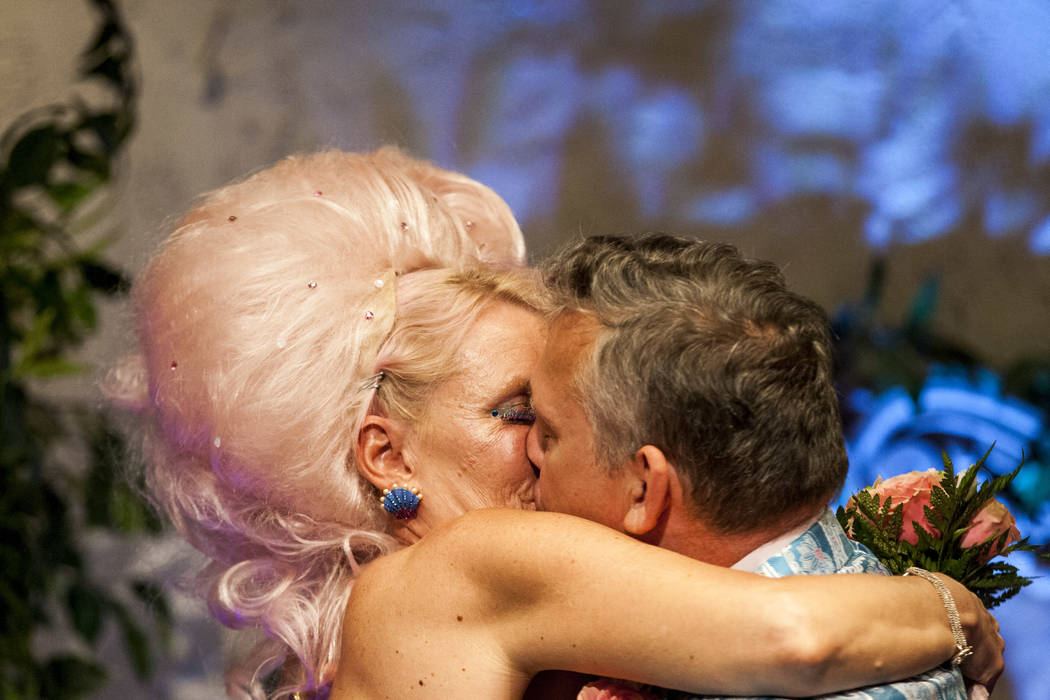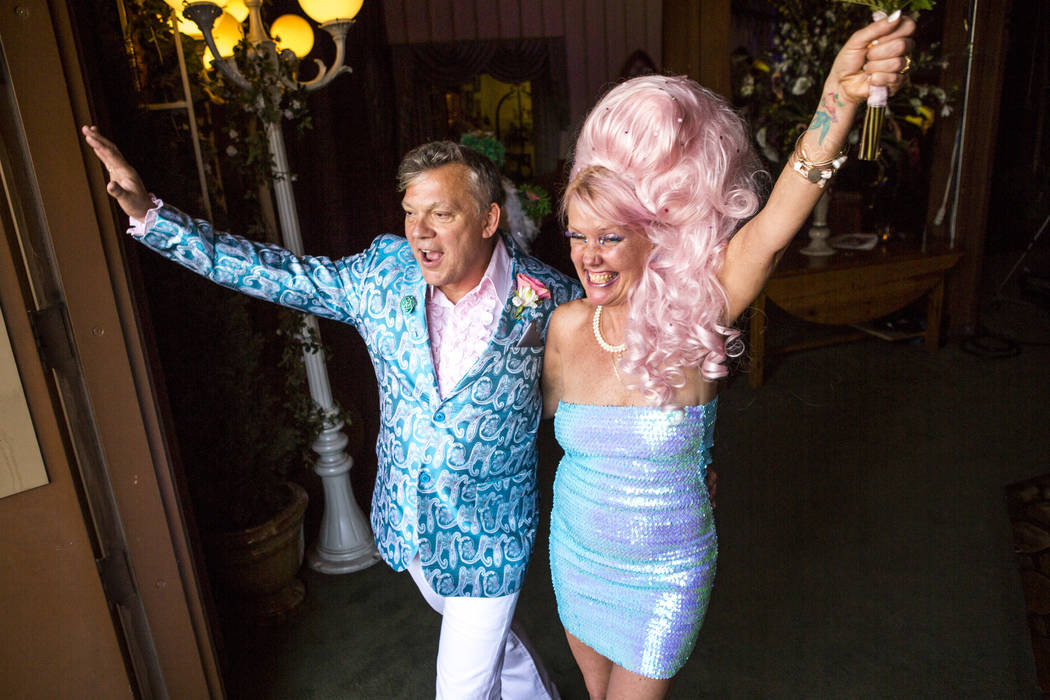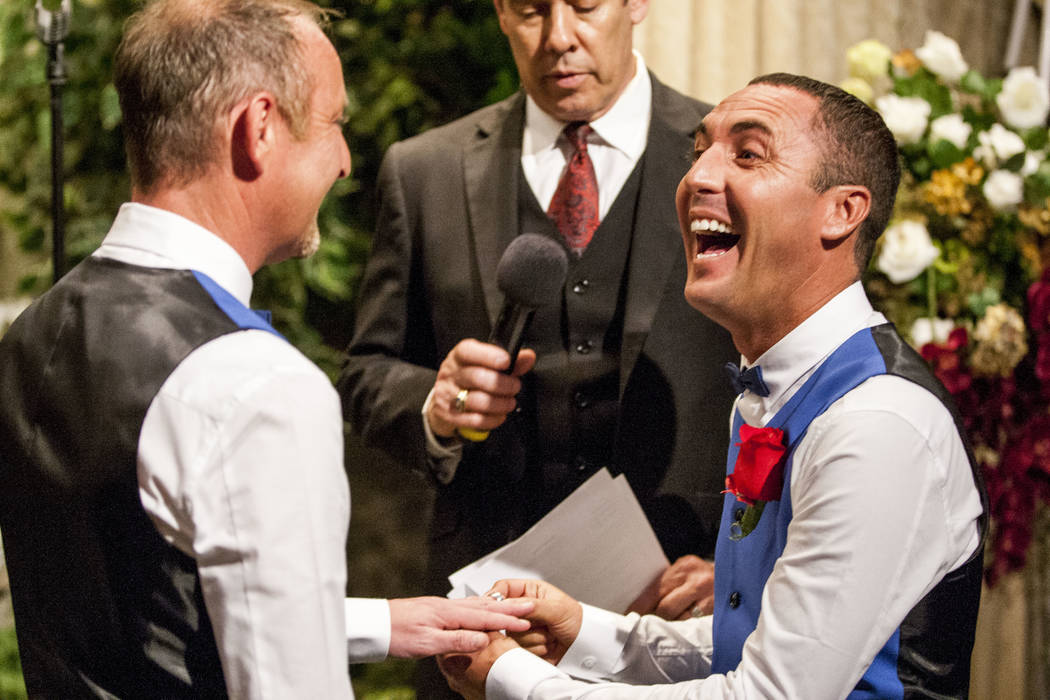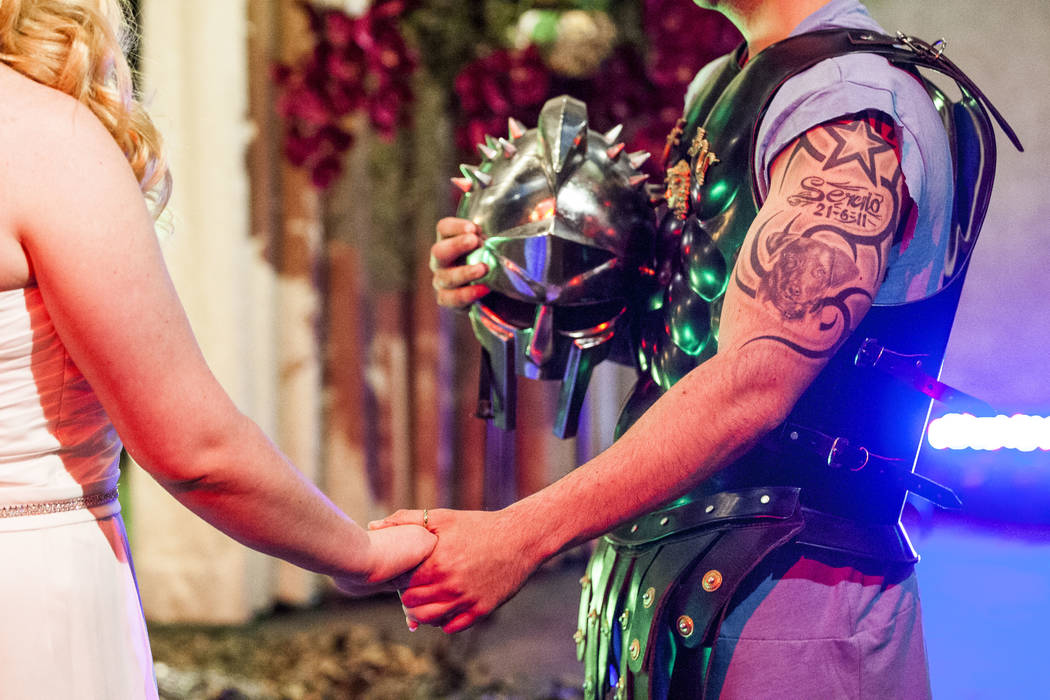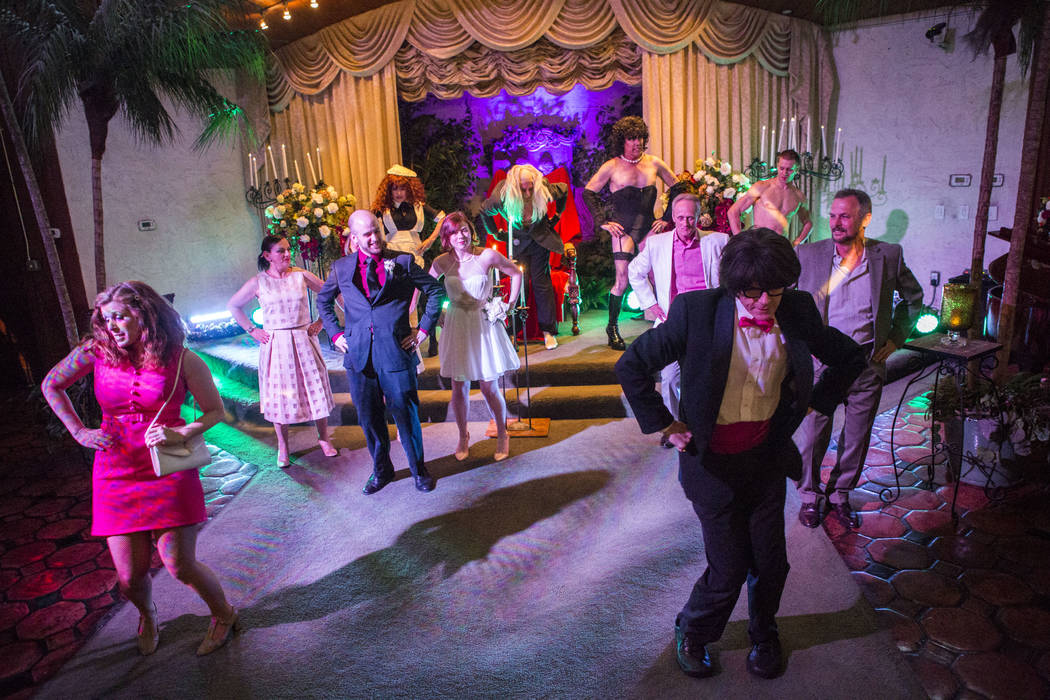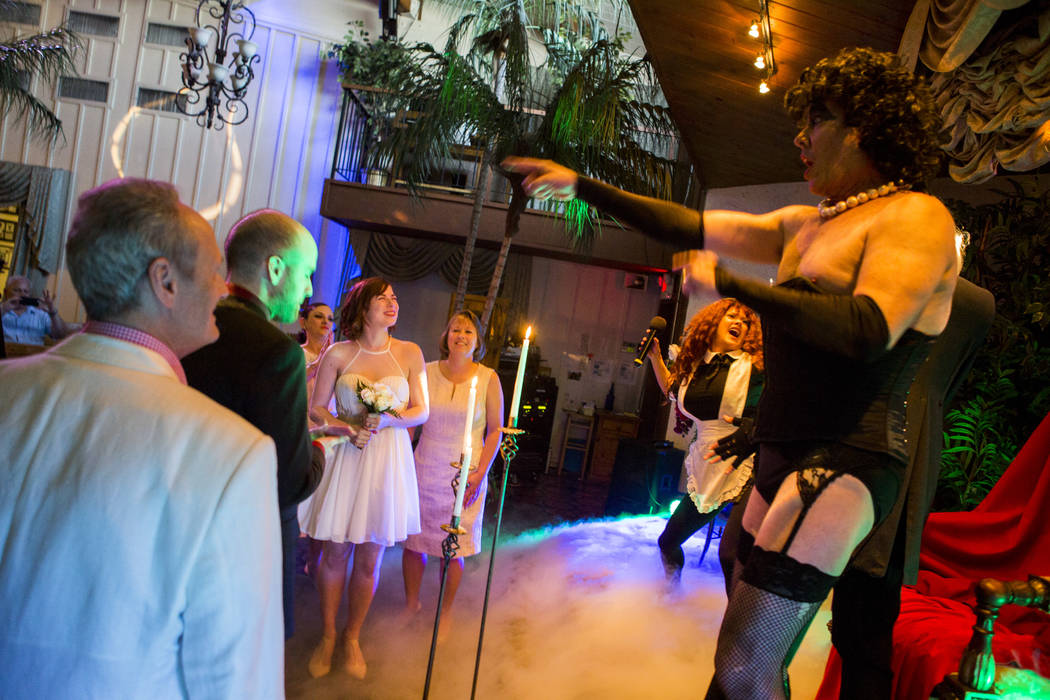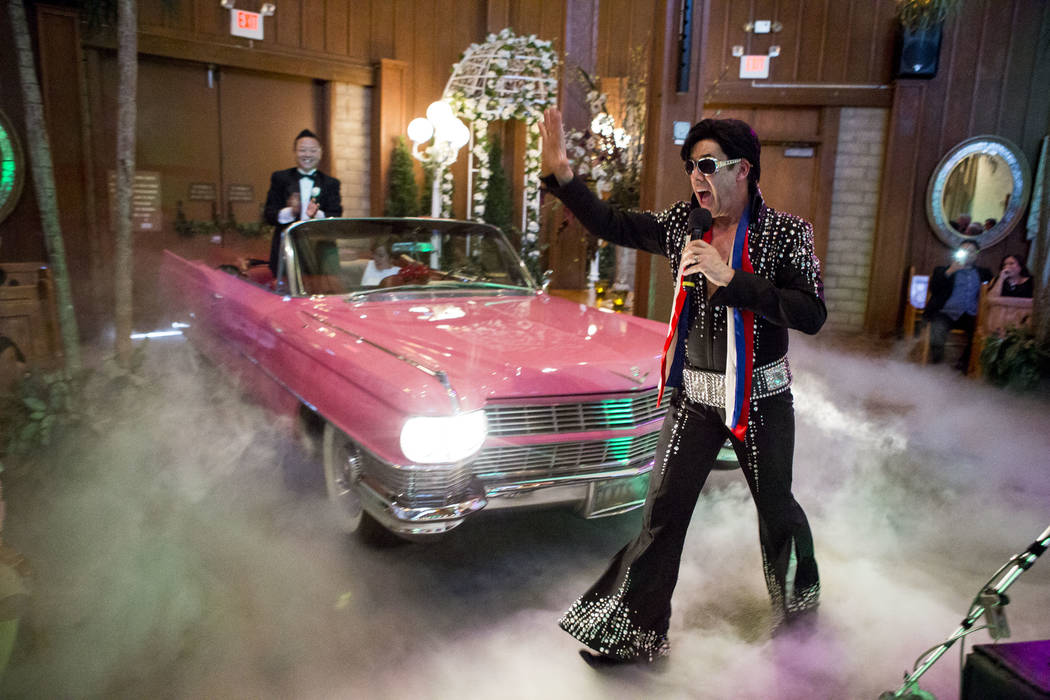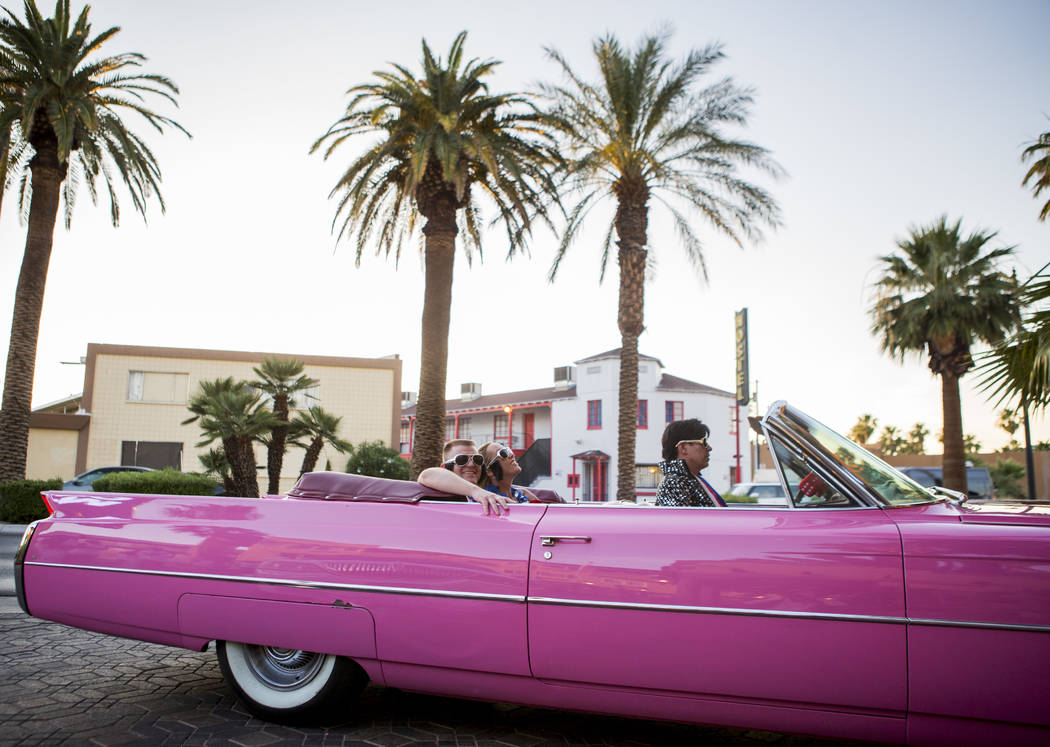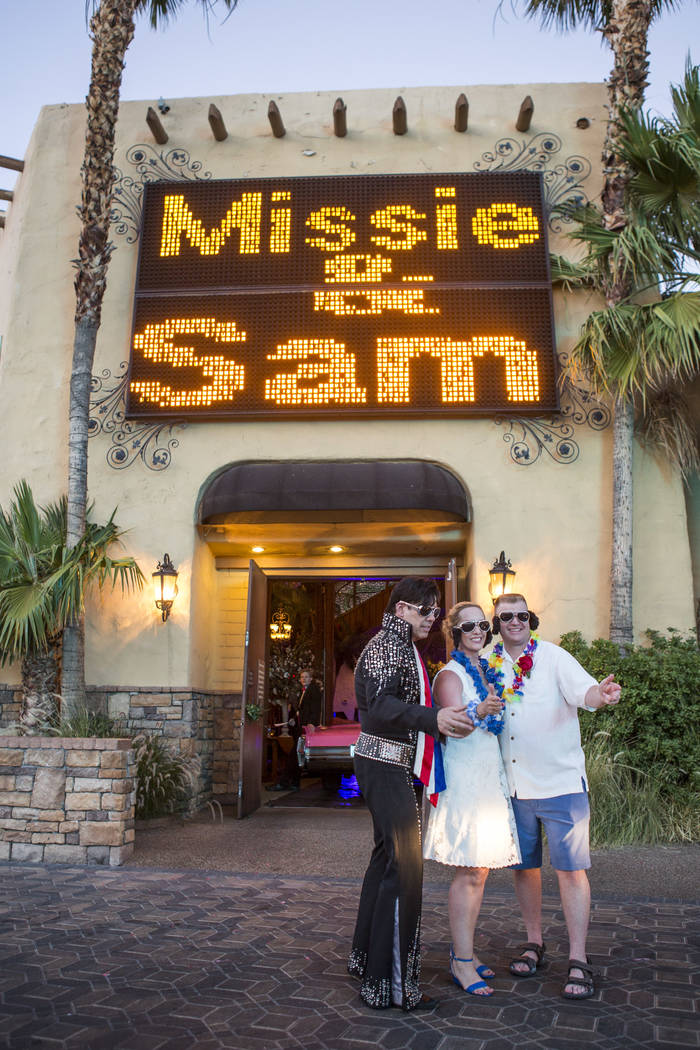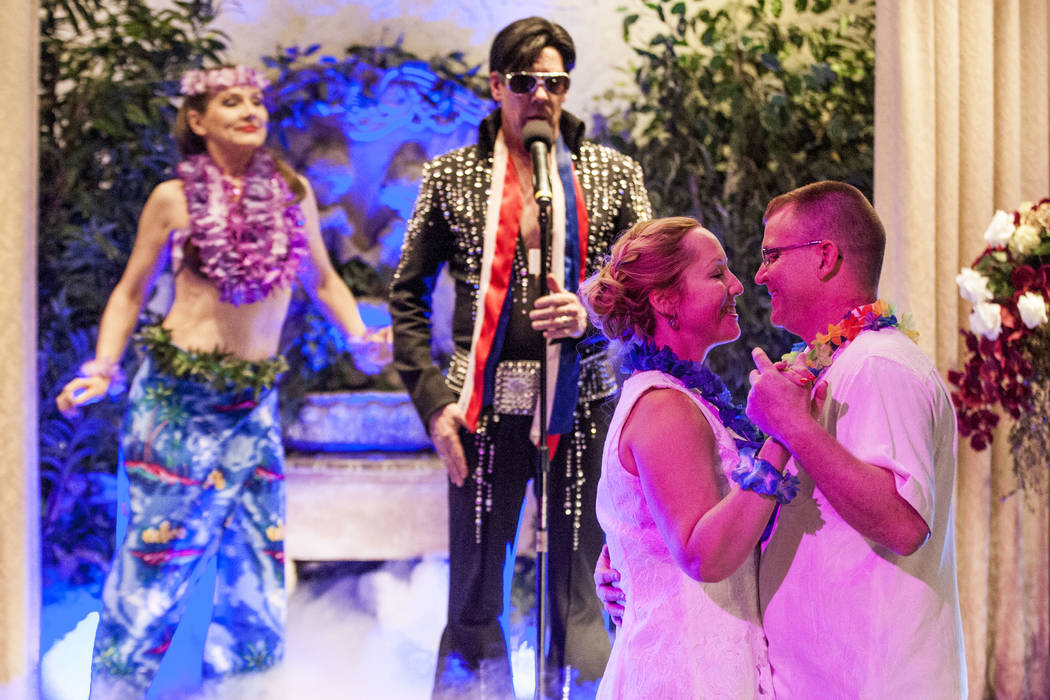 More than halfway into a day packed with themed weddings, Ron DeCar excuses himself to prepare for his next ceremony.
"I'll see you in a different person," he says, heading to the dressing room.
Definitely. Because when DeCar returns about an hour later, he's exchanged his conservative business suit and tie for a leather corset, fishnet stockings, a lush black wig and — you knew this was coming — a pair of high heels.
DeCar is an owner and main officiant of the Viva Las Vegas Wedding Chapel, 1205 Las Vegas Blvd. South. And while plenty of newlyweds-to-be will flock to Las Vegas this month for beautiful but traditional June weddings at chapels all over town, DeCar will be among those who will satisfy the nuptial cravings of couples desiring a more unorthodox way to tie the knot.
People who want to be married by Liberace, for instance, or by Elvis or a gladiator, or who want to exchange vows on the bridge of the Starship Enterprise or rock out to the "Time Warp" after being pronounced man and wife by Dr. Frank-N-Furter.
That last one, by the way, is the wedding that DeCar donned stockings and corset for. On that recent Saturday, DeCar and his cast of performers sent 21 couples off to wedded bliss — 13 after traditional ceremonies and eight after themed weddings of the sort that's become Viva Las Vegas' specialty.
The day's marital entertainment kicks off at 11:30 with a Liberace wedding. And not to take anything away from the couple, but it's the guests who turn heads.
There's a woman in a nude body stocking, a guy wearing a brief and mesh and not much else, a woman in a shiny bodysuit and a unicorn horn — and the kid in a teddy bear suit is the ring bearer. Officiating is a bejeweled Liberace impersonator who plays his part to the hilt.
"Well, look me over," he greets the crowd in Liberace's breathy cadence. "I didn't dress like this to go unnoticed."
It's the kind of wedding where a bawdy joke about the rings draws appreciative laughs, but there is no lack of romance and sweetness at these ceremonies. For instance, every ceremony includes a moment when the officiant asks the couple to look into each other's eyes and remember the moment they first met. In every case they do, and smile.
Entertainer at heart
DeCar opened the chapel in 1999 after 14 years as lead singer and emcee in "Folies Bergere" at the Tropicana. He says the chapel typically hosts about 300 weddings a month. Its record is 550 in a month. On 7/7/07, 150 couples got hitched, and 230 on 11/11/11.
Just over half of all weddings at Viva Las Vegas are traditional. And the theme weddings? "I think it's people who are, obviously, more lighthearted and want to do something crazy and don't want to have a mundane, normal thing," DeCar says.
But the day isn't all about fog machines, flashing lights and costumed characters. There are also couples such as Lee McCulloch and Stuart Dootson, who came to Las Vegas from England to get married. They've been together 17 years, and while nobody is there to see them marry, the chapel live-streams each ceremony for far-off family and friends.
At 4 p.m. comes an Elvis-themed wedding. And while an Elvis wedding probably never can be devoid of cheesiness — vows include promises "every day of my life to be a hunka hunka burning love" and that "I will never have suspicious minds" — watching the couple end the ceremony by dancing to "It's Now or Never" is sort of adorable.
With his entertainment industry know-how and hefty contact list, DeCar can concoct just about any sort of ceremony. He once put on a Liberace ceremony that included a song by a Cher impersonator, and another time crafted a ceremony that included Mr. Spock from "Star Trek" teleporting into a Camelot theme.
With lights, music, smoke effects, actors and, most of all, the sense of showmanship that go into every ceremony, "every half hour is a performance," DeCar says.
'Rocky Horror,' 'Star Trek'
Nothing illustrates that better than the 4:30 p.m. "Rocky Horror" ceremony, with six costumed cast members, fog machines and a faithful, if abbreviated, version of what fans of the cult flick would remember watching in theaters.
The ceremony includes subtle but witty touches — the "light" references in "Over at the Frankenstein Place" seem perfect when the "Janet" character serenades the couple as they light a unity candle — and DeCar flirts with the groom and performs a solid rendering of Tim Curry's voice. The ceremony closes with the wedding party and guests dancing a frenzied "Time Warp" ended by a collapse to the floor.
So who's the "Rocky Horror" fan? "We both are," groom Alex Spivak says. "Neither of us wanted a traditional, big wedding. We just wanted something fun, something memorable that for sure will be an icebreaker for the rest of our lives. It seemed like an awesome idea."
Then, in about 15 minutes, the chapel transforms from freaky castle to the bridge of the USS Enterprise for a "Star Trek" wedding that features transporter room props, cast members playing Captain Kirk and a Starfleet lieutenant, smoke effects, cardboard cutouts of Spock and Bones flanking the stage and references in the vows to the Neutral Zone, dilithium crystals, warp drive and, of course, a wish to "live long and prosper."
DeCar says Elvis is far and away the chapel's most popular character. Elvis makes three appearances throughout the day, even arriving in a pink Cadillac with Garry and Julie Kim, physicians from Los Angeles, who came to Las Vegas to renew their vows after 20 years.
"It's something we've always talked about," Garry Kim says. "We come to Las Vegas probably once every year, and we've always said, 'Let's renew our vows.' And we're totally into kitsch, so it's gotta be Elvis."
Contact John Przybys at reviewjournal.com or 702-383-0280. Follow @JJPrzybys on Twitter.