Las Vegas clergy balance security with welcoming environment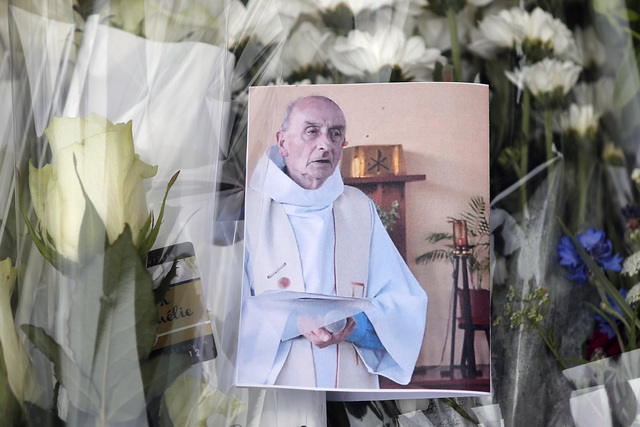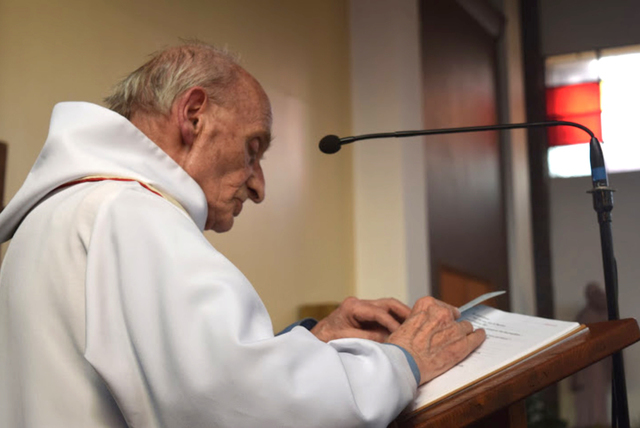 The killing Tuesday of a Catholic priest in France by gunmen who claimed allegiance to ISIS marked what some experts say is an expansion of the terrorist organization's activities into Western Christian churches.
It also renewed a central conflict just about every house of worship faces sooner or later: how to provide security to congregants and clergy while remaining welcoming to newcomers, strangers and spiritual seekers.
Several Southern Nevada clergy leaders say that while they've not altered their own security procedures in light of Tuesday's killing, maintaining the right balance between security and a welcoming atmosphere is a challenge.
On Tuesday, two terrorists slit the throat of the Rev. Jacques Hamel, 85, during Mass at a church in Normandy, France. The two killers later were shot to death by police.
Monsignor Gregory Gordon learned about the attack before saying Mass at St. Anne Catholic Church, on what happened to be the feast day of St. Anne on the Roman Catholic calendar.
Gordon, pastor of St. Anne, said that, at the conclusion of Mass, "I asked everybody to please pray for the soul of Father Hamel, but also for that parish and the community, and to pray for one another because, if it could happen in one parish church, it could happen in another parish church."
Gordon has been a priest for 28 years and said he has seen services interrupted by protesters. And while he has not witnessed an episode of violence during a service, he considers it no accident that Tuesday's attack took place in "a place of prayer, a place of refuge and sanctuary."
The central issue is that the traditional open nature of religious worship, as well as the welcoming natures of believers, can make houses of worship easy targets for those with less-than-godly intentions.
"The role of the church is to evangelize, to reach out, to be welcoming and allow everybody," said the Rev. Scott Hove, executive pastor at Good Samaritan Lutheran Church. "I think that's the hallmark of Christianity, to be open and welcoming."
While some houses of worship use such measures as security guards, alarms and other forms of technology as part of their security plan, clergy members are uniformly reluctant to discuss specifics.
"We don't talk about our security measures," said Rabbi Sanford Akselrad of Congregation Ner Tamid. "But we have received, over the past four years … two Homeland Security grants that allowed us to bolster security at our synagogue in various ways.
"I would just say that, in general, all religious institutions are concerned about keeping their congregants safe and the house of worship secure. And the Jewish community, perhaps, is more (attentive) than most because worldwide there have been different anti-Semitic attacks."
The balancing act houses of worship face is similar to that faced daily at airports, malls and any other place where people gather, Akselrad added. "I think that's one thing our society wrestles with every day."
The Rev. Ralph E. Williamson, senior pastor of First African Methodist Episcopal Church, said the imperative of balancing security and a welcoming atmosphere in which to worship is "very real in the life of the church today."
It's also a concern of congregants. Williamson recalled a church member who, in an email, wrote, "I don't want to be overreacting, but I'm concerned about the security, and do we need to implement other security measures in our church?"
Williamson said his church "put in place some systems" last year after the murders of nine Bible study participants at a historic black church in Charleston, S.C.
"So those had to be renewed and revisited," Williamson said of security measures. "It's just us asking the question: Do we have enough?"
Bishop Dan Edwards of the Episcopal Diocese of Nevada said many of the diocese's churches are small and don't have technology as part of their security plans.
But finding a workable balance between making a church safe and making a church welcoming is a challenge, and there's "no perfectly right and safe answer to it," Edwards said. "You cannot make it a place that's such a fortress that there's not risk. And practicing the Christian faith is a risky undertaking."
Rabbi Shea Harlig of Chabad of Southern Nevada said worship leaders have to be vigilant. "You have to be careful of who's coming into (the synagogue)."
Then, he said, it's a matter of "always rethinking" procedures that are in place to see whether they can be improved.
Dr. Aslam Abdullah, director of Masjid Ibrahim, said clergy members also must work with legal authorities when something at their congregations seems amiss, and then work with one another to try to stop problems before they start.
Abdullah called what happened in France this week "something new, and it's outrageous."
"Clergy — peaceful clergy — is being targeted by those who have no idea what they are doing to their own faith, to their own community," he said. "And I think it is the responsibility of every Muslim cleric to stand up and ensure that no church anywhere, no religious institution anywhere in the world is harmed in the Muslim world or elsewhere."
Clerics must be "responsible for the congregation. They should know their congregations, that's important," Abdullah said.
But clergy leaders also agree that while imagining the worst isn't necessarily a bad thing, retaining accessibility to religious practice and offering a welcoming attitude to congregants must remain key.
"As a rabbi, you have to be accessible to the congregation or you're defeating your propose," Harlig said.
Hove added that "while we mourn the loss of a brother in Christ in France, I would say I don't want it to hamper our ability to do ministry here in Las Vegas."
"We want to be open to our people," he said, "and we pray the day never comes when we feel that the church has to be a locked facility."
Read more from John Przybys at reviewjournal.com. Contact him at jprzybys@reviewjournal.com and follow @JJPrzybys on Twitter.