Las Vegas Links party raises money for scholarships
December 21, 2014 - 12:11 am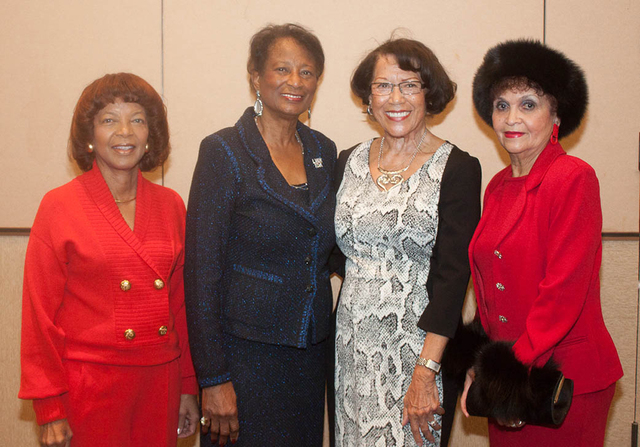 The Las Vegas Nevada Chapter of the Links Inc. held its inaugural White Christmas Jazz Luncheon and Fashion Extravaganza Dec. 13 at the Rio. Three hundred people were expected, but to the Links' delight, nearly 500 people purchased tickets and attended.
The event was chaired by Jeanne Richard Jones and co-chaired by E. Lavonne Lewis.
Proceeds from the luncheon will support a scholarship program that annually awards funds to eligible Southern Nevada students to help with their educational pursuits, Jones said. The women's organization has given out more than $150,000 in scholarships.
Christmas was in the air with the beautiful white and gold table centerpieces and the white and gold Christmas trees on the stage.
Guests dined to live music of Las Vegas' own Ali Brothers, who are known for their smooth jazz. The highlight of the afternoon was a fashion show produced by Runway Rhythm of Los Angeles. Although the women's fashions were a big hit, the men's fashions took the audience by storm.
Among clothing for women modeled onstage were chiffon evening gowns, leggings with evening tops, and tuxedos. Local designer Crystal Ball also got in on the act, with all her models dressed in black and showing off the latest in tiny hats.
"My favorite was the white tuxedos and white dinner jackets," said Anna Bailey, one of the founding members of the Las Vegas chapter.
Airfare and lodging to the island of Aruba, gift baskets and restaurant certificates were included in the raffle and silent auction.
Some of the guests in attendance were: Sylvia Allen, Marcia Washington, Mary Carr, Kim Lambotte, Pat Prince, Terri Yates, Jodi Mobley, Jerri Williams, Constance Sykes, Paula Watkins Baker, Kelly R. Jones, North Las Vegas Councilwoman Pamela Goynes Brown, Amanda Oleundaye, Tanya Fowler, Tina Mosley, Sandra Mack, Mildred Anderson, Sharlene Walker, Salley Chapple, Kendall King Heath and Luria Walker.
The national Links Inc. is an organization dedicated to strengthening the social, economic, educational and cultural life in African-American communities. With 12,000 members and 300 chapters, including ones in Germany and the Bahamas, the local and national Links focus on five facets: services to youth, the arts, national trends and services, international trends and services, and health and human services.
Las Vegas Links members have dedicated thousands of hours of community service, such as adopting schools, partnering with health organizations, providing health care information and implementing anti-bullying campaigns.
"Our organization continues to be an agent of change," Las Vegas Nevada Links Inc. President Kathleen Turner Knight says.
Links Alumni member Hannah Brown was presented with an award from the organization for her many years of service.
Major sponsors were MGM Resorts International and Caesars Entertainment.