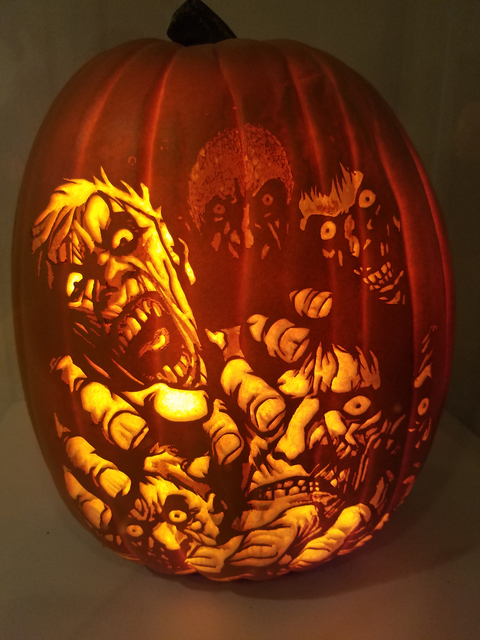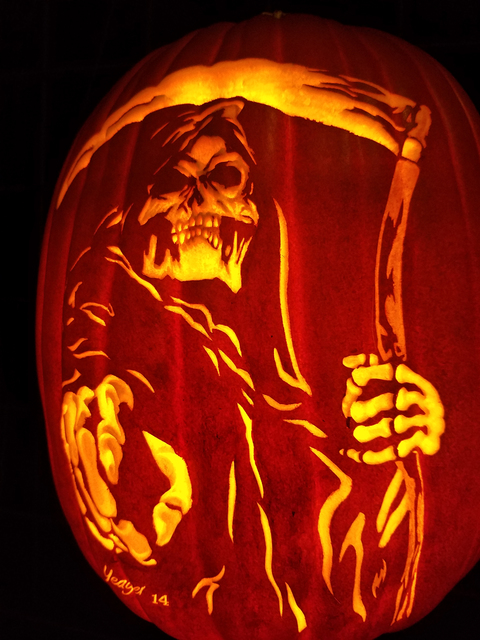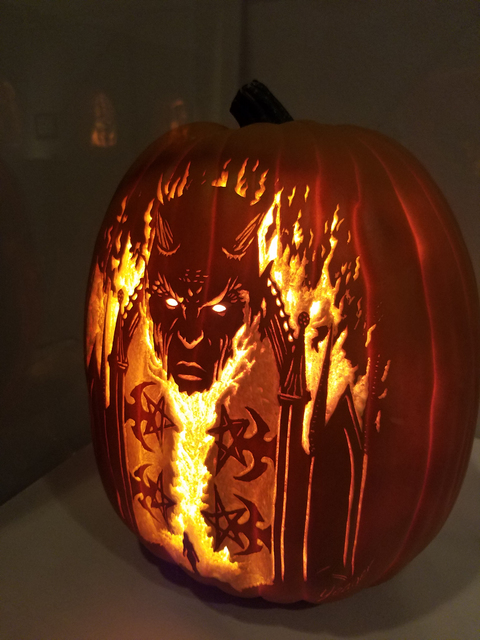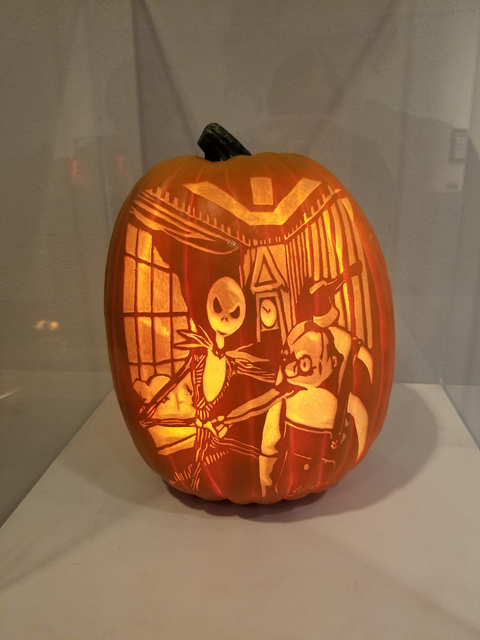 Devilish creatures from the gates of hell, killer clowns and evil scarecrows — these might just be what Summerlin resident Bryan Yeager's nightmares are made of, but instead of opening his eyes to awake from the horrors of his mind, Yeager collects the images for his art.
For more than 10 years, the financial adviser has carved intrinsic designs onto artificial pumpkins. This year, families are invited to view Yeager's work through Nov. 16 in the gallery at Centennial Hills Library, 6711 N. Buffalo Drive.
"Mr. Yeager's pumpkin carvings are derived from the very old jack-o'-lantern tradition that many of us are familiar with, but they aren't usually viewed in a gallery setting," said Darren Johnson, gallery services coordinator at the Las Vegas-Clark County Library District. "Placing the carvings in the gallery highlights the artistry involved and also allows the gallery staff a creative break from our standard art installations. … Families can expect to see his finely crafted pumpkins lit and displayed along a cobweb-filled wall and on pedestals."
Yeager's pumpkin carvings aren't all scary.
He also enjoys carving classic characters, such as the Wicked Witch from "The Wizard of Oz" and Oogie Boogie and Jack Skellington from "The Nightmare Before Christmas." He's even carved the famous "The Scream" painting by artist Edvard Munch.
His passion for pumpkin carving started when he was 10.
"I was always artistic, so this came naturally to me," Yeager said. "I enjoyed it so much that, one day, I asked my mom if she could take me to Safeway to buy pumpkins and carve them for people. I was having fun doing it and made some money, mainly in tips."
Yeager stopped carving pumpkins when he was a teenager and didn't reconnect with his hobby until 10 years ago. He started carving pumpkins again with his daughters for fun and soon took the art form to a whole new level when he discovered artificial pumpkins.
"I figured I could do some intricate work on these because they wouldn't die after a few days," Yeager said. "I bought a few pumpkins and started carving."
He also started experimenting.
Yeager realized that he could add light color to his work by dabbling toothpicks in paint, and he learned which tools work best— Dremel handheld drills and hobby knives are what he prefers. He also uses hot knives and changes the blades used on every pumpkin to give them a sharp, clean cut.
His pumpkins typically take two to 30 hours to carve, which is why people may catch Yeager working on them year-round.
Companies have also started to notice his work.
One year, Yeager was commissioned to carve the logo of every hotel on the Strip, and this year, he will be attending the Zappos Halloween party to carve pumpkins throughout the night.
He sells half pumpkins (pumpkins without a back) for $30 and whole pumpkins for $70 and up.
This year, Yeager sold his first $300 pumpkin.
"This is not a business by any means, but a really fun hobby," Yeager said.
The pumpkins that he doesn't sell — or that are too precious for him to part with — are on his bookshelves where, every once in a while, he will turn off the lights and turn them on.
"I used to wake up screaming because I had some pretty graphic nightmares," Yeager said. "My mom would say, 'What the hell are you thinking?' I just always had these images in my head, and Halloween is a way for me to just let these things out."
Call 702-232-9371 or visit killerpumpkin.net.
To reach North View reporter Sandy Lopez, email slopez@viewnews.com or call 702-383-4686. Find her on Twitter: @JournalismSandy
'Killerpumpkin.net'
The foam pumpkin carving exhibit by Bryan Yeager is planned during regular library hours through Nov. 16 at Centennial Hills Library, 6711 N Buffalo Drive.
Visit lvccld.org or killerpumpkin.net.