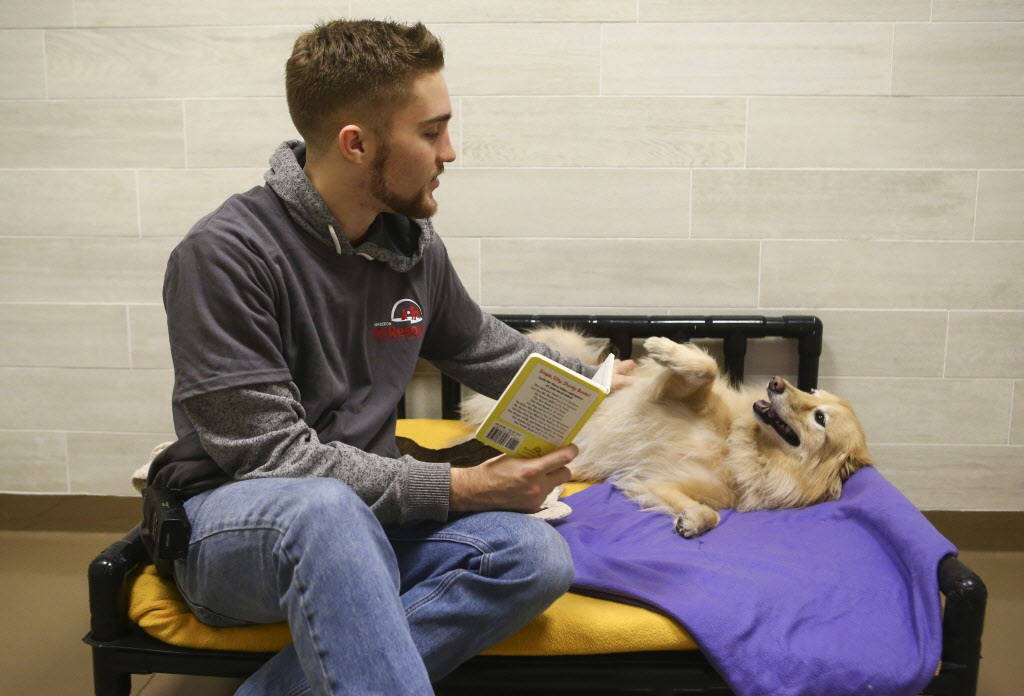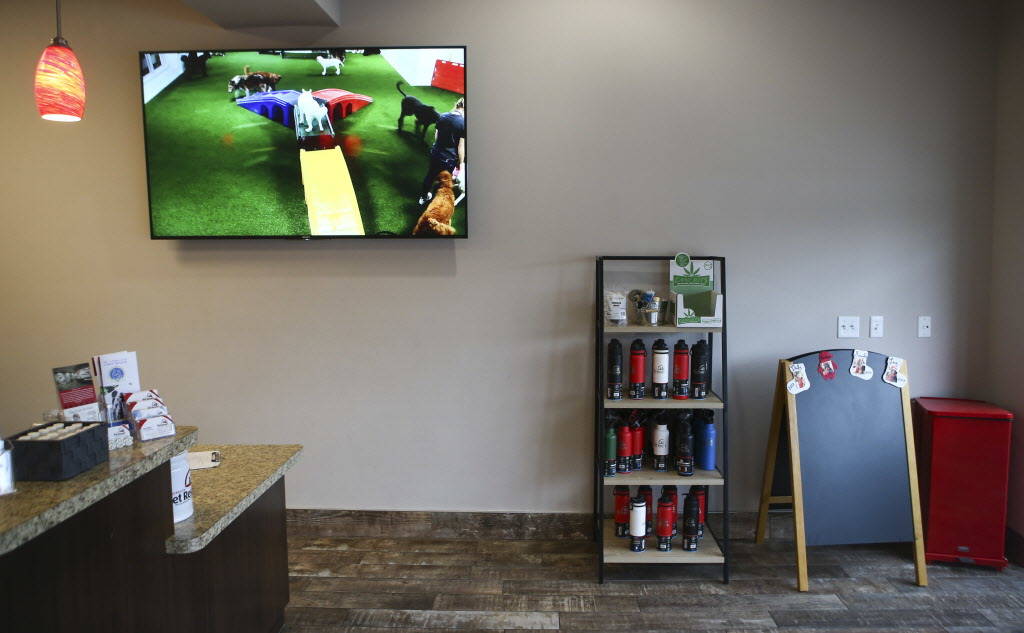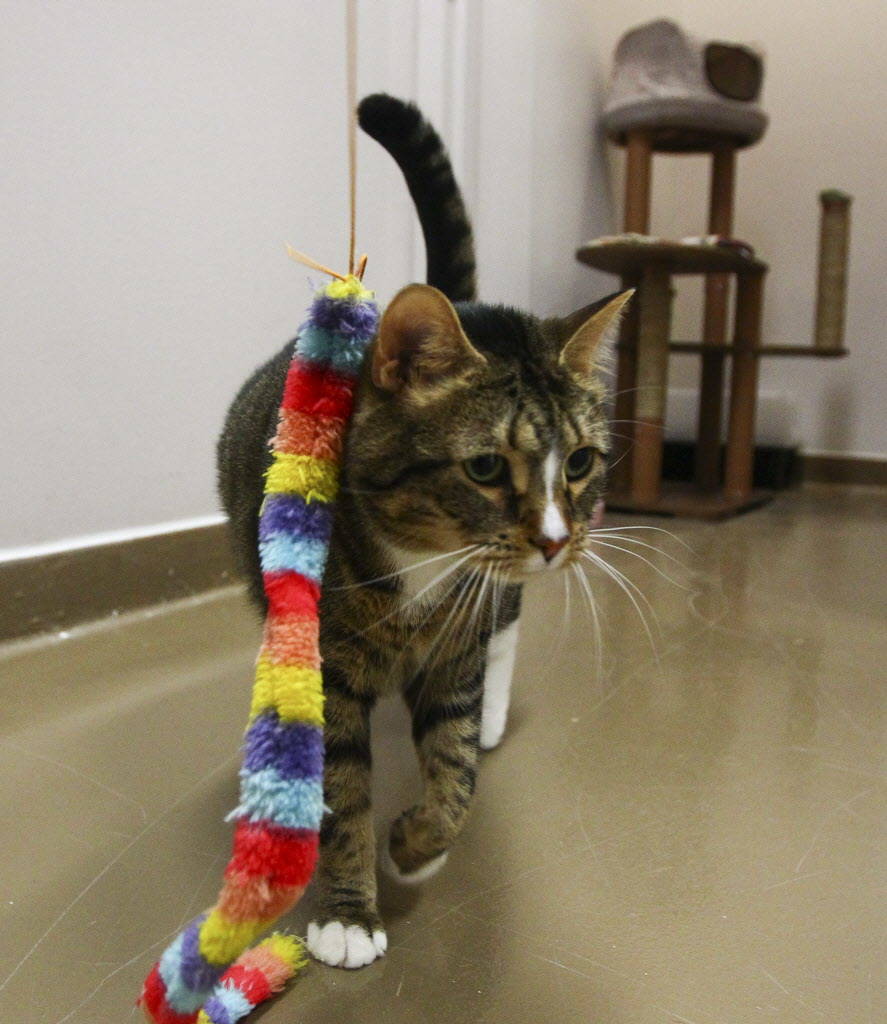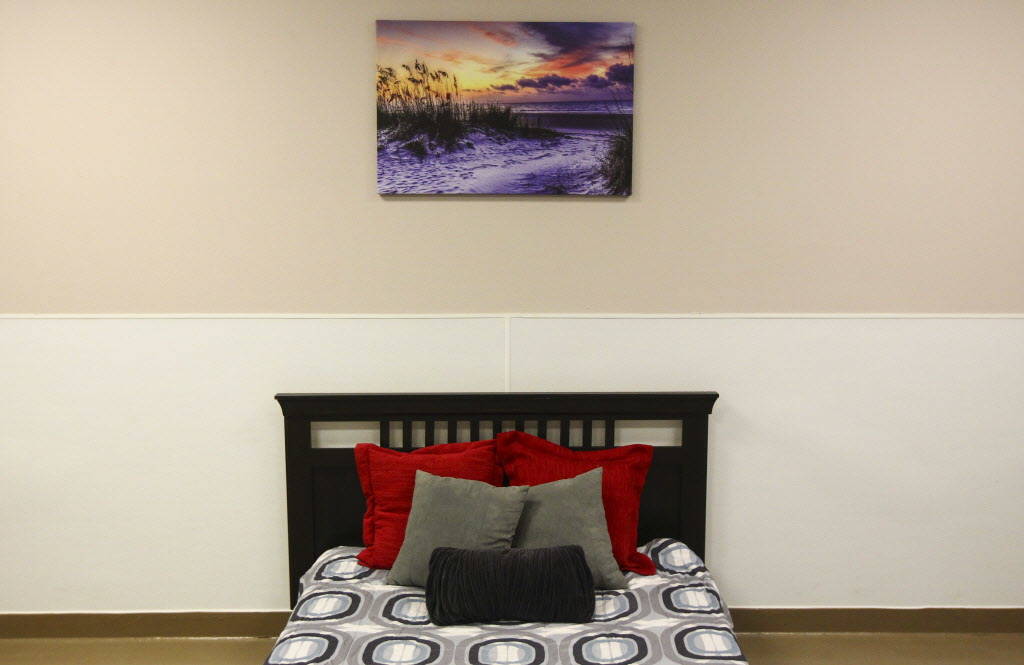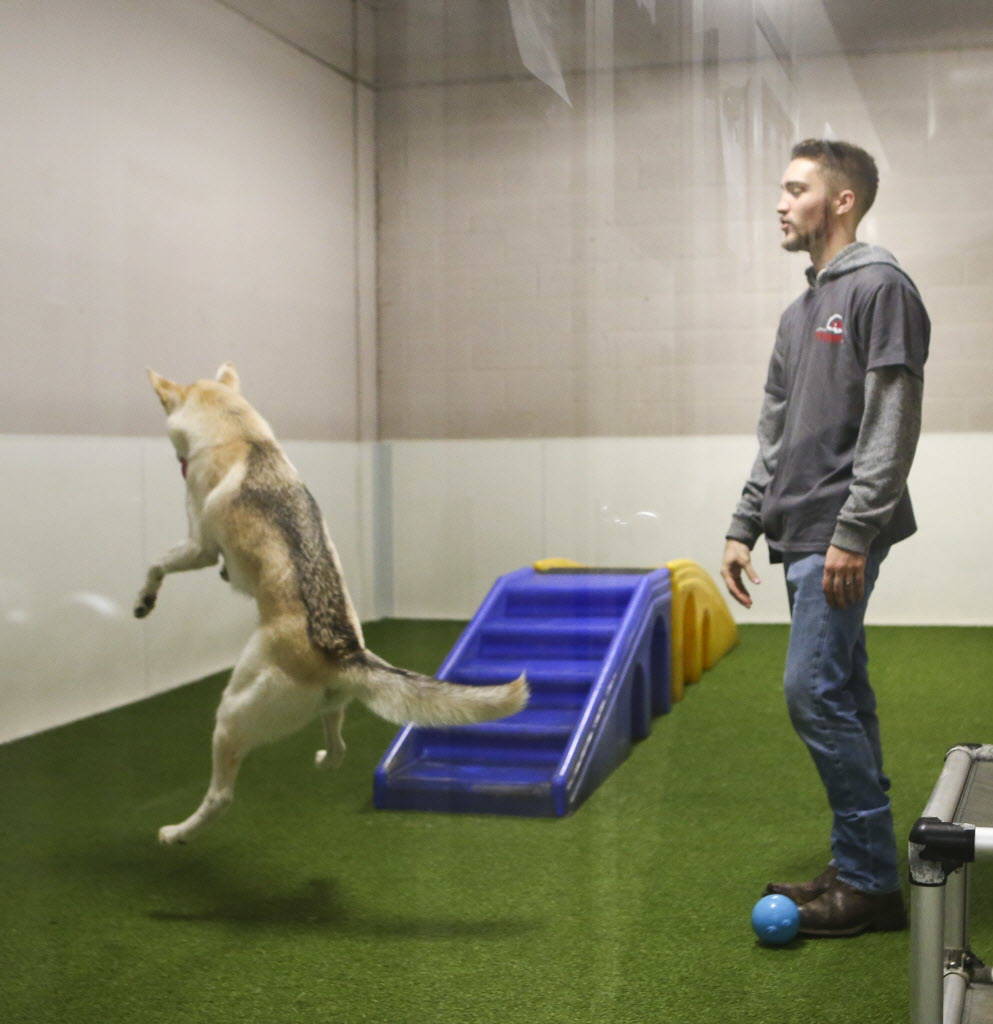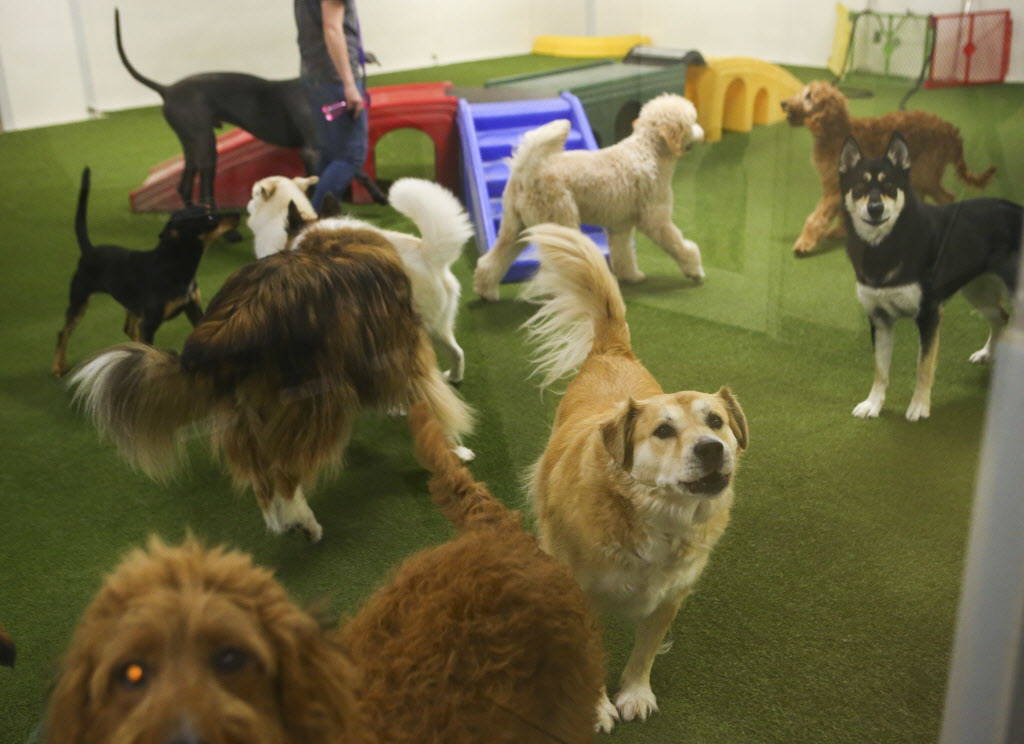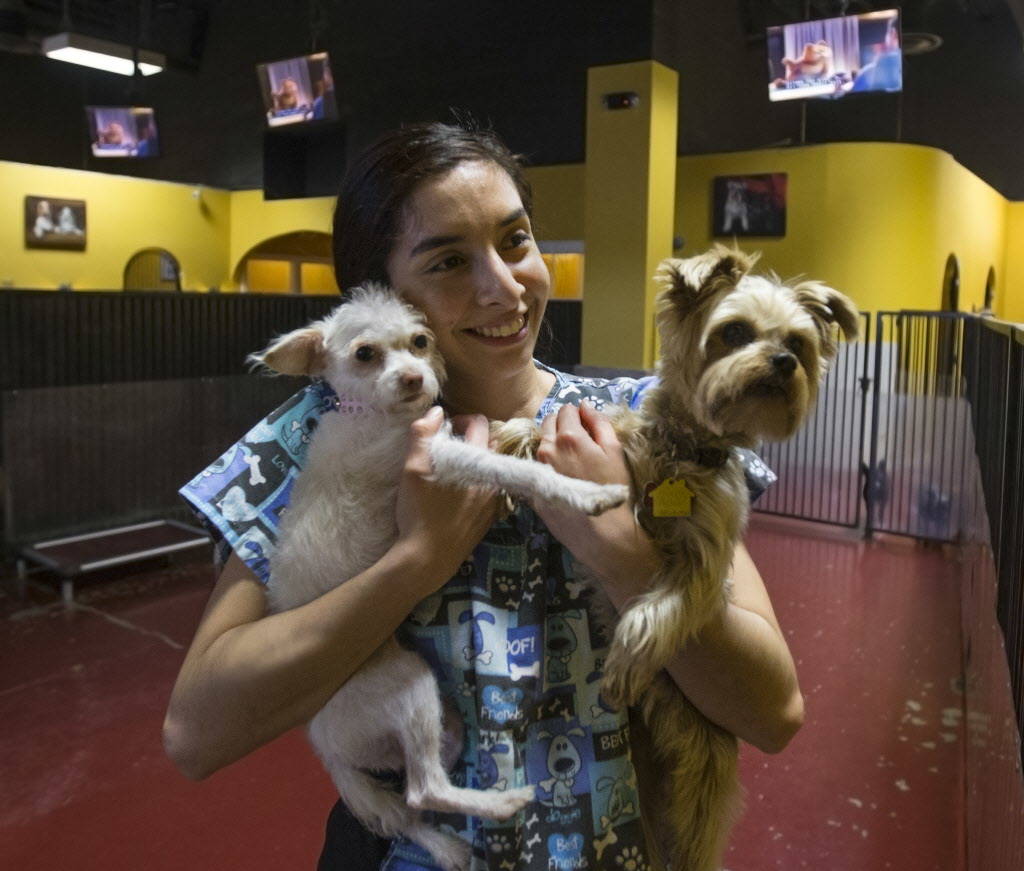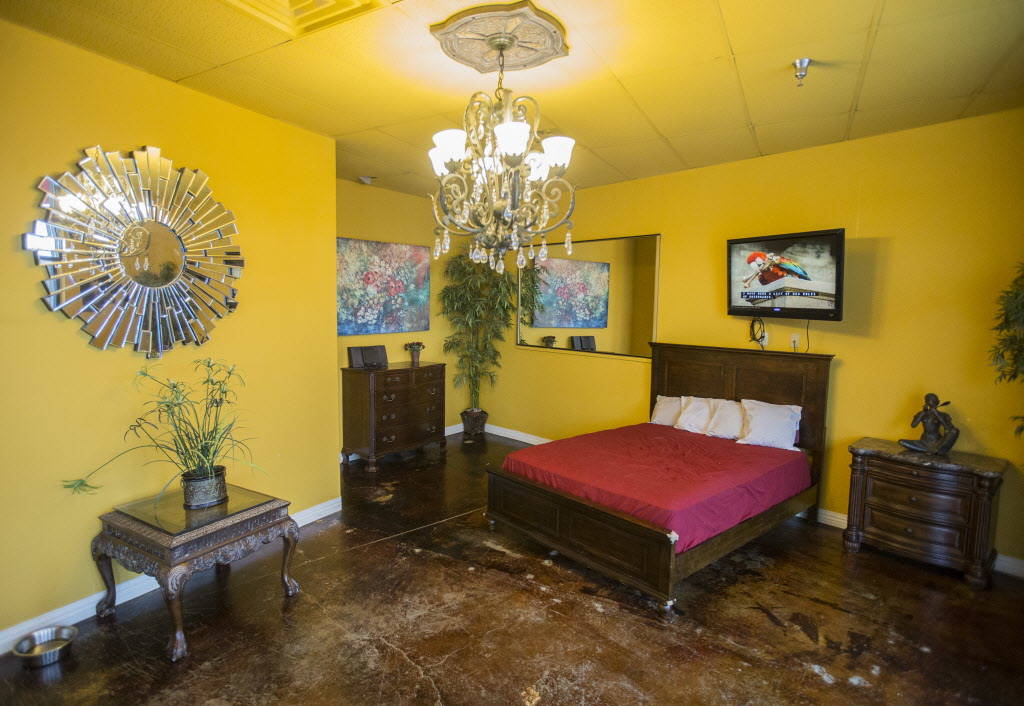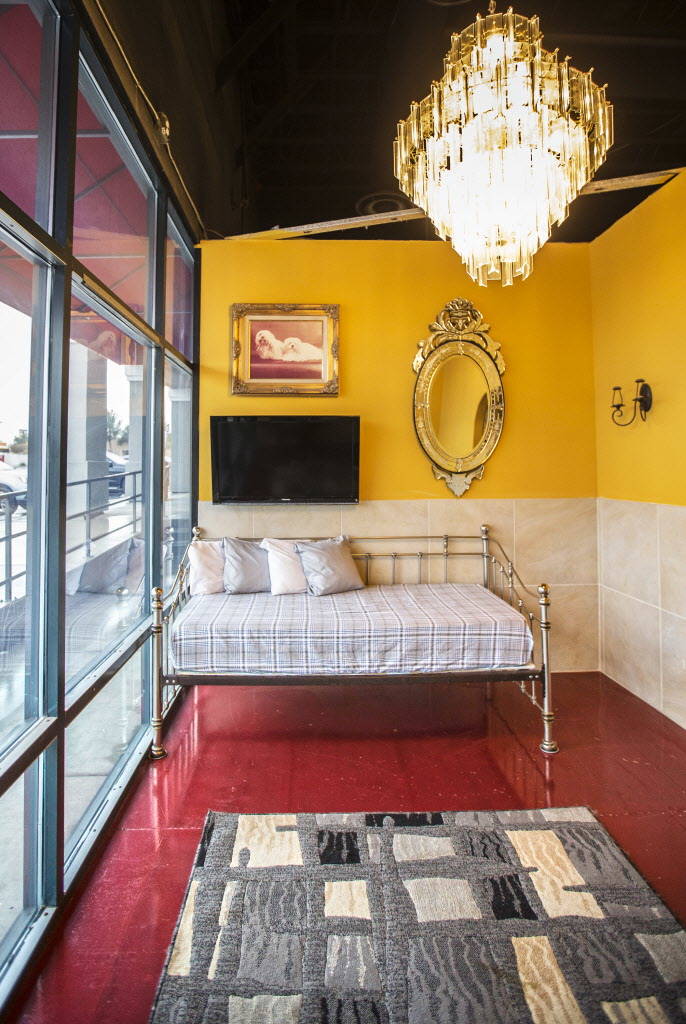 Lots of people catch up on TV during vacation, and the channel playing in a guest room at Henderson Pet Resort seems about right: Animal Planet, because what vacationing dog or cat wouldn't want to spend some downtime seeing what the rest of the animal kingdom is up to?
Those flat-screen TVs in every room aren't the only amenities enjoyed by guests of Henderson Pet Resort, one of Southern Nevada's pet hostels that offer dogs and cats an upscale vibe, fancy extras and a degree of personal attention that bring new meaning to the phrase "lucky dog" and proof that "a dog's life" is something to be envied.
Queen- and king-sized beds. Artwork hanging on the walls. 24/7 supervision. Streaming video and photos. Homemade meals. Customized activity schedules that bring to mind a day at summer camp. Even such spa-like add-ons as massages, pedicures and tummy rubs.
They're family
Spending a few extra bucks to give pets an above-average boarding experience meshes with Americans' tendency to think of their pets as members of the family. According to the American Pet Products Association, Americans spent a record high of almost $67 billion on their pets in 2016, versus about $60 billion in 2015, and spending on services — which includes boarding — was expected to increase by more than 6 percent from 2016 to 2017.
Add to this trend of "humanization of pets" research suggesting that pet ownership offers owners observable health benefits and, says Jamie Baxter, an APPA spokesman, "we are more connected to our pets than ever before."
"I can see it," says Leslea Villigan, owner of Henderson Pet Resort. "Our fur babies are our children."
Villigan opened about a year-and-a-half ago, prompted by her inability to find a vacation time boarding facility for her dogs "that I was completely comfortable with."
Clients appreciate not just the more upscale environment and luxe add-ons, but also "the level of care and personal attention that we give them," she says. "We customize for every pet's needs and their owner's wishes."
Pets sleep on actual beds in rooms entered not through cage doors but glassed French doors. Packages cover activities that, at higher levels, include nighttime tuck-ins, belly rubs and a bedtime story.
"We've had a lot of husbands say, 'You go on vacation, honey. I'm staying with the dog,' " Villigan jokes.
Carefree vacations
Shana Davis opened Las Vegas Dog Resort in 2009 with the goal of giving pet owners the opportunity to "go on vacation and enjoy themselves and not have to worry about their pet being cared for properly and in good hands."
Amenities include indoor and outdoor exercise areas, and room options include a 600-square-foot Palace Suite that includes a queen-size bed, a 46-inch flat-screen TV, a sofa and and windows offering sidewalk views.
Zaneta Tomczyk, owner of Luxe Pet Hotels, says her resort, which opened in 2013, is "kind of the Wynn hotel" for dogs, "because it's very luxurious. Basically, all our customers are very picky customers, I would say. We've got customers who actually treasure their pets like being their own babies."
Dog suites range from sofa- equipped suites to "celebrity" suites that include a king-size bed.
Another amenity: attention
Villigan says the goal is to offer pets more than just a roof over their furry heads. "You can go anywhere to have a pet boarded, but we're all about the experience," Villigan says. "I like to have pets be on vacation while owners are on vacation."
Owners appreciate the attention their pets receive, even if they're just day campers. Tina Aguiar takes her dogs, Finn and Joy, to Henderson Pet Resort at least once a week and lauds the resort's favorable person-to-dog ratio, the supervision the pets receive and its well-trained staff.
Aguiar also appreciates the care the staff takes with Joy, a rescue dog who, before her adoption, was in an "abuse situation." Aguiar says that, while she works with Joy at home, she also credits for Joy's improvement in socialization to "the complementary work they do with her."
Amenities abound
A few of the valley's pet resorts that offer an upscale vibe.
Henderson Pet Resort, 1450 W. Horizon Ridge Parkway
Amenities include: TVs, a climate-controlled play area, with grooming, baths and dog training sessions offered as options. Prices: $44 to $62 per night.
Las Vegas Dog Resort, 6810 W. Sahara Ave.
Amenities include: Indoor and outdoor exercise areas, complimentary baths, and (for extra fee) facials, massages, "pawdicures" and full body wraps. Prices: $55 to $180 per night.
Luxe Pet Hotels, 3480 Cavaretta Court
Amenities include: Suites with sofa bed, bed-equipped suites, TVs, massages, a spa and gym, an outdoor pool and cabana area. Prices: $70 to $210 per night.
Contact John Przybys at jprzybys@reviewjournal.com or 702-383-0280. Follow @JJPrzybys on Twitter.