February 8, 2009 - 10:00 pm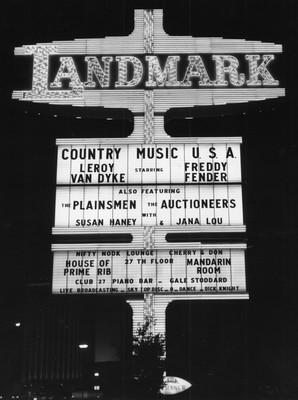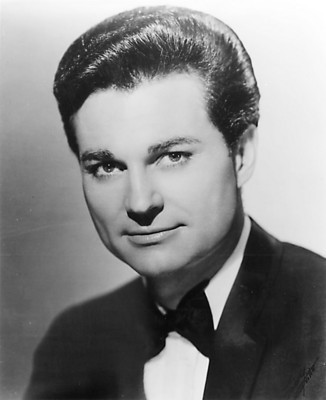 EDITOR'S NOTE: This is part of an occasional series of stories highlighting performers who played an interesting role in the history of entertainment in Las Vegas.
Leroy Van Dyke was the first entertainer to successfully combine country music with Las Vegas glamour.
On Feb. 11, 1969, Van Dyke walked onstage at the Sahara dressed in a tuxedo sans guitar, and opened by singing such country standards as "Singing the Blues," "Little Green Apples" and "Your Cheating Heart" before moving into his hits such as "Auctioneer."
For the show, Van Dyke was backed by horns "and a few leggy girls and some background singers," he told me last year.
"There were other country singers who had headlined in Las Vegas before me," Van Dyke noted. "Eddie Arnold, for one, and he had an orchestra and a conductor."
But unlike other country singers who relied on their hit records for acceptance, Van Dyke's show was a complete package with traditional Las Vegas elements.
"My show was the first country music 'show' on the Strip," Van Dyke said. "It was significant because it was the first completely self-contained country unit — staged, produced and choreographed to entertain on the Strip."
There were doubters.
"When I first started, people said I was crazy. They said I would be out of business in two weeks. They didn't believe the country audience would accept it," Van Dyke told Robert Hilburn of the Los Angeles Times on Feb. 22, 1969.
"They" apparently weren't critics, because his reviews were overwhelmingly positive.
Bill Pollack of the Los Angeles Herald-Examiner wrote on Feb. 28, 1969: "If the desert territory is to open for the rustic players, then Leroy Van Dyke seems the ideal pioneer to blaze the trail. Not 'country' in the usual interpretation of the word, Van Dyke, who employs four other musicians and two girl singers, presents a completely polished and sophisticated act. Tuxedos and evening gowns instead of western garb add to the 'class' image. … Van Dyke has a warm baritone voice and could easily compete in the un-western field. But the music fans that filled the house seemed happiest when the music was country."
"By his acceptance he appears to have opened new doors for country music, and it will take mighty professional acts to follow him. … He certainly utilizes his talent to the fullest. And he has one of the best club acts in America, for any field of music," wrote Bill Williams March 1, 1969, in Amusement Business.
Van Dyke not only broke house records at the Sahara, but in subsequent shows in Las Vegas he helped introduce future country-western music stars such as Freddy Fender.
So who is this country music legend? Well, he is an ordinary, good old country boy from Missouri, Mora to be exact. Born on a farm on Oct. 4, 1929, Van Dyke was the third of five children.
He earned bachelor's degrees in agriculture, animal husbandry and journalism from the University of Missouri, Columbia, before serving in the U.S. Army counterintelligence corps during the Korean War.
In 1953, Van Dyke introduced Marilyn Monroe to the troops stationed in Korea.
"Everyone around headquarters, 160th Infantry Regiment, knew I played guitar and sang," Van Dyke wrote in his publicity biography. "One day, the assistant regimental commander asked if I would sing for about 15 minutes to open for a USO troupe, due in a few days. I asked what show was coming in, and the colonel said it was Marilyn Monroe. I said, 'You've got to be kidding. You want me to go out ahead of Marilyn Monroe in front of 30,000 sex-starved GI's?' But I did, all went well, and it was a memorable experience."
Returning from Korea, Van Dyke worked as an agricultural journalist on several Midwest livestock newspapers, based in Chicago. He married in 1957 and the Van Dykes had four children, three sons and a daughter. However, the marriage ended in divorce, and in 1980, Van Dyke married his second wife, Gladys, and they have one son.
Signing with Dot Records in September 1956, Van Dyke recorded "Auctioneer," which sold more than a million copies in just more than three weeks. Suddenly, he was in show business. Van Dyke soon earned the title "The World's Most Famous Auctioneer." ("Auctioneer" was written by Van Dyke in 1953 while he was serving in Korea, and it was a tribute to his cousin, Ray Sims, whom Van Dyke considered "the best auctioneer in the business.")
Van Dyke became a regular on Red Foley's ABC television show "Ozark Jubilee," broadcast from Springfield, Mo., and remained on the show from 1958 to 1960. In 1961, Van Dyke moved to Nashville, Tenn., and in 1962 became a regular on "The Grand Ole Opry."
Now with Mercury Records, he recorded a song he did not write himself, "Walk On By" (not to be confused with the popular Burt Bacharach-Hal David song of the same title, recorded in 1963 by Dionne Warwick, and released in 1964).
Produced by Shelby Singleton and recorded with four guitarists, one of whom was Hank Garland, Van Dyke's "Walk On By" soon became a hit. It skyrocketed to No. 1 on the country-western music charts, and crossing over, it zoomed to the No. 2 position on the popular music charts in 1961.
"Walk On By" was one of the first crossover country-western hits to make the popular music charts. "It was poised to break No. 1 on the pop charts," Van Dyke told me. "But along came a little number called 'The Lion Sleeps Tonight' (by the Tokens)."
"Walk On By" remained on the country charts for 37 weeks, and sold an estimated 3 million copies. It is considered a country-western/pop classic. In its 100th Anniversary Special, published in November 1994, Billboard magazine cited Van Dyke's 1961 single as the top country record of all time based on sales, plays and weeks on the chart. (As the number of country acts increased, so did the hits. By the time Billboard celebrated the 50th anniversary of its Hot 100 lists in September 2008, "Walk On By" had fallen from the "hottest country songs to appear on The Billboard Top 100 during the chart's first 50 years.")
Van Dyke went on to chart 19 other country music hit records on Billboard's charts.
Van Dyke toured the country with his act for several years, appearing on numerous national and local television broadcasts — including his own syndicated television series, "The Leroy Van Dyke Show" — and starred on the radio show "Country Crossroads" for 10 years.
Although he made his debut as a headliner in Las Vegas in 1969, he had performed in the city earlier.
"The first time I worked Las Vegas was in 1958," Leroy told me. "I played at the Showboat on Boulder Highway alternating nightly with the legendary Bo Diddley and steel-guitarist Noel Boggs."
Van Dyke continued to appear during the mid-1960s at other venues in and around Las Vegas before the big Sahara show.
One incident in particular he found amusing from those days.
"I've played all kinds of shows — rodeos, fairs, even weddings," he told me. "And the funniest thing happened. The tables at the dinner show come right up to the stage. The level of the tables is almost the level of the stage in this one particular incident. I was singing along, and I looked down there and ringside there was this guy with one of his elbows on the stage and the other elbow on his table, and he'd fallen asleep. I mean all this noise is going on up there on the stage. And he's asleep during the show!"
Van Dyke began playing in the main room at the Landmark in 1975.
The show was called "Country Music U.S.A." and during Van Dyke's run, it featured the Plainsmen and the Auctioneers. Van Dyke's opening act was Freddy Fender. (The Sons of the Pioneers were his opening act when he appeared at the Landmark again later in the 1970s.)
Later in the decade, Van Dyke appeared at The Marquis, and then at the Fremont with The Hee Haw Performers, which included Lulu Roman.
The singer is fond of Las Vegas. "I love playing Las Vegas, always have," he told me. "And I think it likes me.
"It was like a small town when I played there," Van Dyke recalled. "It wasn't like it is today where you have all these huge installments out there. Back then, between shows if you wanted to catch another show someplace you could run out to the parking lot and jump into your car and drive halfway up the Strip, see the show, and get back there on time to do your cocktail show at night. … Now it's a completely different place."
Van Dyke still performs, and has tour dates scheduled through October, primarily in the Midwest. In 2001, he was inducted into the North American Country Music Association, International, Hall of Fame. He is revered by music insiders and his peers, and is considered by industry executives as the one entertainer who put professionalism into country music.