November 21, 2007 - 10:00 pm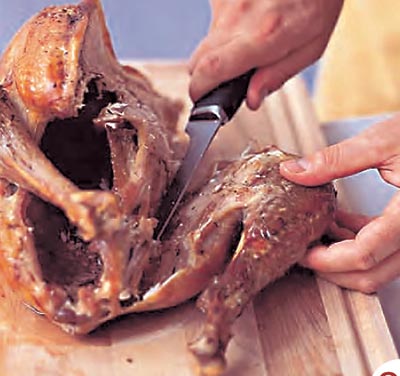 The big day is almost here, but if roasting a Thanksgiving turkey is more frightening to you than Britney Spears teaching your kids to drive, you're not alone.
David Watkins feels your pain. Watkins, a chef/instructor at South East Career Technical Academy who teaches Turkey Talk classes every fall at local community centers and churches, knows how intimidating a raw, naked turkey can be for a lot of people.
"I think they have allowed their mothers or their grandmothers to cook the turkey and they've never had to really work with it," Watkins said. "So when they're approached with cooking it for the first time, I think it's overwhelming. They're not sure what size to buy, how to properly thaw it, cook it and ultimately carve it."
"I think it can be scary for some people if they've never done it before," agreed Becky Hays, managing editor of Cook's Illustrated magazine. "There's this perception about Mom getting up at 3 in the morning to start the turkey."
If that's the case, we have plenty of good news for you today.
"It's actually a relatively short process," Hays said. "When you get right down to it, it's really very simple."
Asked whether she would agree with that, Tanya Steel, editor-in-chief of Epicurious.Com, Conde Nast's premier food Web site, said: "I totally would. It really is. Especially if you brine, it's foolproof."
More on brining later; first, we have more good news for you now. You know how you've heard that it takes days to thaw a frozen turkey? It does. So — especially at this late date — don't buy a frozen turkey.
You could buy a fresh turkey and brine it, but Hays said the staff at Cook's Illustrated — which is known for laboriously testing and retesting until it arrives at the perfect recipe for just about anything — this year is recommending a kosher bird. That's because the koshering process is tantamount to brining, so that's a step you can skip.
Brining involves soaking the turkey, refrigerated or thoroughly chilled, in salted water, sometimes with seasonings, usually without. What it does to the turkey, Steel said, is "infuse it with moisture in a way that no other technique can replicate."
"I've done through the years things like constantly basting or sticking some sticks of butter underneath the skin, but brining for sure has made the most difference in terms of keeping the turkey as moist as you possibly can," she said.
(One note: Although, as you'll see, there are about as many ways to roast a turkey as there are cooks, most universally agree that it's best not to brine a kosher turkey, because of the salt that's already present, or a pre-basted — usually frozen — turkey, because "they can be kind of gummy and soft," Steel said.)
Cook's Illustrated recommends starting with a 400-degree oven and positioning the turkey upside-down at first — that would be with the breast, the round, meatiest part of the turkey, facing downward — and then flipping it after 45 minutes. The staff suggests brushing the turkey with butter before starting, but not basting as it cooks.
Steel said she does baste, "but the thing is you don't want to baste too much, because you are drying out the turkey every time you open the oven door." She said she bastes during the last 30 or 45 minutes, after she takes the foil off the breast, because it provides a crispness.
For his part, Watkins recommends a roasting bag.
"You put the turkey in one of those bags and put a little bit of flour in it and 21/2, 3 hours later, it's done," he said. "All the juices are in the bag, making it easy cleanup. You can make gravy from the juices."
Watkins also recommends not buying the biggest turkey you can find, even if you have a lot of mouths to feed. Instead of buying a 25-pound turkey, he said, buy two 12-pound turkeys. The smaller birds, he said, are not as old.
"They're a lot more tender," he said. "It's easier to carve."
Also, Steel said, be sure to let the turkey rest for a half-hour or so after you take it out of the oven to allow the juices to redistribute.
And then there's the question of stuffing or not stuffing. It seems to be mainly a regional issue; northerners like to stuff, southerners do not.
"I grew up in a household where we always stuffed," said Steel, who grew up in New York City. "It makes a huge difference with the flavor of the stuffing."
But when her children were small, Steel said, she was worried about food-safety issues connected to stuffing.
"Now that they're 9, their immune systems are strong enough so that I feel like I can stuff the cavity," she said. As her family members are "huge lovers of stuffing," she also makes a separate pan of it to cook in the oven, but tops it with 1/4 cup chicken broth and olive oil to keep it moist.
Hays said Cook's Illustrated doesn't recommend stuffing because of food-safety concerns.
"Getting the stuffing to a safe temperature takes a fair amount of time, and by then the turkey meat is overcooked," she said.
But then again, Cook's Illustrated is based in New England. And Yankees like to stuff.
"If it just won't be Thanksgiving without a stuffed turkey," she said, "give the stuffing a head start by microwaving until it hits about 130 degrees. So it'll be superhot. Then you can put it in the turkey and it'll have a head start so the turkey meat won't overcook."
You're on your own as to how to get that hot stuffing into the bird, but the isolation ends there; plenty of help is available online and via the phone. The Epicurious site includes a brining video, a carving video, planning tips and other information; visit www.epicurious.com.
Steel also stressed the importance of figuring out a time line beforehand.
"The problem is very few people have two ovens or enough space to cook every dish that they're making," she said. "It's always important to figure out space in the oven, cooking times, and also what's going to happen when people come" and bring dishes that have to be cooked or at least heated.
"If you're organized ahead of time," she said, "you're going to feel a lot less stress."
Other sources of help are www.marthastewart.com, and the Butterball Turkey Talk-Line, at (800) 288-8372, which is open from 6 a.m. to 6 p.m. today and 4 a.m. to 4 p.m. Thursday.
And remember two things: One, in case of disaster you can always send out for a pizza; that is, after all, the backup plan this year of first-time turkey roaster Angelina Jolie.
And two:
"The most important thing is to have patience and a sense of humor," Steel said, "because not everything is going to turn out perfectly. And that's OK. The holiday ultimately is about being together and creating memories and giving thanks.
"It gets lost amid the fury and the chaos, but that's the most important thing. Be thankful for your life and your family."
ROASTED BRINED TURKEY
1 12- to 22-pound turkey
4 tablespoons unsalted butter, melted
Dissolve 1 cup salt per gallon of cold water for 4- to 6-hour brine (or 1/2 cup salt per gallon of cold water for 12- to 14-hour brine; see notes) in large stockpot or clean bucket. Two gallons of water will be sufficient for most birds; larger birds may require three gallons. Add turkey and refrigerate for predetermined amount of time.
Before removing turkey from brine, adjust oven rack to lowest position; heat oven to 400 degrees for 12- to 18-pound bird or 425 degrees for 18- to 22-pound bird. Line large V-rack with heavy-duty foil and use paring knife or skewer to poke 20 to 30 holes in foil; set V-rack in large roasting pan.
Remove turkey from brine and rinse well under cool running water. Pat dry inside and out with paper towels. Tuck tips of drumsticks into skin at tail to secure, and tuck wing tips behind back. Brush turkey breast with 2 tablespoons butter. Set turkey breast-side down on prepared V-rack; brush back with remaining 2 tablespoons butter. Roast 45 minutes for 12- to 18-pound bird or 1 hour for 18- to 22-pound bird.
Remove roasting pan with turkey from oven (close oven door to retain oven heat); reduce oven temperature to 325 degrees if roasting 18- to 22-pound bird. Using clean potholders or kitchen towels, rotate turkey breast-side up; continue to roast until thickest part of breast registers 165 degrees and thickest part of thigh registers 170 to 175 degrees on instant-read thermometer (50 to 60 minutes longer for 12- to 15-pound bird, about 11/4 hours for 15- to 18-pound bird, or about 2 hours longer for 18- to 22-pound bird). Transfer turkey to carving board; let rest 30 minutes (or as long as 40 minutes for 18- to 22-pound bird). Carve and serve.
Notes: Two brine formulas are offered: one for a 4- to 6-hour brine and another for a 12- to 14-hour brine. The amount of salt used in each brine does not change with turkey size. If you're roasting a kosher or self-basting turkey, do not brine it; it already contains a good amount of sodium.
Rotating the bird from a breast-side down position to a breast-side up position midway through cooking helps to produce evenly cooked dark and white meat. If you're roasting a large (18- to 22-pound) bird and are reluctant to rotate it, skip the step of lining the V-rack with foil and roast the bird breast-side up for the full time.
Serves 10 to 22, depending on turkey size.
— Recipe from Cook's Illustrated
ROASTED TURKEY WITH
CRANBERRY GLAZE
14- to 16-pound whole turkey, fresh or frozen (thawed)
Salt and freshly ground black pepper, to taste
2 tablespoons unsalted butter
2 medium onions, chopped
16 ounces jellied cranberry sauce
1/3 cup light brown sugar
Remove giblets (discard liver), neck and any visible fat from turkey; reserve for stock. Rinse turkey with cold running water and drain well. Blot dry with paper towels. Season inside and outside with salt and pepper. Tie drumsticks together and twist wing tips behind the back.
Place turkey, breast-side-up, on a wire roasting rack (sprayed with nonstick cooking spray) in a shallow pan. Cover loosely with foil.
Roast turkey in a preheated 325-degree oven about 21/2 hours, basting with pan juices.
Meanwhile, in a saucepan, melt butter over medium heat and cook onions with salt and pepper, stirring occasionally, 15 minutes or until very soft. (If onions begin to brown, lower heat.)
Stir in cranberry sauce and sugar; bring to a boil. Reduce heat to low and simmer, stirring occasionally, 10 minutes.
Remove foil and pour glaze over bird.
Continue to roast 1/2 to 11/4 hours, or until the thermometer registers 180 degrees in the thigh and 170 degrees in the breast.
Remove turkey from oven. Allow turkey to rest for 10-15 minutes before carving.
Serves 15.
— Recipe from The National Turkey Federation