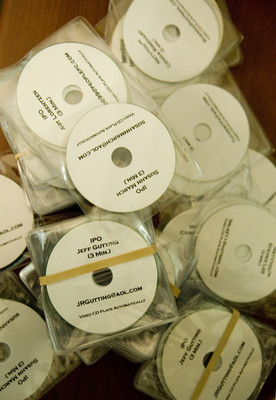 Jim Kiley fidgets in a swiveling office chair. This will be the seventh time in 90 days that the unemployed 62-year-old contracting executive has been videotaped performing a mock job interview.
This time, it's for keeps.
"Just relax," says D. Christopher Jenkins, chief executive officer of Harrington & Reed, a Las Vegas-based executive recruitment firm. "Remember, I don't want you to recite your entire work experience. He's already got your resume. He's just wondering who you are.
"So this is gonna tell him."
As a sagging economy heaps increasing numbers of qualified professionals onto the job market, many of those trying to distinguish themselves are turning to the video resume. Web sites such as workblast.com, jobbait.com and visualcv.com have sprung up to assist in their production and distribution, and a recent YouTube search for "video resume" yielded 1,210 results.
Harrington & Reed places the video resumes it produces on harringtonreed.com, where e-mail replies to online job ads can easily link, and on mini-DVDs that clients are instructed to include with traditional paper resumes.
"It's the way all employees of any stature are going to be hired within the next two years," says Jenkins, who also writes a weekly Review-Journal employment column called "A Hire LVel," "and it's the way it'll be done forever after that. You won't ever just deal with pieces of paper anymore — any more than you'd sell a house just by showing somebody a blueprint."
Video resumes are part of a larger package of marketing research, referrals, interview practice and analysis that Harrington & Reed provides to clients for $1,000 to $5,000 (free to veterans, wounded police officers and the handicapped). Jenkins claims a 17 percent success rate for the 15 to 20 videos he produces each month.
"For every six you FedEx to a CEO, one will call you," he says.
Indeed, a recent survey of 300 hiring managers conducted by online staffing company hiremenow.com found that 83 percent were willing to view a video resume as part of the hiring process.
David Poire, operations manager for the Artisan Hotel, received a link to one in response to a craigslist.org posting he placed last year for a front desk clerk. Immediately, the woman became the front-runner. Ultimately, she was hired.
"It gave the resume some depth, some personality," Poire says. "And it showed the creative side of that individual.
"Creativity can't be judged on a words-only resume."
Simon Hulme, an unemployed information-technology executive and a client of Harrington & Reed's, says he has scheduled two job interviews since his video resume was posted in June.
"People have said, 'I've actually been able to hear how you communicate, and it's appealing,' " says Hulme, who relocated from England in April.
Not everyone is sold on the paradigm shift, however. Careertv.com discontinued its video resume service earlier this month. One of the reasons cited by a company executive was "employer discomfort" about potential exposure to equal-opportunity lawsuits.
"Because you're seeing the person — you're seeing their age and you're getting a sense about them that you might not receive from viewing a resume," says careertv.com executive producer Sean O'Grady. "There is a potential that if somebody sees something that they don't necessarily like, they could eliminate you from the game."
In addition, O'Grady says that recruiters object to the extra time required to get through video resumes.
"JPMorgan Chase receives thousands of resumes per day, and their average screening time is 15 seconds each," O'Grady says. "So the recruiters have got to be able to get through hundreds a day. In contrast, if they have to sit there and watch a two-minute video, it's simple math.
"Their efficiency is dropping."
Leonard Stone, partner in the law firm of Shook & Stone, says he has never seen a video resume that has influenced his decision to employ someone.
"They're nice," he says. "And the more information, the better. But it's the question that they've never been asked that's most telling. If you want to learn something about somebody, watch them when they don't know they're being watched."
Kiley's video resume is almost finished. For three minutes, he has responded to scripted questions about his management and leadership style, his career accomplishments and why he should be hired.
"Thank you, Chris," Kiley replies in kind to Jenkins, just as he was instructed to do before recording began.
Jenkins presses the button on his Sony DV camcorder that fades the video to black.
"I applaud you," he exclaims, clapping. "You impressed me."
Contact reporter Corey Levitan at clevitan@reviewjournal.com or 702-383-0456.