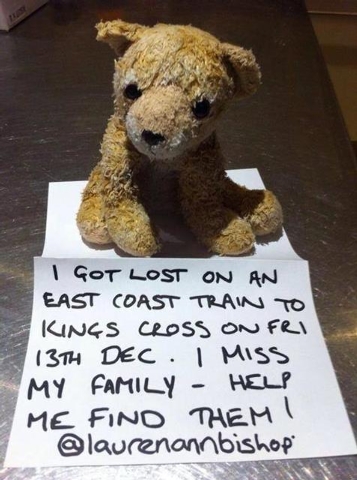 A little girl has been reunited with her favorite toy in time for Christmas, thanks to an intrepid stranger and the power of social media.
Lauren Bishop Vranch was on a train at Kings Cross Station in London's Underground on Friday when she found a stuffed animal and asked Twitter for help reuniting it with its owner.
Before she took it to the lost and found at Kings Cross, she took the stuffed animal — identified as a bear but actually a lion — on some adventures in Newcastle, documenting the trip on Twitter.
Vranch took the lion for a cup of tea and then to a pub.
"Little bear has found a cosy pub with a fire and a Christmas tree," she tweeted. "Think he misses home tho."
The lion (which Vranch had by then decided might actually be a dog) hung out with Vranch at her hotel room for a bit before finding his way backstage at Northern Stage Newcastle.
The next day, Vranch and the lion (called #lostbear on Twitter) took a morning walk before making their way back to Kings Cross Station. The lost and found was closed for the weekend, though, so Vranch and the lion watched some TV, hoping the power of social media would be enough to reunite the lion with its child.
While Vranch had been taking care of the lion, the Internet had been working to track down its owner. Eventually, Ben Simpson saw a photo of the lion posted to the Spotted: On the Train Facebook page.
"WOW, the power of the Internet and kind folk — that's my daughter Phoebe's bear — she has been in tears all weekend and I've just shown her the picture and she is over the moon," he wrote. "Thank you all so much!"
The page owner put Simpson in contact with Vranch, and the lion, named Roar, is expected to be reunited with Phoebe soon.
Contact Stephanie Grimes at sgrimes@reviewjournal.com. Find her on Twitter: @steph_grimes