Longtime cat show judge finds beauty in every beast
January 13, 2013 - 2:02 am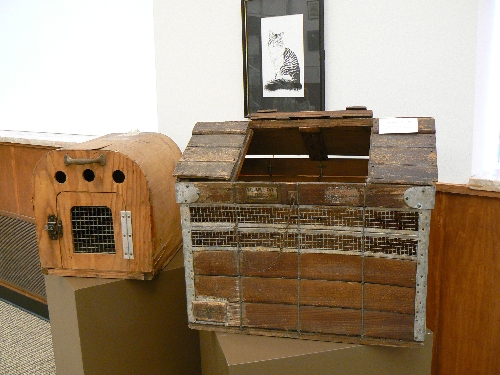 David Mare will go to the ends of the earth to see a beautiful cat. But when he gets there, he takes a closer look than most cat lovers. But that is to be expected from one of the most respected judges of pedigreed cats in the world.
In 2012, Mare (pronounced mah-ray), a licensed all-breed cat judge, accepted invitations to judge 47 CFA cat shows in cities as diverse as New York, Chicago, Seattle, Beijing, Moscow, Tokyo and Venice, Italy. Show organizers paid all his expenses while away from his Las Vegas home, plus a judging fee.
CFA is The Cat Fanciers' Association Inc., the world's largest registry of purebred cats. It recognizes 42 breeds and sets judging standards for each. Only judges licensed by CFA can be judges at CFA-sanctioned shows.
Mare has been a licensed all-breed CFA judge for almost 50 years, and he says he still loves judging "and seeing fine animals." He also has been instrumental in the creation of the CFA Foundation's Feline Historical Museum in Alliance, Ohio.
Cats earn points for show placements, with the goal of ranking as one of the top 25 cats in the country. Show cats that achieve top rankings can fetch prices as high as $5,000 to $10,000.
Dog breeds may be more well-known than types of purebred cats, but the CFA hopes someday breeds such as Singapura, Egyptian mau and Chartreux will become familiar to the general public.
And as pets, cats are more popular than dogs. The American Pet Products Association 2011-2012 National Pet Owners Survey reported 86.4 million cats and 78.2 million dogs .
Mare explains that breeders of purebred cats know that part of their mission is to enhance the well-being of all cats. Responsible breeders require that any of their cats sold as family pets must be spayed or neutered.
Mare and his late wife came to love cats after adopting their first cat as a young married couple. That first love led to learning about and owning purebred animals. Mare is credited with helping to introduce the sphynx breed to the United States in the early '70s.
In 1964, after studying under experienced judges for two years, Mare was awarded his CFA all-breed license as a judge. He was, at that time, one of the youngest ever to earn such a license.
These days, candidates for judging study under Mare and other judges, with the learning process for an all-breed license typically taking five years or longer.
Mare is the only CFA-licensed cat judge in Nevada and one of 150 CFA-licensed cat judges in the world. He earned his CFA license when he and his family lived in New York, but he continued judging after moving to California, where a corporate job and later his own successful antique business awaited. Mare's two children and three grandchildren still live in California. Following an early retirement, Mare moved to the Paradise Township area of Las Vegas to enjoy open spaces, the weather and local entertainment.
Paradise seemed far away last November, when Mare traveled to Kemorovo, Siberia, on a judging assignment. The trip required a flight to Moscow, then an additional seven-hour flight to Kemorovo.
"Kemorovo is a beautiful city," Mare says, "but the weather was below zero, so I came, did my work – they have some beautiful cats in Russia – but I didn't add any extra days to the trip."
Why would Mare be summoned so far away? Russia has no licensed CFA judges, so judges were invited from Europe and the United States. Why Mare? His vast knowledge, suspects Kathy Treleani, a breeder of Oriental cats, who was in Las Vegas recently to attend the Cat-A-Lina Cats Catsino Royale cat show at the Riviera. Treleani attends an average of three cat shows a month and says that some cat judges are busier than others for a reason.
"David Mare always looks at the whole cat," she says. "Some judges concentrate on just one or two aspects. David knows all the standards for each breed, and for us who enter these shows, his opinion is very valuable. "
Dottie Olsen, show secretary for the Catsino Royale show, explained that her Tucson, Ariz., club, organizer of the Las Vegas show, voted on which judges to invite. She notes that Mare would have been selected even if the show weren't held in Nevada.
"David is a popular judge," Olsen says.
Defining popularity, Tim Bruce of Las Vegas who, with his wife, Lyuda, raises purebred Siberian cats, says he and his wife look at the judging lineup when deciding to enter a cat show.
"Siberian Cats are among the newer breeds recognized by CFA and not all judges really know our breed as well as they know the more popular breeds such as Persians," he explains. "If judges are to pick their top 10 cats of all breeds we'd like to be with judges who have been known to select our breed, if not our cats.
"David keeps up to date on all the newer breeds and their standards, and we know that about him. Also, I like the fact that David doesn't look at the breeder, he looks at the cats. He's all business that way."
Bruce adds that when Mare picks his top 10 cats and gives the reasons for his picks before an audience, "he really puts on a show and he's fun to watch."
Mare's calendar is already full for this year. Among his destinations, in March he will return to Tokyo to participate in a show marking the 50th anniversary of CFA shows in Japan.
"I was a judge not at their first, but at their second show," Mare says of the homecoming.
A Museum for Cat Lovers
The Cat Fanciers' Association Inc. was founded in 1906 and over the years collected books, artifacts and historical records about purebred cats. A permanent home for these items was a longtime dream.
David Mare, a cat judge from Las Vegas, helped the organization realize that dream with the opening of the Feline Historical Museum in Alliance, Ohio, in 2011.
Mare, who is also president of The Cat Fanciers' Association Foundation, even expanded the focus of the museum to include the history of all feline registries around the world.
He spearheaded fundraising efforts that raised $1.5 million to establish the museum.
This past year, a temporary exhibit at the Ohio museum featured a collection of Maneki-neko cats, the famous ceramic waving Japanese cats that are believed to bring good luck. The museum plans another temporary exhibit, featuring the history of the Manx breed.
The temporary exhibits are in addition to the museum's extensive library, original paintings and historical items. As the museum grows, other breed groups and even the only other feline museum in the world, in Singapore, may supply special exhibits.
As an added incentive to visit, Mare, who also has been active on the CFA board, points out that the Feline Historical Museum is only 20 miles away from the Pro Football Hall of Fame in Canton, Ohio.
By DIANE TAYLOR