'Lords' borrows from 'Gods' — and that's good
October 16, 2010 - 11:00 pm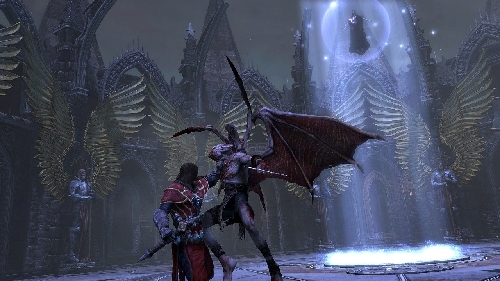 The new "Castlevania: Lords of Shadow" is a very good game with a dumb name, and it's a gorgeous piece of fantasy fiction to behold.
What does it look like?
If you're not a gamer, "Lords of Shadow" will remind you of the lush (New Zealand) fantasy world of "Lord of the Rings" movies, with its spectacular camera angles looking up at towering towers, spiraling-green forests and titans made of stone who stomp toward you with feet the size of my house.
If you are a gamer, "Lords of Shadow" will remind you of "God of War" and "Shadow of the Colossus," because, well, what a complete and total copycat this game is of those two games.
I say that, not as a put-down, but as a compliment. If you're going to steal ideas, steal from the best, and there is no fantasy game better than the three main "God of War" adventures. So if you can't beat 'em, copy 'em.
The plot: You portray a warrior guy in the year 1047. You must battle evil forces to save humanity.
Wait, let the narrator (Patrick Stewart) explain things to you in the opening sequence:
"A storm is coming. Mankind faces ruin and despair!" Stewart says dramatically.
"Is he (your character) The One? He has come far already, but he will be tested — tested to the very limits of human endurance … and beyond!"
Wow, those are some fantastic archetypes/cliches, Patrick Stewart.
From there on out, it is your duty to travel the New Zealand-esque scenery ("God of War" anyone?); to slay many beasts with your fists of chains ("God of War" anyone?); to earn currency to buy new combat moves ("God of War" anyone?); to shimmy up rappel ziplines ("God of War" anyone?); and to solve weird puzzles that open magical doors that are in your way ("God of War" anyone?).
Then all of a sudden, you'll have to beat down a big boss creature, a la "Shadow of the Colossus." Big bosses are humongous, and you might have to climb one and slowly take out body parts, piece by piece.
This is one long game, featuring 12 chapters, and it could take even a hard-core gamer many hours just to get through one chapter. That's excellent. If we're going to spend $60 on a third-person, solo action-adventure, it better be long and have lots of replay value.
Fans of previous "Castlevania" games should know this one is not like prior ones, since "Lords" is too busy "borrowing" from "Gods."
I can't think of anything especially stupid or annoying about "Lords." It can sometimes be dull, because there's not enough voice-over narration during action sequences.
But essentially, this is the second-best "God of War" copycat this year, behind "Dante's Inferno." It's not terrifically fun like "God of War." But to paraphrase the immortal words of the "Highlander," there can be only one "God of War."
("Castlevania: Lords of Shadow" by Konami retails for $60 for Xbox 360 and PS 3 — Plays fun. Looks fantastic. Very challenging. Rated "M" for blood, gore, nudity and violence. Four stars out of four.)
Contact Doug Elfman at delfman@reviewjournal.com. He blogs at reviewjournal.com/elfman.
NEW IN STORES
"Medal of Honor" (EA) has gotten a smattering of weird press in the mainstream media, because a British military leader decried it — since he said the game will let gamers portray Taliban soldiers.
That's not the whole truth.
"Medal of Honor" is set in the Afghanistan war era (oh, that's our era!). If you play the offline, solo campaign, you portray U.S. soldiers killing many, many, many Taliban soldiers.
Not only that, but the game makers sat down with, they say, the best of the best U.S. soldiers in Afghanistan, showed them the game in progress, and let the soldiers tell them how to make it feel more real to their American experience.
As a result, the solo game is a 10-hour (or so) adventure where you often hide behind rocks to kill with shotguns, sniper rifles and machine guns. Or you sneak around to kill Taliban with knives to the back, or fly up and fire helicopter missiles at their faces.
So what's all the hoo-ha about letting gamers play as the Taliban?
Well, this "Medal of Honor" — a reboot of a series previously set in World War II — comes with online multiplayer modes, of course.
And just as in every online multiplayer war game, the teams are comprised of armies illustrated in the offline solo game.
That means, if you're not playing on the U.S. team, you're playing on the Taliban team. That is true, yet misleading in a way, because you won't be portraying the Taliban in any meaningful, story line way.
Instead, you'll be wearing their "skin" — their online visual graphics — in the same way that your character can at times be wearing a Nazi skin/team uniform in other online multiplayers.
Will that be weird? Feasibly, it could be jarring to newcomers unaccustomed to playing online multiplayers. To those of us who play online multiplayers all the time: probably won't even notice the skins.
The game retails for $60 for PS 3, Xbox 360 and PC. It's rated "M" for blood, strong language, violence.
— By DOUG ELFMAN