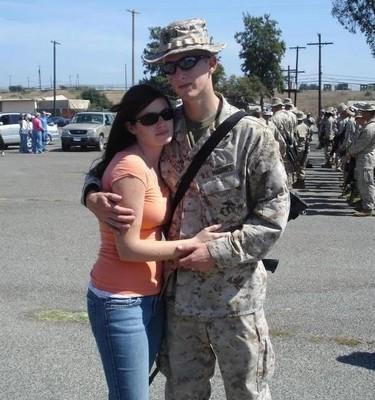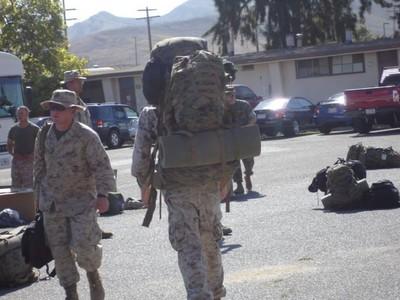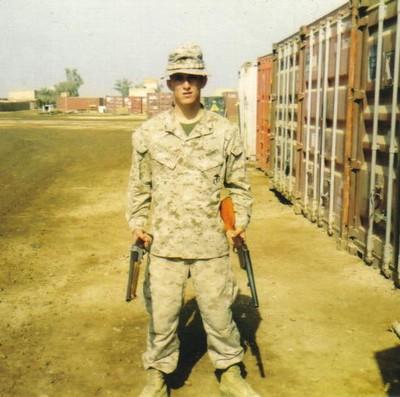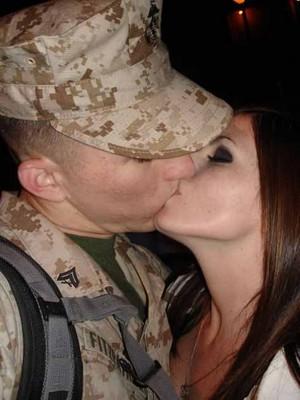 When Liberty High School senior Dana De Leo's boyfriend failed to call her, she wasn't concerned that he ditched her for his friends or was fooling around with another girl. She worried that he was dead.
Eighteen-year-old Dana is a Marine girlfriend who was anxiously awaiting her boyfriend's return from Iraq.
Russell Fitzpatrick is a 20-year-old who joined the Marine Corps delayed entry program before graduating from Eldorado High School in 2005.
"I joined the Marines to serve my country and to gain a skill that (would transfer) to the civilian world," Russell, a corporal, said later. "I joined to gain the name of honor and respect that comes with being in the Marine Corps."
After meeting each other two years ago, the two became separated by thousands of miles and a war, which Russell joined seven months ago.
CAN'T HELP FALLING IN LOVE
Some friends coaxed Dana to hang out with them after a day of baby sitting in 2005. That night, she met Russell, who was 18 at the time.
"I was definitely at an emotional low point when I first met him," she said. "A lot of things in my life were going wrong … and I didn't really care about anything. He brought so much life back into me and gave me something to care about. I feel like he saved me. He's the reason why I'm the person I am today."
Dana's life was in a downslide. She was having problems at home and stopped caring about herself and school. As Russell taught her to love herself, she was able to love him too, she said.
Initially, Dana did not expect the relationship to work because Russell would be deployed, but after they spent many days together, Dana decided she would wait for him when he left the country.
TRAINING FOR WAR
Six months after they met, Russell learned that he would begin three months of boot camp at Camp Pendleton near San Diego. The only contact permitted was letters.
"I have every one of them," Dana said.
The two sent about 78 letters to each other during their time apart.
"I'd get like six letters at once because we only got mail once a week," Russell said. "It was the only thing that kept me going."
The time apart was difficult for the couple.
"(Not hearing his voice) was really, really hard, but it made it that much better when I got a letter," Dana said. "You don't know how much something means to you, like the simple sound of a voice, until you can no longer hear it."
After boot camp Russell had a few weeks leave, then he was off again for a month of combat training at Camp Pendleton.
After training, he started schooling for his specialty in electronics, which also was in California. Having weekends and Christmas off during that time made the distance easier to bear.
GOODBYES
When Russell finished school, he spent only three days in the fleet before being notified he would be leaving on Sept. 21, 2006, for Ramadi, Iraq.
Although both knew he eventually would be deployed, they didn't think the time would come so quickly.
"It was kind of shocking and angering at the same time," Russell said. "A lot of guys wait like at least six months to a year in the fleet, then they go to Iraq."
At Camp Pendleton on Sept. 21, the Marines were issued their guns and waited for their time to depart.
The wait wasn't long enough.
"It was the quickest day of my life," Russell said. "It was so hard to let her go."
"I couldn't stop crying," Dana said. "I must have hugged and kissed him at least a million times. My best friend was leaving to go to war and there was always that possibility that something awful could happen, and that made it so scary."
Before Russell turned his back and stepped on the bus, the couple spoke their last words to each other: "I love you and I'm going to miss you so much."
WAR AND WAITING
A corporal and ground communications technician, Russell maintained and repaired all communication components during his time in Ramadi. Some of his duties included installing and uninstalling communication devices on military vehicles.
"I like the Marine aspect of being over in Iraq and being able to gain real experience for my job," Russell said in an e-mail from his base in central Iraq. "I couldn't really call it fun and it isn't too exciting, but it has its exciting moments. Let's just say that sometimes an improvised explosive device serves as my early alarm clock."
Besides the translators, Russell did not interact with many of the locals, as he was mostly on base.
He did witness some violence, but nothing too terrible. "Fortunately, my company didn't lose any personnel," he said.
Despite his willingness to serve his country, Russell said it was challenging to be overseas.
"It is pretty much like being on a deserted island with limited technology, just enough so that you're not completely bored but there is not enough to make you completely happy," Russell said.
"As far as being away from Dana, I don't even know how to put it into words. It's really depressing being away from her."
TIME ZONES AWAY
When not busy working, Russell could call Dana. After waiting in line, he could make a 30-minute phone call. If they wanted to talk longer he would have to hang up and get in line again.
Waiting for the phone to ring was difficult for Dana. Russell called when he could. Birthdays, Christmas, Valentine's Day and their two-year anniversary all were celebrated through packages and letters.
On Valentine's Day, Dana received a package carrying a necklace inscribed with her name in English and Arabic. She wears it almost every day. When she is not wearing the necklace, a silver heart that Russell gave her before he left for Iraq hangs from her neck.
From their separation, Dana has learned the flat rate postage price by heart: $8.10. She also knows it takes a couple of weeks for mail to reach Iraq. She often sent Russell packages, which usually included fitness magazines — his favorite.
Though she was able to talk to Russell, the occasional conversations did not ease Dana's anxiety over her boyfriend living in a war zone.
"I was really worried because there were so many people dying over there," Dana said. "It was like this person that I love so much is going to be gone and what if he doesn't come back? I kept thinking 'What is going to happen the day that I don't hear from him?' "
Dana found some comfort in talking to her friend Kaylen Cumana, 18, whose Marine boyfriend is stationed in North Carolina. Although Kaylen's boyfriend was not deployed, the girls helped each other through the challenges of having a long-distance relationship.
Aside from Kaylen's support, Dana struggled to relate to some of her peers as she waited for Russell's return.
"I'll talk to certain people, and they don't really understand," Dana said. "When he first left, there was a lot of criticism about me being too young to be waiting for 'some guy. I know that our love is strong, so there's really nothing anybody can say that can crack the surface of what I believe is so real and so true — our love."
With her boyfriend fighting a war several time zones away, school dances passed and Dana had no date. However, she said the only thing she missed out on was being with Russell.
"It's made our relationship a lot stronger," Dana said. "I feel like there isn't anything we can't overcome."
REUNITED
For a week, Dana couldn't sleep. In the days leading up to her fiance's arrival, their reunion was constantly on her mind.
And just as the couple had only one day left apart, the date of Russell's homecoming was delayed a day.
As Dana waited, Russell endured a long journey back to the United States.
First, Russell and his company went from Iraq to Kuwait, and stayed there for a couple days. Then they had connecting flights in Germany and Maine before arriving in California. From the airport to Camp Pendleton, they took a bus.
On April 17, Dana's anticipation was higher than ever as she waited out the last few minutes before he got off the bus.
"I was just so anxious," Dana said. "And then his sister hugged him first!"
When the couple finally embraced, "there was lots of hugs and kisses," Dana said. "I couldn't let his hand go and I couldn't stop smiling."
The first words they said to each other: "I've missed you so much."
"I was just happy to see her and hug her," Russell said. "I can't put it into words."
SETTING A DATE
Although the Marine Corps told Russell some things might be different when he returned home, that hasn't been the case.
"We just completely picked up where we left off," Dana said.
Everything is the same except "his muscles are bigger," she laughed.
Russell agreed. "I'm the same person," he said.
Now reunited, Dana and Russell spend their time going out to dinner, hanging with friends and renting movies, like many other young couples. However, they aren't sure what the future holds for them since Russell soon will be deployed again.
"It's for certain," he said. "I'm hoping I get a year off, but the regular deploy rate is six months."
For now, the couple plan to spend as much time together and with family and friends as possible. They are looking forward to going to Disneyland with friends and are even more excited about their biggest plan, their wedding which is set for May 20, almost a month before Dana's high school graduation.
"I'm just so ecstatic about getting married," Dana said. "We love each other so much and have waited for each other for a long time."
The couple started planning their wedding when Russell was still in Iraq, but he promised her that when he returned, he would propose on one knee — and he did.
"We kinda did stuff backwards," Russell said.
On April 28, Russell put his surprise plan into action. Not wanting Dana to know what was coming, he decided to skip the romantic part — and instead get her mad. At 4:50 that morning, he woke Dana up to go ride his dirt bike at Red Rock.
To his surprise, she wasn't that angry. "The only way I could surprise her was if I got her mad."
So to follow through with his plan, Russell cranked the music up and tried annoying her during the entire drive. Then, he pretended he couldn't find the spot where he wanted to ride and stepped out of his truck when parked on the scenic route to call his friend.
He got down on one knee in the front of the truck where she couldn't see him, pulled the ring out of his sock, and called for Dana to come out.
Russell said, "She was mad, so she was like 'WHAT!"
Russell then asked her to marry him. Surprised, Dana said, "You're so mean, I love you!"
Her ring was also unexpected. It was exactly what she wanted, even though Russell had told her he couldn't afford it. While at Camp Pendleton signing out the week after he returned from Iraq, he bought it for her at a custom jewelry store.
With three diamonds on each side of a larger center diamond, her ring has seven stones, the same number of months they spent apart.
"I can't wait (to get married)," Russell said. "She's going to be mine forever."
LOOKING FORWARD
While excited about their upcoming wedding, the couple have been looking toward the future.
Dana is planning to pursue a career in law at Whittier College next year in California, where Russell will be stationed.
"The center of our universe is Dana going to school," he said.
They are hoping that Dana will be able to meet friends quickly when she gets to college, because she will be left alone when Russell is redeployed shortly after.
When his five-year contract with the Marines expires, Russell said, he will not re-enlist because he wants to be with Dana and start a career in the United States. He said he hopes to be either a police officer or electric mechanic.
Until then, the couple plan to spend as much time together as possible before Russell leaves for Iraq again.
"Ever since we met, the only time we've spent apart is the time we've had to spend apart," Russell said. "If it was up to us, we'd spend every moment together."
R-Jeneration