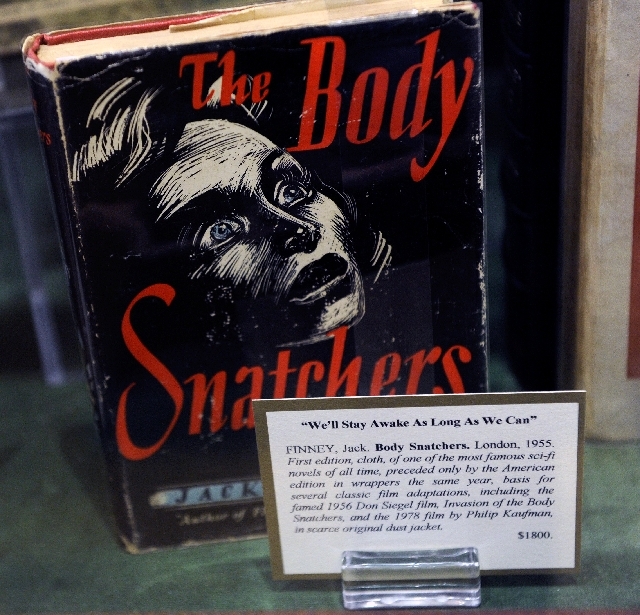 There's no getting around it, a movie based on a novel will always draw comparisons to its source material.
"Was it as good as the book?" is often the first question people ask about a film, says Rebecca Romney, spokeswoman for Bauman Rare Books in the Shoppes at Palazzo.
For book nerds, the movie rarely holds up to their scrutiny, especially when that movie was based on a classic. Take Jack London's "Call of the Wild." The 1935 film has a 56 percent rating on the online movie review aggregator Rotten Tomatoes. While the rating suggests the film is far from noteworthy, the novel is considered one of the greatest adventure stories of all time.
Through Aug. 31, book lovers can see a first-edition "Call of the Wild," signed by author London, on display at Bauman. It's valued at $125,000. The book is part of a free exhibit, "Before They Were Movies," that honors some of the great 20th century movies that began as books, Romney says.
Among the first editions on display: "To Kill a Mockingbird," by Harper Lee; a signed first edition of Stephen King's "Carrie"; and Margaret Mitchell's "Gone With the Wind." Other literary items with film ties will be exhibited, too, including the galley proofs of "Terms of Endearment," by Larry McMurtry; contracts for the film rights to William Faulkner's "The Sound and the Fury"; and items signed by Alfred Hitchcock and Thomas Edison.
All items are for sale , a fact that can throw people off when they are part of an exhibit, Romney says. But displaying first editions like this serves a twofold purpose.
"It's really a good chance for us to educate people about rare books," Romney says. "We want to make them as accessible as possible. We want people to see that there's an opportunity to own a piece of history."
And they're also cool to look at. For true book lovers, few things compare with the sight of a first edition with its original book jacket. One book in the display, Truman Capote's "Breakfast at Tiffany's," has a pink cover with small diamonds embedded in the binding.
London's "Call of the Wild" is special because it's an association copy, a book that he signed to his mother. The author was considered a difficult man and didn't really get along with others, Romney says. His message hints at a mercurial personality.
"It says, 'Dear mother, you've always loved your son, things with us will always be well,' " Romney says. "It's so cool, that book."
Whenever "To Kill a Mockingbird" is displayed, it always draws comments, Romney says. And the timing of the exhibit coincides with a recent lawsuit filed by the reclusive Lee, who is suing her former agent, saying he tried to steal the copyright for her one and only novel.
The signed first edition is valued at $23,000. The exhibit also gives staff a chance to educate people on just what a first-edition book is, Romney says. Generally speaking, a first edition refers to a copy that came from the first batch printed of a book.
Among the criteria used to determine the value of a first edition are: the condition of the book, the number of books printed in the first batch and demand for that particular book. But a first edition isn't always a five- or six-figure investment.
"The books we have on display are the showstoppers," Romney says. "We know they're expensive. That being said, we have whole bookshelves that go for a lot less than that. You can get a first edition for a few hundred dollars."
Contact reporter Sonya Padgett at spadgett@reviewjournal.com or 702-380-4564. Follow @StripSonya on Twitter.