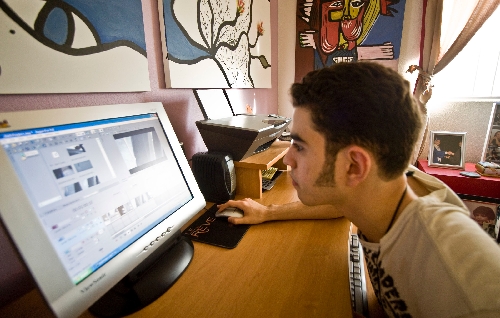 Michael Zayas has wanted to be a film director since he was 14 years old and saw Darren Aronofsky's "Requiem for a Dream."
"I watched it and it hit me so powerfully," Zayas said. "I never knew I could get that feeling from a film."
Not all that long ago, pursuing his directing dreams would have been an expensive undertaking. Zayas would have had to purchase an expensive professional-quality film camera. He would have had to buy film, and then pay to process all of the film he shot. Then, he would have had to buy pricey editing equipment to physically cut and splice his film.
Today, Zayas was able to take a different tack. He bought a quality digital video camera at Best Buy for about $500. He found free digital editing software online, which he can use to cut his film digitally on a basic laptop computer.
Zayas, now 18, is on his way toward a film career. He already has made three short dramas. He plans to complete his work this summer on an associate's degree in videography and film at the College of Southern Nevada. Zayas then plans to enter the University of Nevada, Las Vegas as a film major in the fall.
Thanks to affordable equipment and digital technology, young, aspiring or amateur filmmakers can shoot movies on everything from iPhones to high-quality cameras available for just a few hundred bucks at any big-box retailer.
Technology is, it seems, making it easy for everybody — from dads gussying up vacation movies with a special effect or two to kids filming cinematic epics in their own backyards — to become Spielbergs-to-be or Coppolas-in-the-making.
"The technology keeps improving all the time," said Robert Benedetto, director of CSN's videography and film program. "It keeps evolving and improving and getting cheaper."
At The Meadows School, where students can take a course in film, teacher Marc Micek said technology has made beginning filmmaking "a lot easier" for students.
Micek said the cameras students use cost about $300, while the editing software — which includes such effects as green screen — costs about $100 for a site license.
"You can make pretty decent movies these days with little (money)," Micek said. "I think you're just basically limited by your creativity."
The reduced costs of getting a cinematic foot in the door also has helped to encourage more amateurs to pick up cameras. Lee Lanier, executive director of the Dam Short Film Festival in Boulder City, said the number of submissions received by the festival has increased every year since the event's creation eight years ago.
"You just have to assume that you have more and more filmmakers out there," he said.
CSN's film and videography program started in 2000 with 50 students, Benedetto said. Today, about 500 students take film and video courses at the school during the course of a year, or twice as many as five years ago.
Zayas, a graduate of College of Southern Nevada High School, made his first short film two years ago for a video course he was taking at CSN. Since then, he has completed two more shorts on his own, all of them dramas.
Zayas has worked only with digital video and not with film. But he suspects that learning the basics of moviemaking "would have been much more difficult" with film.
For one thing, editing digital clips "is easier because it's all in the computer," Zayas said.
Digital technology also helps to promote creativity and experimentation among beginning filmmakers. For example, being able to make an edit and then undo it if it doesn't work "gives you more options," Zayas said. "With the new technology, you can experiment with more stuff."
Jacob Blodgett's primary interest is screenwriting, but the CSN film student — he expects to earn his degree in 2012 — has made digital movies as part of his course work.
This summer, one of the digital films Blodgett did for a class will be reshot, this time on film. Blodgett then plans to take the film — about, he said, a man who loses and recovers his faith "through extreme circumstances" — on the festival competition circuit.
Blodgett said that, while technology enables aspiring or amateur filmmakers to more easily and more inexpensively learn their craft, becoming a professional filmmaker remains an uphill battle.
"You understand that it's still probably hard to (make) your way into Hollywood," Blodgett said. "But I definitely think it's easier to get your films made."
Technology democratizes the filmmaking process, Lanier said. "It doesn't necessarily make for better films, but it does give (aspiring filmmakers) a shot at it."
But Benedetto noted that the accessibility technology affords takes an aspiring filmmaker only so far. He and Francisco Menendez, chairman of the film department at UNLV, agreed that formal training remains important.
Aspiring filmmakers still "need to learn the value of story and emotional truth and performance, and they come to (film) school to kind of do that.
"At the end of the day, it's the ability to move people that makes your film interesting. And if I can teach them how to do that, then the world will come to their door," Menendez said.
On the other hand, Joshua Kanies, academic director for the video program at The Art Institute of Las Vegas, said that if less expensive, more accessible technology enables more aspiring filmmakers to tell their stories, all the better.
"I like to see more technology in the hands of people, just because I think there are some great stories to be told out there," he said, "and having that access to technology is kind of the only way of getting those stories out."
Contact reporter John Przybys at jprzybys@ reviewjournal.com or 702-383-0280.