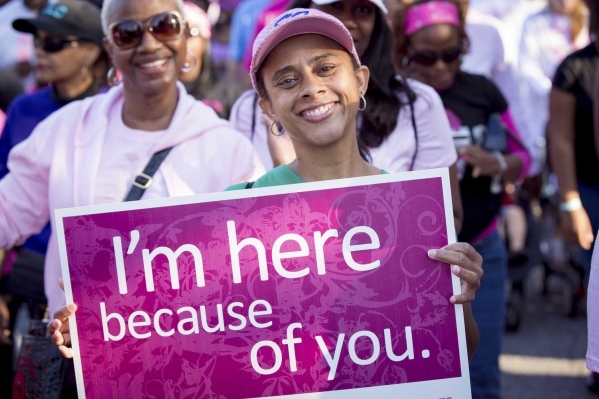 The annual American Cancer Society Making Strides Against Breast Cancer is one of the largest networks of breast cancer awareness events in the nation, uniting nearly 300 communities to finish the fight. Last year, more than 1 million Making Strides walkers helped raise over $60 million for the American Cancer Society.
Locally, the 5K walk will take place Oct. 25 at Red Rock Resort, 11011 W. Charleston Blvd. About 18,000 walkers participated last year, raising $615,000 locally. This year more than 20,000 breast cancer survivors, caregivers, advocates and fundraisers are expected to come together in support of each other, the community and the fight against breast cancer.
Among the survivors will be Jeanette Tellefsen, who recently shared her story at a team-building event with community leaders.
"I was 40 and it was time for my mammogram," she said. "Then the phone call came telling me to come in to repeat the test because they saw something 'suspicious.' Before I knew it, I was having a biopsy, more testing, surgery and chemotherapy."
But Tellefsen was quick to add the positive side of her breast cancer diagnosis.
"I remember that even through my fear, sadness and anger, I found joy, laughter, endless love and even hope. When I needed it most in my life, I was surrounded by love and support from family, friends and people I didn't even know — like the American Cancer Society," she said.
Registration for Making Strides Against Breast Cancer begins at 7:30 a.m., with opening ceremonies at 8 and the walk beginning at 8:30. The event will include family activities, a survivor VIP experience and a Zumba warm-up.
Monies raised enable the American Cancer Society to fund breast cancer research, provide free information and support to those touched by the disease, and help people take steps to reduce their breast cancer risk or find it early when it's most treatable.
According to the American Cancer Society Cancer Facts & Figures 2015, an estimated 1,690 women in Nevada will be diagnosed with breast cancer and an estimated 380 will die from the disease this year.
"Uniting with others at the Making Strides walk gives us power to make a real difference in the fight to end breast cancer," event manager Laura Gasperino said. "Registering for the event today is the first step. And then begin fundraising!"
To learn more about the Making Strides Against Breast Cancer event and how you can become involved, visit MakingStridesWalk.org/LasVegasNV, email Laura.Gasperino@cancer.org or call 702-891-9012.