Mammogram: Best way to catch early-stage breast cancer
October 17, 2016 - 10:00 am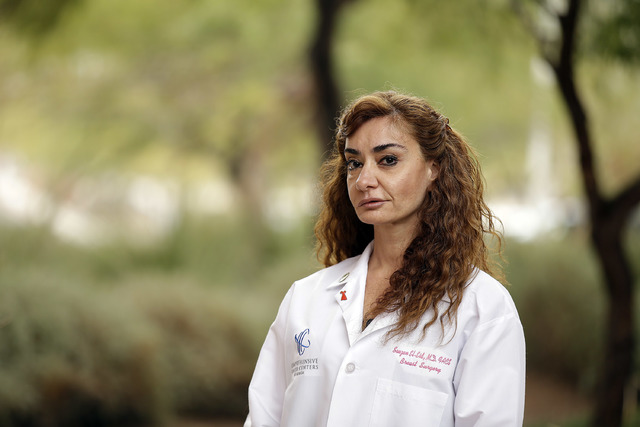 Judy Kinlind wasn't afraid of the mammogram procedure or finding out the results. It was the process of getting a mammogram that intimidated her.
"It takes months to get in to see a doctor," she said. "I didn't know if I could just walk in to a (radiology) center or what."
Kinlind had just moved to Las Vegas after turning 40 three years ago. She had yet to find a general physician and wasn't due for her annual pap exam for another year. She did, however, want to start her annual mammograms considering her family history.
"My grandmother had breast cancer," Kinlind said. "It was detected early and she's still with us today, strong and healthy."
With the busy process of settling into a new city, enrolling her two children in school and starting a new job, she put off the mammogram. It wasn't until almost three years later, after also finding a physician she was comfortable with, that she finally had her first mammogram at age 43.
"It was normal," she said. "But I wish I had known I could have gotten the preventative care I need earlier if I just had the information. I would have slept a lot better knowing I wasn't putting off something important because of red tape."
This year, more than 230,000 women in the United States will be diagnosed with invasive breast cancer, according to the American Cancer Society.
A mammogram is the best way to detect breast cancer in its early stages, said Dr. Souzan El-Eid, medical director for the Las Vegas Women's Health Center at Summerlin Hospital Medical Center and breast surgeon, oncologist for Comprehensive Cancer Centers of Nevada.
"It is not intimidating, the mammogram, but many people don't want to know if they have cancer, so they put it off," said El-Eid, who has more than 20 years of experience in the breast cancer treatment field. "It is a prevention, it is known. It is one of the most common cancers in women. A mammogram is the gold standard. Sometimes we add an ultrasound test but the standard is still the mammogram."
Women over the age of 40 can simply call a mammography center and set up an appointment without traversing the doctor referral path.
"It depends on the insurance," El-Eid said. "Although, most of the mammogram places will need to know the ordering doctor."
The average mammogram's cost is less than $80, which isn't terribly expensive for the patient or the radiology center. During the month of October, many mammography centers offer specials and there are companies such as Dignity Health that offer free mammograms.
"The rest of the year it can be expensive," El-Eid said. "I see a lot of women who haven't had a mammogram for a few years. But in October, you can find a place much more easily." And if you have a family history, or would simply like peace of mind, you can get a mammogram anytime you feel the need.
"Don't get caught up with the guidelines and don't be afraid of the insurance coverage," El-Eid said. "If you are a woman over 45, put it in your mind. Just do it. Do it for yourself. If you are 80 years old and you walk and you golf, do it for yourself."
Once you've obtained a mammogram, the radiologist will then send a letter to the primary physician and the patient stating that the mammogram was completed.
"By law, they have to send a letter," she said. "That's their job, and it's done by the radiologist."
Which is what makes it easier if you have a referral to begin with. Once an abnormality is found, you will need a clinical breast exam. Diagnostic mammograms, tests that are looking for specific abnormalities, must be referred by a physician.
"But the trouble is that someone has to show the responsibility of following up with the patient if it is abnormal," El-Eid said. "It's much easier to get the process going if you have an abnormal result, which often happens and you need to come in for a second mammogram to be sure."
Finding a good radiologist can cut down on the number of mammograms you receive due to murky readings. The Breast Care Center at Sunrise Hospital has radiologists that are dedicated to reading mammograms, said Dr. Josette Spotts, breast surgeon at Comprehensive Cancer Centers of Nevada.
"When The Breast Cancer Center came to be at Sunrise, that is a great idea, and they do that really well," she said. "They treat women nicely because that's all they do. But the radiologists who rotate through the breast center don't just do breast imaging. They have to spread out."
Locally, radiologists are in high demand and need to cover a lot of ground in their field.
"No one here is a breast-based radiologist," Spotts said. "We have specialists, sure, but not exclusively breast imaging. Whereas you go to UCLA, they do have breast radiologists and that's all they do is read mammograms. That's a disadvantage in our community. But The Breast Care Center is about the closest."
And if you can afford it, and don't want to take the time for a referral, make an appointment.
"Peace of mind is incredibly important," Spotts said. "Just as getting a mammogram is incredibly important."
American Cancer Society Screening Recommendations
The U.S. Preventive Services Task Force mammogram guidelines recommend women begin screening atage 50. However, the American Cancer Society recommends:
▶ Women ages 40 to 44 should have the choice to start annual breast cancer screening withmammograms if they wish to do so.
▶ Women ages 45 to 54 should get mammograms every year.
▶ Women 55 and older should switch to mammograms every two years or can continue year screening.
▶ Screening should continue as long as a woman is in good health and is expected to live 10 more yearsor longer.