Masterpiece Barber College offers students a chance to quickly create a career
November 1, 2016 - 3:17 pm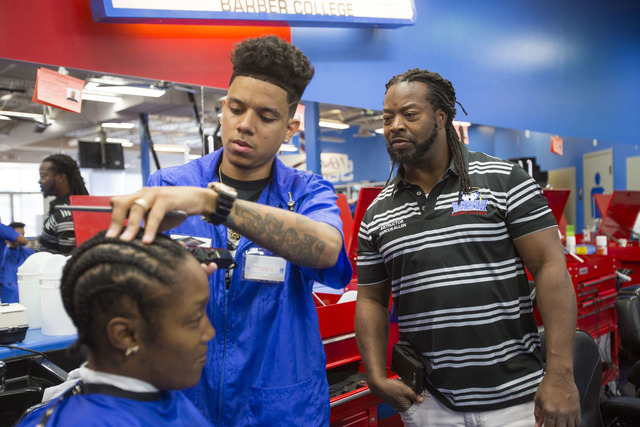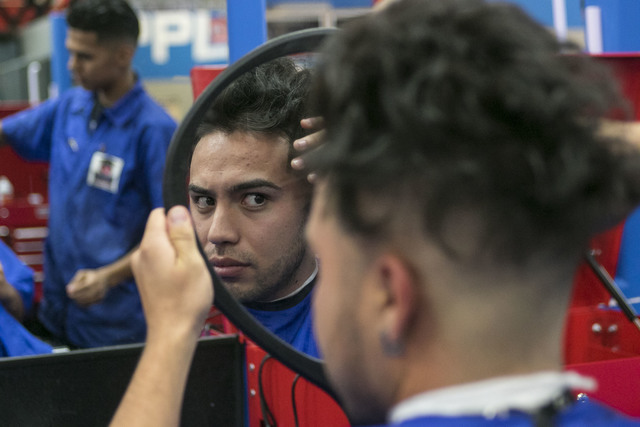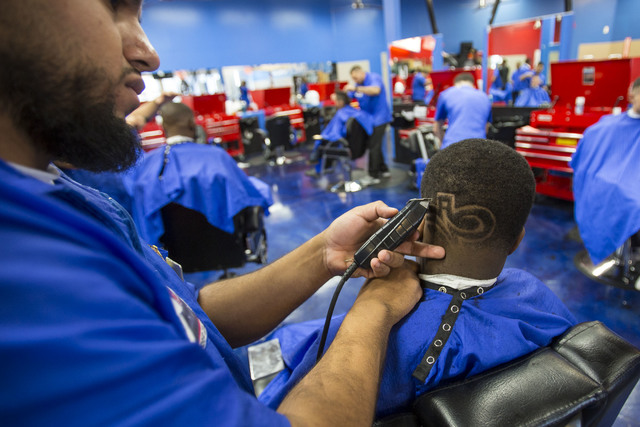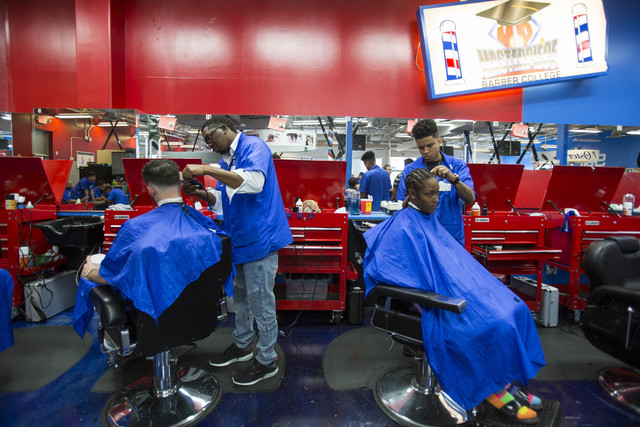 From the sidewalk along Pecos Road in East Las Vegas, the Masterpiece Barber College is a discreet beige building with "$10.00 ADULT FADES" and "$7.00 KIDS CUTS" painted on the side. Window decals across the storefront obscure the view.
Inside, the barber school hums with life. About 20 men and a couple of women, all in royal blue smocks, stand at stations with firetruck red toolboxes and black salon chairs, at some of which sit clients swathed in black nylon covers.
The large room smells like a clean barbershop, the result not of any one product, but a slightly astringent amalgamation of sanitizer, after shave, pomade, talc powder and hairspray.
The mirrors at each station and along the back of the room multiply the scene twofold.
Behind a partial wall, students study in the classroom, putting in the required hour with the textbook for the day before getting the razor and trimmer in their hands.
Instructor Marcus Allen walks among the students, a stern presence, showing how to hold the straight razor this way or that, clarifying what a client wants and demonstrating how to tilt a man's head for the cleanest shave.
They're skills Allen has a stake in developing in his students. The barber college, which opened about a year ago, is just one of his projects. Throughout the city, Allen owns three Masterpiece Barbershops, and has two more locations opening in December and February, shops that will be filled with some of these barbers.
But even if these students don't go on to occupy a station at one of the Masterpiece Barbershops — and most of them will not — the Las Vegas native still hopes to create a new generation of barbers. Interspersed between the lessons on shaving and trimming, Allen imparts wisdom for the lives they lead both within and outside the barbershop. He preaches professionalism and financial lessons, such as how to build credit, all drawn from his personal experiences.
VOLATILE YOUTH
For Allen, personal experience included drug dealing and a Las Vegas adolescence without college on the horizon, he recalls.
It was a life that, in one instant, he realized he didn't want. While driving his Mercedes along Rainbow Boulevard at age 18, he pulled up next to another man in a Mercedes, one he perceived to be a lawyer or doctor.
"I couldn't really enjoy my Mercedes the way he enjoyed his Mercedes, because he really earned it," Allen says.
Though he didn't necessarily have a passion for cutting hair, he was drawn to the independence the profession could afford — the ability to set his own schedule, be his own boss and maintain a steady income.
"I was running in the streets and I wanted a change in my life, to do something better, instead of being a nuisance to the community," Allen says.
At that time, there wasn't a barber school in Las Vegas, so Allen traveled to San Antonio, Texas, for a year, taking five friends with him, to complete the requisite training hours. (The first barber school, Nevada Barber College, opened in 2008. Masterpiece Barber College is the second in the city.)
Upon returning to Las Vegas, he worked for five years at Studio One barbershop before opening the first Masterpiece Barbershop in his remodeled and re-zoned grandfather's house on Lake Mead Boulevard in 2004.
Two years after that came Masterpiece Barbershop 2: Chop Shop, where the use of those firetruck red tool boxes to store the barber supplies first began. In 2008, another two years after that, Masterpiece Barbershop 3 opened on West Cheyenne Avenue with a Harley Davidson theme, though Allen later switched to a UNLV locker room theme.
Allen opened Masterpiece Barber College most recently with his co-instructor Raymon Green, another Vegas-bred barber. Neither saw the qualities in the Vegas barbering community that they wanted to see.
"What brought us here to the school is just the common ground for the profession, understanding what's needed in the profession," Green says. "We've been in it long enough to where we've gotten to reap the benefits of the profession. Now it's not only making sure that (the students) can reap the benefits, but making sure that the profession's healthy. That was the common bond that brought us here together."
Both Green and Allen were familiar with the sizable and reliable return an investment in barber school can provide a student. In just nine months, if they're in school full time, a barber can become a licensed and working professional making upward of $200 a day.
LESSONS LEARNED
The same consistent income and prospect of self-employment that drew Allen to barbering draws many of the Masterpiece Barber College students through its doors. The school attracts students from a variety of backgrounds: men, women, all races and ethnicities, those with undergraduate degrees and those straight out of high school, adults interested in transitioning careers. Enrollment at the school is so desirable, there's a two-month wait list.
"You have guys that were business, you have guys that worked in sales or worked in insurance. Everyone just from whole different backgrounds," Napoleon Aniciete, a student at Masterpiece Barber College, says. "Luckily, Mr. Green and Mr. Allen, they do a great job at making sure everyone fits together."
Allen holds the students to the same high standards he requires of himself. He knows that, at a certain age, kids stop listening to their parents, but will listen to an authority figure like himself. So he encourages them to stay off their phones at work, maintain a clean appearance, tools and workstation and keep life outside the barbershop, outside. That means no discussion of the past weekend's misconduct, especially around children.
"We are on a platform," Allen says. "I tell my guys all the time, 'We are on a stage. We're performing everyday, on a stage. And we have an audience right there in front of us."
For some, those messages hit home.
"To me, in my perspective, he's an inspiration," 20-year-old student Roberto Luna says. "And this is the reason why: He comes from a background that somewhat resembles what I came from, you know, we come from the slums or not privileged, let's say, and then to grow and see all this come about? That's what I see in him, that hustle, that ambition, that motive to do something."
Read more from Sarah Corsa at reviewjournal.com. Contact her at scorsa@reviewjournal.com and follow @sarahcorsa on Twitter.