MGM Resorts, Republic Services create environmental awareness exhibit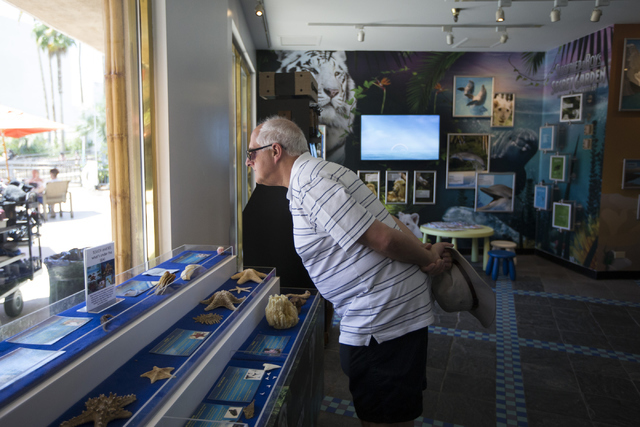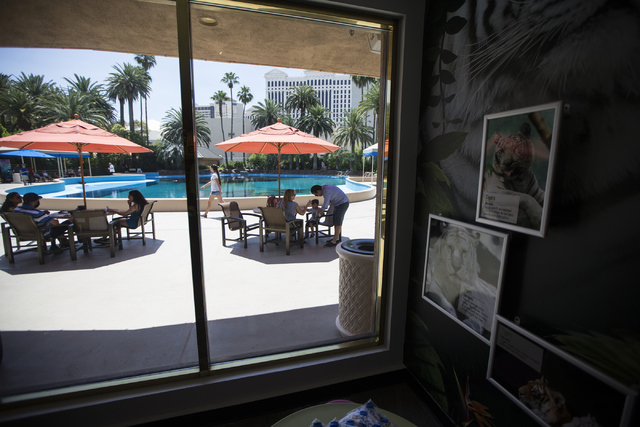 Kelcie Saunders ran her hands over a starfish, admiring the shells and objects on display in a room at The Mirage.
"It's a really good idea to put all this stuff up," the 13-year-old from Phoenix said. "It's really important to help the environment."
On Thursday, MGM Resorts International, with Republic Services, introduced a recycling exhibit in the Siegfried &Roy Secret Garden and Dolphin Habitat Sustainability Discovery Center in The Mirage.
In the Sustainability Discovery Center, which overlooks the dolphin exhibit, noise from Las Vegas Boulevard fades away. Plastic gallon jugs decorate light fixtures hanging above the new recycling exhibit in the room, which is full of facts, figures and images of the valley.
A sign in the new exhibit reads: "We can all do more to protect our Blue Planet."
The display is part of efforts by MGM Resorts and Republic Services to promote sustainability and community outreach, said Tim Oudman, market vice president of Republic Services.
"It demonstrates MGM's and Republic's commitment to engaging the community. Engaging the community by teaching others about the importance and impact of recycling on our planet," he said during a ribbon-cutting ceremony to mark the exhibit's opening.
Rey Bouknight, an MGM Resorts spokesman, said the discovery center opened in 2014. Oudman said creating the discovery center, which houses the exhibit, cost under $100,000.
MGM spokeswoman Brittany Price said the exhibit will serve as an educational tool to promote recycling.
"We're bringing this exhibit to the forefront so that our communities can see what we do as an organization, but what you can at home to help with your own environmental sustainability efforts," she said.
Inside, images of tigers, lions and leopards cover one side of a wall; painted images of water sources in Las Vegas cover the other. One poster says that MGM Resorts recycles 2.1 million aluminum cans each year.
Sherry Bush, 61, said the exhibit was a good way to increase environmental awareness. She said the kids' area, where children can color a recycling-themed book, is a good way to teach the younger generation.
"If you teach children young, they'll grow up with an appreciation of the environment and wildlife," Bush said.
For Kelcie, who does her best to recycle as much as she can, the room is a reminder that people need to take care of the environment, through recycling, to keep animals from going extinct. She said she and her sister cut the plastic templates from drink six-packs so animals won't get stuck in them.
"If there's people, they could end up destroying (the animals), and that's really really not that nice," she said.