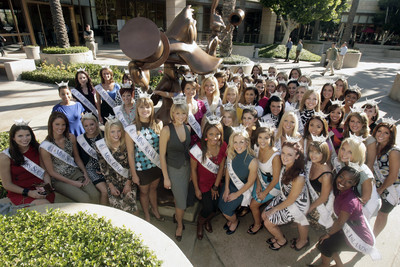 Despite popular perception, there's a lot more to being a beauty queen than wearing a gown and a crown and looking beautiful.
Or so says Julianna Erdesz, Nevada's reigning beauty queen who will represent the Silver State in the upcoming Miss America pageant at the Planet Hollywood Resort on Saturday.
Fifty-two contestants compete this week for the national title in a variety of preliminaries and a finale that will be televised live on TLC. It will air tape-delayed locally at 8 p.m. Saturday.
Erdesz, 24, was crowned Miss Nevada last July. It was her third and last shot at the crown that qualifies the bearer to compete in the pageant of all pageants, Miss America. It returns to Planet Hollywood for the fourth time.
"With Miss America, you age out at 24," says Erdesz, who lives in Reno. She competed for the state title in 2005 and 2006, but took 2007 off to chase other goals and dreams. "I came back because I didn't want to wonder, 'what if?' "
Erdesz started competing in beauty pageants at 18, hoping to earn money for college. She received her bachelor's degree in performing arts from the American Musical and Dramatic Academy in Los Angeles last year and, if she wins Miss America, will use the $50,000 scholarship prize to pursue her master's degree in performing arts in New York.
Beauty queens may look good, but a lot of work goes into the final product, Erdesz says.
There are the workouts, shopping, fittings, practice and, of course, the passion. Erdesz spends at least two hours a day in the gym. Since winning Miss Nevada six months ago, Erdesz has quit her blackjack dealing job to devote all of her time to prepare to compete. She, like other contestants, must learn how to walk, how to talk and how to look like a beauty queen.
She also has been practicing her talent, singing, and working on her platform issue, arts for at-risk children.
The arts helped keep Erdesz motivated and focused when she was growing up, she says, and she wants to pass that passion on to other kids who may be struggling to overcome obstacles.
As a child of Hungarian immigrants, Erdesz spent five of her most formative years living in a recreational vehicle and traveling the country.
From ages 12 to 17, her mother home-schooled her in the RV so that Erdesz could take care of her father, who was in poor health, while her mother worked during the day.
"It was really hard, being in that situation," Erdesz says of her years living in the RV. "It was tough, but I'm not afraid of anything life throws my way."
When they settled in Reno in 2001, Erdesz, an only child, enrolled in the I Can Do Anything Charter High School for her senior year. Her training there included singing and performing.
She started her Arts Reach foundation after graduating from high school, and has gone into at-risk schools and Boys and Girls Clubs, teaching kids how to dance. Though Erdesz dances, she says she has been singing for much longer. She plans to sing "One Rock and Roll and Too Many" for the talent portion of the competition.
Contact reporter Sonya Padgett at spadgett@reviewjournal.com or 702-380-4564.
MISS AMERICA EVENTS
Here is the schedule of events for Miss America 2009 at Planet Hollywood's Theatre for the Performing Arts, 3667 Las Vegas Blvd. South. Tickets for all events are available at ticketmaster.com or at the box office.
• Tuesday through Thursday, 8 p.m.: Groups of contestants will compete in preliminaries each night in three categories — swimsuit/evening wear, interview and talent. Preliminary tickets cost $75.
• Friday, 8 p.m.: The Miss America Organization's Evening of Dreams fundraiser will be attended by Miss America 2008 Kirsten Haglund and this year's 52 contestants. Marie Osmond is scheduled to make a guest appearance, along with celebrity impersonators. Tickets cost $100, cash bar not included. VIP tickets cost $250 each or $2,000 for a table of eight. It includes a private cocktail reception with contestants, former Miss Americas and others. Platinum VIP tickets cost $500 each or $4,000 for a table of eight. Price includes the VIP cocktail reception and a Miss America or contestant at your table. For reservations, call (609) 653-8700.
• Saturday, 5 p.m.: 2009 Miss America Pageant Finale. Tickets cost $150. The finale will be tape-delayed and air locally at 8 p.m. on TLC (Cox Cable Channel 33).