More than $250,000 raised for Animal Foundation at event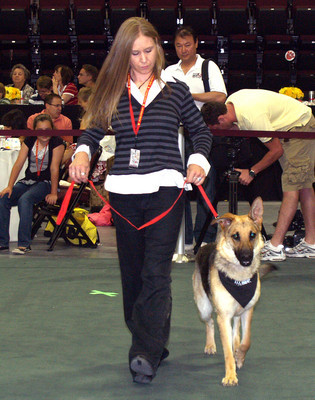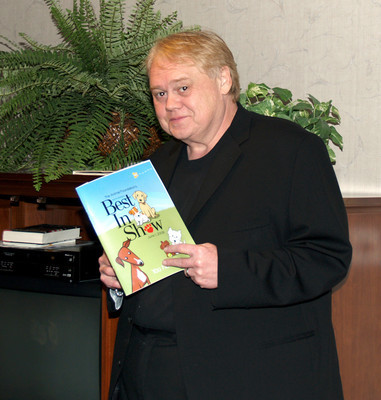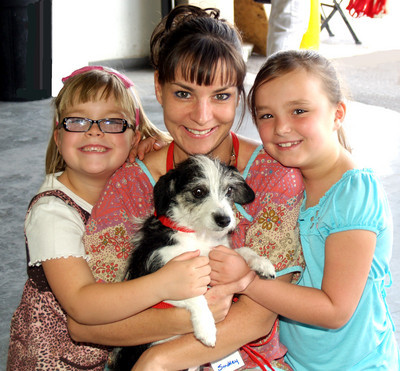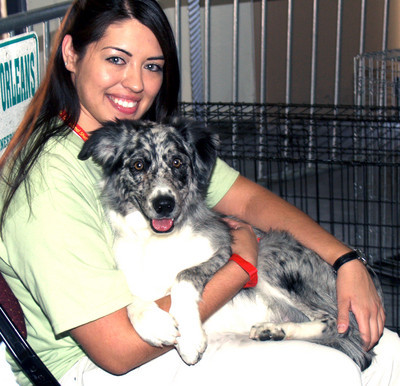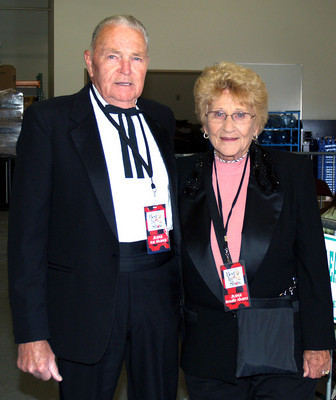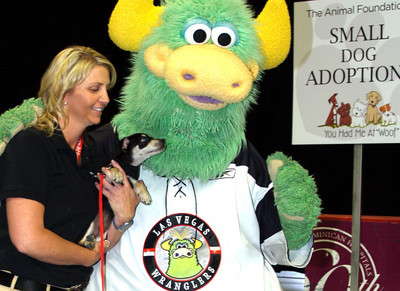 Editor's note: View News reporter Amanda Llewellyn is sitting in for Dorothy Huffey for this week.
The Animal Foundation's sixth annual Best in Show event, featuring 62 mixed and pure breed dogs from Lied Animal Shelter, raised $254,000 June 1 at the Orleans Arena.
More than 750 guests attended a special brunch catered by chef Gustav Mauler before the main event. The menu featured vegetable and fruit trays, traditional brunch fare, such as scrambled eggs, toast and bacon, pita triangles, hummus, quiche with sun-dried tomatoes and broccoli, rum-sautéed carrots, french toast and crepes.
As the hourlong brunch moved forward, guests formed social circles around buffet tables and the silent auction stations in the center of the arena.
Enthusiastic patrons chatted about the ambience, upcoming dog show and the cause while perusing the 83 items available for bidding.
A few of the more popular auction items included a date night with Cher donated by Caesars Palace and valued at $750, a "Pamper Your Pooch" package donated by Saks Fifth Avenue valued at $400 and a series of life-size porcelain dogs designed and painted by cast members of "Phantom: The Las Vegas Spectacular," the pirates from Treasure Island's "The Sirens of TI," the Blue Man Group, "Mamma Mia!", "Spamalot" and "Le Reve."
The animals were dressed to fit each show's theme, with the "Phantom" pooch donning a sequin-studded pink gown complete with bustle, a pink wig, feathers and false eyelashes; a saucy pirate pooch; and a small pack that were designed in a group of three featuring blue clothing.
The dozens of tables flanking the arena floor were transformed into a dog lover's dream with dozens of biscuit-hued roses anchored in a vase by doggy treats as a centerpiece. The smooth sound of mellow classical jazz wafted into the arena as people browsed and ate.
The booming and almost instantly recognizable voice of Robin Leach flitted in over the sound system at a quarter to the hour, announcing that a few minutes of auction time remained.
Near 1 p.m., a steady crowd of thousands began to flow into the arena's general seating areas.
With some effort, families with groups of small children settled in for the afternoon and the first dog, Thumbelina, pranced onto the stage at the arena's heart.
The event also featured entertainment from comedian Louie Anderson and vocal duo Zowie Bowie.
Anderson said that he agreed to participate in the event because he is an advocate for every creature's right to the necessities.
"I grew up poor, in the projects, where you don't always have what you need," Anderson said. "I remember that there weren't animals around. We just couldn't have them. But, when a stray would pop up, every family in the neighborhood would be so excited. We'd each take a turn caring for the dog. Some of my fondest memories stem from those incidents. I think it's just a reminder of what a responsibility it is to take in an animal, and how we all deserve to feel safe and loved. That's why I'm here."
Emcee John O'Hurley of "Spamalot," "Seinfeld" and "Dancing with the Stars" fame, said that while he spends 300 days a year traveling, he has two dogs at home that are like close, beloved friends.
"I think I have a real connection to dogs," O'Hurley said. "Be they purebred or mix-breed dogs, I think every one of them has something to offer a loving family. I've written several books on this topic and hosted the National Dog Show on NBC for eight years now. I feel like I know something about the nature of these animals. It's very true that when a dog wags its tail, it is connected to his heart."
The event featured a parade of puppies, medium, large, special needs, small and pretty big dogs. Judges Rosalie and Pat Alvarez named two dogs as finalists in each category, to compete for the title of Best in Show. A 2-year-old Rottweiler named Dexter won the honor.
All of the dogs were adopted out, although one was later returned because of allergy problems.
Local television personalities John Fredericks, Luis Felipe Godinez, John Huck, Tiffani Sargent, Denise Valdez and Kimberly Wagner were on hand to co-host and assist in dog handling.
Also in attendance were Susan Sawyer, Kitty Rodman and Claudine Williams.
Animal Foundation co-chair Dale Wynn said that more than 150 dogs are surrendered to the shelter on a daily basis, and it is through community awareness and participation that the future of homeless animals will change.
"This is our largest annual fundraiser," Wynn said. "It gives the community a chance to see the types of dogs we have, as well as educate them about what they can do to help, even if they can't adopt. The community's role in saving our animals is so important."
According to Wynn, dog show participants in past years have been adopted almost immediately.
"But there are many more dogs back at the shelter who need loving homes," she said. "That's why we're doing this."
The proceeds from the show and silent auction will benefit the Animal Foundation.
Dorothy Huffey is on vacation.