November 30, 2008 - 10:00 pm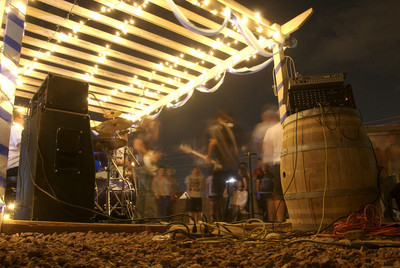 The white board behind drummer Brice Gielgens' head lists the band's set list and detailed practice routine: 10 minutes of tuning, 15 minutes of warm-ups and unlimited amount of jamming.
Three amps are aligned perfectly against some cabinets and guitarists Vaughn Johnson and Daniel Rodriguez and bassist Josh Aurich are lined up accordingly.
The Skamaniacs, a band of five, plus some friends are crammed into Gielgens' garage for a mini premiere of their new untitled song, as trombonist Craig Ludwick explains the measures in sets of guitar riffs ("six of ska, two of rock and then four of reggae") and writes it on the board.
"All right, from the top guys," he prompts, while picking up his trombone. "And please — don't suck."
The ska/metal/rock/reggae/jazz band has "been around the block" for the past three years.
With members constantly joining and leaving, they've had their share of struggles; however, the flow of bandmates has added to their diversity in music genres.
They pick up guitar rock and metal techniques from tongue-in-cheek bands such as Tenacious D and Dethklok. With other main inspirations from Reel Big Fish and Streetlight Manifesto, the band is a mixing pot of music styles.
"We just sound like the Skamaniacs," Johnson says.
Recently, the band has made some changes. What started out as a hobby morphed into a lifestyle as the boys learned to focus more on their music. The half-hour hangouts turned into four-hour "total jamming sessions."
Their Halloween garage shows have been upgraded to venues, their set of two songs quickly changed into six.
"It used to be by the time we even thought of picking up our instruments, we were already half naked in the pool," laughs Gielgens. "We were really unorganized, but we've changed that. We still don't have a system, but whatever we have, it's working."
The band began to hit its stride in fall 2007 after opening at the annual "Skalloween" show.
Later that year, the boys won a local battle of the bands event, bringing home $200 that helped buy a new amp.
They were on their way to playing shows at the House of Blues and performing at Extreme Thing when former singer Justin Utley had a change of heart.
"In a way he got spooked," Ludwick says. "He didn't want the direction we were heading in to become his life so he quit. It was devastating to the entire band, but we're all like brothers so we still love him."
Since then, the band has become an instrumental group until they come across a new singer.
But they claim they'll have a hard time finding a singer to put up with all their "weirdness."
"We have ridiculous nicknames for each other: Vicious Vaughn, The Beast, Squeaver, Eggsworth and Danger Dan," Johnson says. "They used to be a joke, but now we use them seriously. They're all a reflection of our personalities too, so they sorta fit."
Along with nicknames, the band members have traditions as well.
They have pep talks before chanting "Skamaniacs" before their shows, and afterward treat themselves and their fans to food at "Bdubs," or Buffalo Wild Wings.
They also drink Pepsi products "like water" during practice and play to the point where Gielgens' neighbors have had to call the cops for noise control.
"Vaughn shreds way too much, too loudly," Aurich comments lightheartedly. "If Brice has sticks in his hands, he's making beats somehow. And Craig's a 'beast' when he's playing his trombone. We're a pretty loud group, as you can imagine."
R-Jeneration