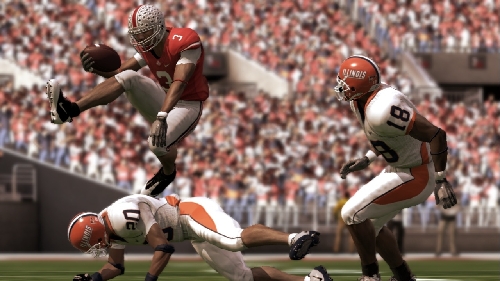 NCAA Football '11" makes college football the way it ought to be in a video game. You call a play effortlessly. You hand off the ball, or pass it — and that transaction goes smoothly.
Then you run with the ball, get tackled or score. And during that whole process, you don't constantly fumble or throw interceptions, as you did in previous games from Electronic Arts.
With "NCAA '11," you just play ball. That sounds like the most obvious thing you'd want from a game. But some years, "NCAA" doesn't deliver. This year, it delivers without real fault.
Frankly speaking, this is the first "NCAA Football" game I can remember that offers perfectly smooth running. I don't even like to run in football games. But "NCAA '11" makes the ground game fun and fluid, a runner's paradise that seems four times more efficient than in previous "NCAA" games.
The excellent running extends to receivers, too. Last year, when you caught a pass, your receiver would often spin in a circle before he would begin to sprint, thereby causing him to be tackled quickly. That was idiotic.
That's not the case this year. And there's more good news.
"NCAA '11" adds dual-stick control, so when you lean your thumbsticks in certain ways, you can control players' feet, and the way they bounce off of defenders. This could be really great or confusing, but I don't use dual-stick control much, and the game still rocks.
Playbooks are more personalized to the way real college teams play, from the spread to the option and beyond.
There's a new dynasty mode. You can build a team from scratch. You also can go online to manage your team and players. And you can play multiplayer online.
The only thing missing is "turbo" running. You can't press a button to run faster. But after three minutes, I didn't miss it. In fact, the run seems better without it, shockingly.
And there are more upskirts of cheerleaders than before. That, my friends, is a true story.
I am going to nitpick only one thing. Like other sports games from Electronic Arts this year, if you rent "NCAA '11" or play a used copy, you'll have to pony up an extra $10 to play it online. If you buy a new copy, online comes for free.
I understand why EA is adding fees. Like the airline industry, if EA can nickel-and-dime enough users, EA stays in the black.
But when you boot up "NCAA Football," you're already asked if it's OK if EA sends you e-mail spam from corporate "partners."
Look, EA, I'm totally sympathetic about the plight of companies in recession. But please stop trying to monetize everything about the game after we've spent $60 on the game already.
Isn't it bad enough that there are outright commercials in "NCAA Football '11" for candy and soda? Is football supposed to make me hungry for sugar?
("NCAA Football '11" by EA retails for $60 for Xbox 360 and PS 3; $40 for PS 2 — Plays very fun. Looks great. Challenging. Rated "E." Four stars out of four.)
Contact Doug Elfman at delfman@reviewjournal.com. He blogs at reviewjournal.com/elfman.
NEW IN STORES
"Clash of the Titans" (Namco) should have been released back in the spring, when the movie it is based on came out. Well, the game did come out in England. But it's only now reaching America.
If you've seen either of the "Clash" films, you kind of know what this game has in store for you.
You portray barefoot Perseus, wearing what looks like a dress (because it's mythical olden dragon times). Bad things are afoot. So you battle sirens, skeletons, harpies and many monsters with your sword, ax and other weapons.
The feel of "Clash" flows in the vein of "God of War" games, since it's based in the same mythical wheelhouse, and comes with similar fighting moves, finishing moves, and battle areas that you can't leave until you've killed every living thing (or living-dead thing) in it.
"Clash" has not earned great reviews. British critics declared it somewhere between thumbs-down and average. IGN.com deemed a few preview levels as "by-the-numbers character action." And GameStop's preview says it's "serviceable if unremarkable." In videos, you can tell illustrations look relatively flat. But I haven't played it.
The game retails for $60 for Xbox 360 and PS 3. It's rated "T" for blood, gore, mild suggestive themes and violence.
— By DOUG ELFMAN