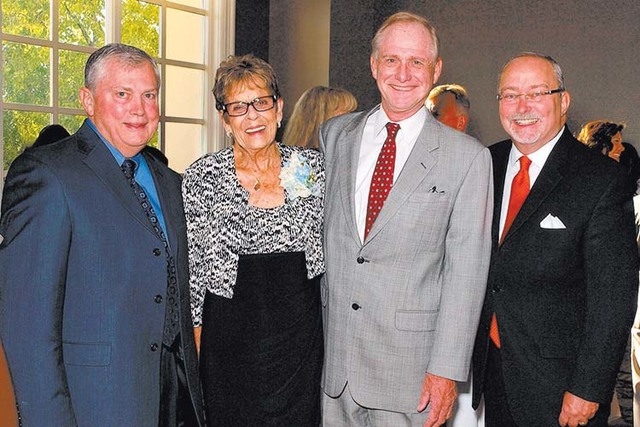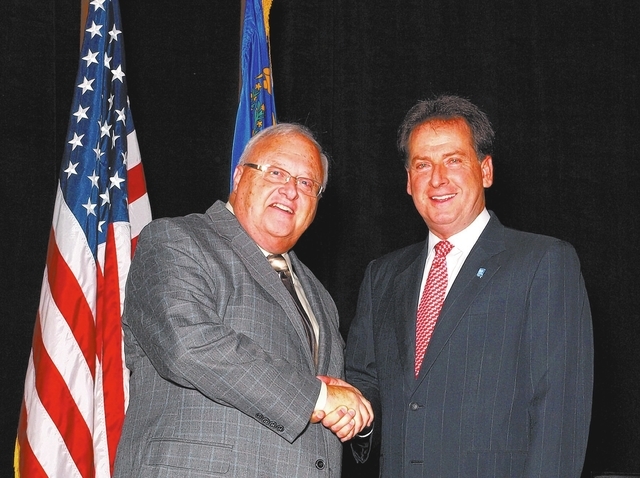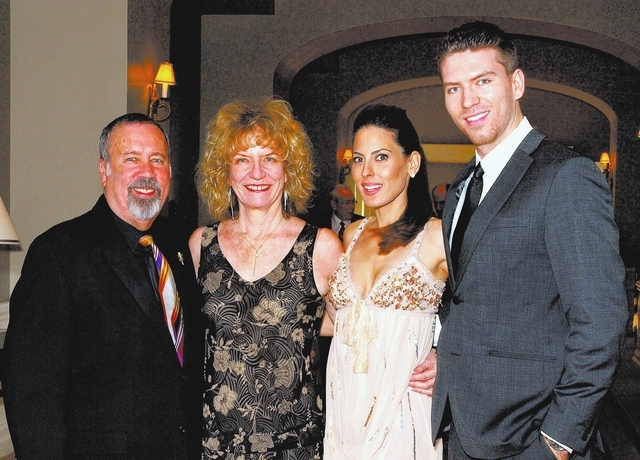 The 19th annual Nevada Broadcasters Association's (NBA) Hall of Fame Gala was held at the Four Seasons on Aug. 9.
The NBA inducted 35 people into its Hall of Fame, which is in its fifth year. The funds raised at the gala will benefit the Linda and Tony Bonnici Scholarship Foundation. The live and silent auctions featured a variety of items, including tickets to the final season taping of "Two and a Half Men" and a tour of Warner Bros. studio.
"It's a privilege for us to say thank you," said NBA President and CEO Robert Fisher, who helped organize this year's gala.
Honorees this year included Robin Leach, former host of syndicated TV show "Lifestyles of the Rich and Famous." He received the inaugural Mark Smith Ambassador Award, named for the former CEO and chairman of the Las Vegas Chamber of Commerce and the first person inducted into the NBA Hall of Fame.
Myron Martin, president and CEO of The Smith Center for the Performing Arts, received the Community Achievement Award and was recognized for helping to create the center and for it reaching the 1 million visitor mark.
The Lifetime Achievement Award was presented to Lawson Fox, longtime general manager of KTVN-TV in Reno and a former NBA board chairman.
D. Ray Gardner received the NBA Pinnacle Award. Gardner and his family are pioneers in Elko Nevada Broadcasting for more than 40 years.
A special award was presented to Lt. Gov. Brian Krolicki, chairman of Nevada's Sesquicentennial Commission.
The first NBA scholarship was awarded to 20-year-old Alexandria Cannito, who graduated this year from University of Nevada, Reno. A graduate of Faith Lutheran Middle School and High School in Las Vegas, she produces the morning news show at a Reno TV station.
"The scholarship has opened so many doors for me," she said. "I've made connections in the broadcast industry I never would have made, and had internships that gave me the training I need for the future."
Marcus Lavergne was one of 15 scholarship winners this year. He attends UNR and is interning with Lotus Broadcasting and is co-host and produces a sports show for ESPN Radio.
"The scholarship allows me to not focus on the financial side and be able to concentrate more on school," said Lavergne, a graduate of Arbor View High School in Las Vegas.
"The bond that recipients have with each other is like an alumni club," said Tony Bonnici, who founded the scholarship program with his wife. "The hardest part is that we don't have enough money for all of the deserving young people who apply.
Linda Bonnici said the scholarships also allow them to nurture fresh young talent to take their places in the broadcast industry.
The first Nevada Broadcasters Association Foundation Scholarship endowed in the name of Jim and Beverly Rogers was announced at the gala. Jim Rogers, a philanthropist, TV station owner and NBA Lifetime Achievement Award recipient, was honored posthumously along with a number of other media trailblazers including Bob Bailey, Barry Garrett and Casey Kasem. Kasem's daughter accepted his award.