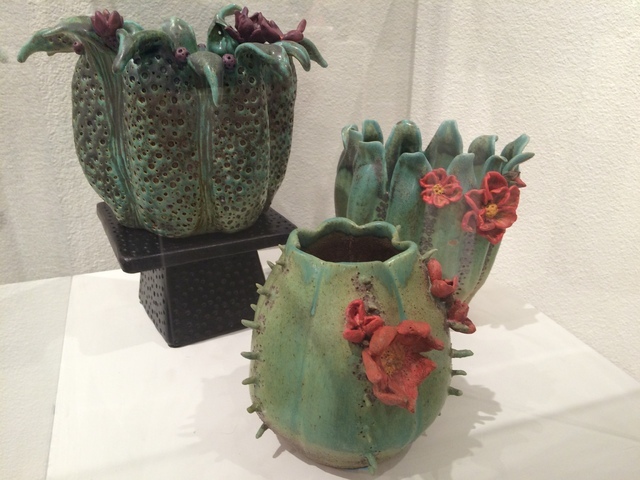 The Nevada Clay Guild is taking things to the next level with its exhibit "All About Clay," planned at the Summerlin Library through Aug. 21.
The guild combines tactile input with artistic expression for its member show, mixing the functional with the artistic. Members employ various techniques such as decorative strips, waves of crafted clay and angled cuts for a sculpted look — all ways to manipulate pieces and up the ante on ceramic art.
The guild was established in 1990 and consists of both professionals and hobbyists. Membership stands at nearly 100. Roughly 70 percent are female, and about 30 percent are professional artists.
"We all share a passion for 'the mud,' " said president Alison Manville, adding that members share a sense of camaraderie. "It is truly a pleasure to see how relationships have formed and the support members share. … by sharing our practiced skills and, sometimes, tricks, we all learn from each other and become better clay artists as a result."
The guild doesn't have a permanent "home," rather meetings are held at locations throughout the valley. It sometimes hosts mini workshops at general meetings as well as offering classes.
Summerlin-area resident Allen Graef is one of the newest members. He was part of a ceramics group in Hawaii before moving to Las Vegas. Besides ceramics, he works in glass, art and wood, having a Master of Fine Arts from Long Beach State University. He also taught ceramics sculpture at Alfred University near Corning, N.Y.
He came to the valley last year and joined the guild soon after. Graef said he intends to offer workshops, sharing his knowledge.
"They're a good group of people," he said, adding there is synergy to working with people intent on the same craft. "I have a lot to offer them. … I've always loved teaching."
He called the guild a good outlet for people interested in ceramics to "get involved and learn new things — good for people who are searching for better ways to do things."
Manville, an east valley resident, has been in the guild for about five years. She works mostly on the wheel and said she enjoys exploring alternative firing techniques.
She said working with clay is a learning curve.
"We always joke that clay will teach you patience," she said. "It's educational and fun and challenging but also very much social. There's always that camaraderie working with people who have a similar interest. You're always learning."
Manville said she'll bounce questions off others and usually will get input that takes her art in a new direction to create something she hadn't thought of doing.
"It's part of the fun of working in this medium," she said.
Since Manville joined, she said she's seen her household pieces become more functional and her creativity develop further so that her artistic pieces stretch her limits.
She said if you mess up, "You just shrug and go, 'It's clay.' You wad it up and start again."
Upcoming guild events include participation in the Farmers Market at The District at Green Valley Ranch, which will be starting back up in September and runs through mid-November. Guild members will rotate each week to offer a better assortment of handmade ceramic art, both functional and decorative.
Several members have been selected through a juried process to exhibit in the Summerlin Art Festival, slated from 10 a.m. to 5 p.m. Oct. 8 and 9 at Downtown Summerlin .
Guild annual dues are $35 for individuals or $45 for families, which includes two adults and two children younger than 18. It is $10 for full-time students. It is actively searching for a space for general meetings, workshops and an art gallery, which would be open to the public.
The exhibit is open during regular hours at the Summerlin Library, 1771 Inner Circle Drive. Call 702-507-3860 or visit lvccld.org.
For more on the guild, visit nevadaclayguild.org.
To reach Summerlin Area View reporter Jan Hogan, email jhogan@viewnews.com or call 702-387-2949.
"All About Clay"
Address: Summerlin Library, 1771 Inner Circle Drive
Hours: The exhibit is open during regular library hours through Aug. 21.
Call 702-507-3860 or visit lvccld.org.
For more on the Nevada Clay Guild, visit nevadaclayguild.org.