New Las Vegas PRIDE Spinners ready for debut in Friday's LGBT parade
October 17, 2016 - 10:18 am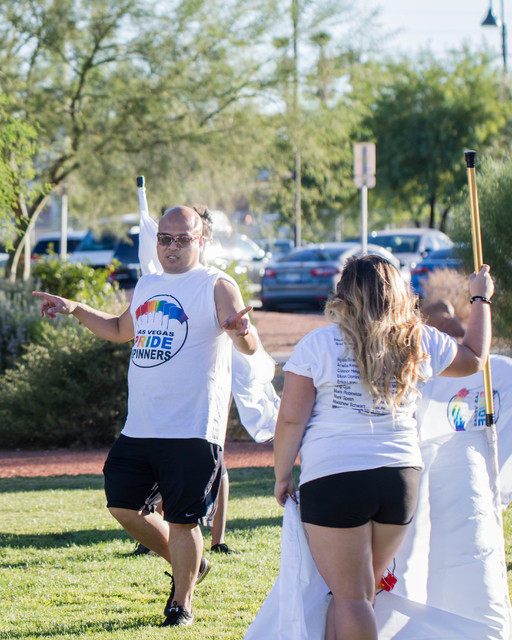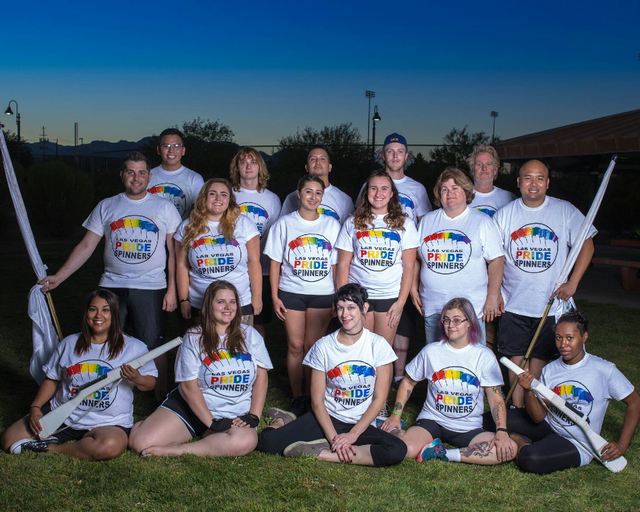 The Las Vegas PRIDE Spinners are the new kids on the nine-block PRIDE parade route.
Spinning flags to the beat of a playlist including Destiny's Child, Kesha, Whitney Houston and Katy Perry's "Waking Up in Vegas," the newly-formed color guard is ready for its debut at Friday's Las Vegas PRIDE Night Parade.
"Our goal would definitely be just to establish ourselves," Las Vegas native and PRIDE Spinners founder Edward Chan said. But the broader goal, he adds, is "to enhance the PRIDE parade and experience and attendance, to boost tourism and bring people awareness of the LGBT comunity in Las Vegas."
Though flag-spinning formations have roots in the military, it has since become a familiar sight on football fields and festive street processions. Traditionally, the color guard dances alongside a marching band with flags and rifles, though some perform separately with pre-recorded music, as the PRIDE Spinners will.
"It's a lot more fun than just dancing, it gives you a little bit more of a challenge, " said 20-year-old PRIDE Spinners member Rebecca Huber.
Chan founded the group this past summer after seeing YouTube videos of color guards marching with Pride parades in New York and Ohio. He began spinning more than 10 years ago, and taught color guards throughout the Clark County School District for several years. While searching for a new opportunity outside of the school system, starting a color guard for the local PRIDE parade struck him as the perfect pursuit.
He asked the Southern Nevada Association of PRIDE Inc. board of directors if such a group existed (it didn't), then put out word on Facebook that he was looking for members, experienced and inexperienced, for the PRIDE Spinners. The group includes 16 Las Vegans and six people from Salt Lake City ranging in ability and age, from 19 to 50 years old.
"So from there it just kind of whirlwinded into rehearsals and now we have a group and a show," Chan said.
Though the group's creation was pegged to this year's PRIDE parade, it plans to continue practicing and performing year-round at various parades and festivals.
Just as Chan started the group looking for an activity, so did many of the participants.
Member Elton Domingcil, now 41, began color guard in high school and joined the PRIDE Spinners primarily to participate in color guard again, though supporting the LGBT community is an added bonus.
"I have a lot of good memories from high school being in color guard," Domingcil said. "It's another form of artistic expression. It's different and unique and fun. It kind of helped being involved in the community, some kind of outreach, and that's a plus."
Huber had four years of color guard experience in high school as well.
"I wanted to be a part of something that had a good meaning," she said.
Contact Sarah Corsa at scorsa@reviewjournal.com or 702-383-0353. Find @sarahcorsa on Twitter.