New library director ready to make a difference
November 29, 2014 - 10:25 am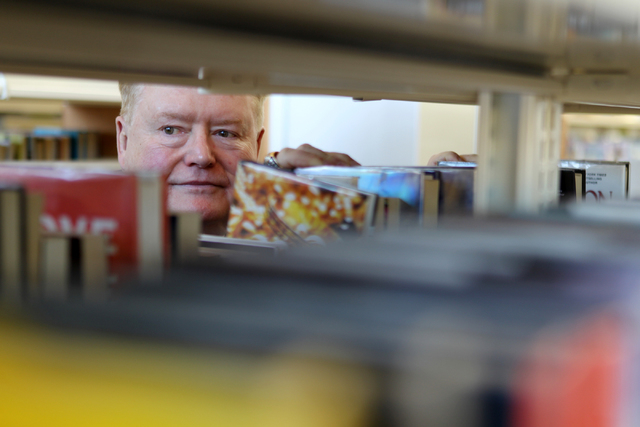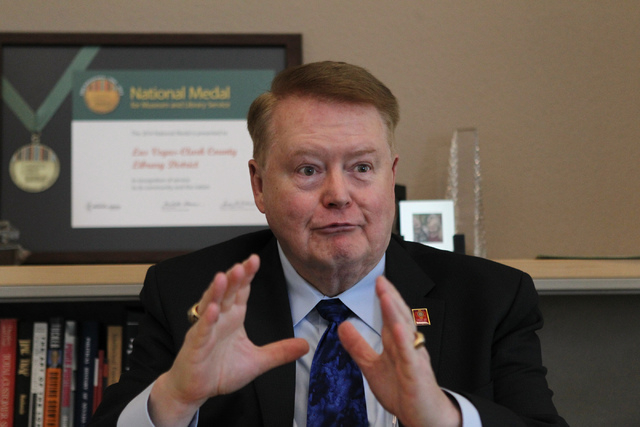 Ron Heezen certainly isn't the only boss who keeps a bowl of candy in his office for visitors. But, unlike most confectionery-wielding bosses, Heezen's candy comes with a price.
Take a piece, and you have to tell him "Hello."
It's a charming custom and one that meshes well with Heezen's management style, which seems to consist of equal parts administrator, forward-thinking technology fan and excited schoolkid.
There's probably more of that last one in Heezen, who on Sept. 2 became executive director of the Las Vegas-Clark County Library District.
In succeeding retired library head Jeanne Goodrich, Heezen takes over leadership of a large and still-growing district that under Goodrich's tenure received the 2014 National Medal for Museum and Library Service from the Institute of Museum and Library Services for the innovative ways it served valley residents during the recession.
Heezen arrives here from the Shreve Memorial Library system in Shreveport, La., where he served as executive director. He also served as director of the Green Gold Library system, composed of 12 parishes in northwestern Louisiana. Other stops on his professional journey include serving as director of the Frisco Public Library in Frisco, Texas, and executive director of the Omaha Public Library in Omaha, Neb.
If your image of a library director — or, for that matter, a librarian — is of a dour, constantly shushing party poop, Heezen is sure to disappoint. He's a friendly guy with a self-effacing manner and a wry sense of humor who can reference in the very same conversation sci-fi author Robert Heinlein, the Hardy Boys, futurist Ray Kurzweil's notion of the singularity and the old game show "Truth or Consequences."
Keiba Crear, chairwoman of the library district's board of trustees, says that what impressed her about Heezen during interviews was his energy and how, during visits to branches here, seeing "how impressed he was with our staff."
Heezen also brings to the district a solid understanding of emerging technologies in libraries, and the ability to meet, and create partnerships with, government leaders, businesspeople and patrons, Crear says.
"I really felt it was important that we had a great leader, someone with high energy that's going to be willing to engage with the public and willing to engage with leaders of the community."
Heezen was just a kid when he developed an appreciation for libraries. Although he was born in Denver, his family moved around often because of his dad's job with the Atomic Energy Commission. By the time he was in the fifth grade, Heezen had lived in Los Alamos, N.M.; Buffalo, N.Y.; Oak Ridge, Tenn.; Albuquerque, N.M.; and then Los Alamos again.
"My mom, I think, got tired of moving so much and said, 'We need to settle down,' " he recalls.
So his father made an interagency transfer into the Air Force, and the family moved to Hill Air Force Base in Utah.
Packing up and moving so often was difficult, Heezen says, but had a benefit.
"While we were in all of these locations, there was always the library," he says. "So, despite the fact that it takes a kid a little while to get new friends, I had the libraries and the books, and that made all the difference in the world."
Not that Heezen imagined becoming a librarian himself. He dreamed of being a writer and, after graduating from the University of Utah with a bachelor's degree in history, he even pursued that dream, trying his hand at writing science fiction and mysteries.
"I had a file of stuff that I never sent off," he says, smiling.
When a friend suggested that he interview for a job at the Salt Lake City library, he gave it a shot. He was hired as a young adult's librarian.
"I started to see kids coming into the library and started to see them engaged in learning," he says. "To me, that was exciting."
Heezen returned to college and earned a master's in library science from Brigham Young University. After five years as a branch manager in Davis County, Utah, he moved on, with positions in library systems in Texas, Nebraska and Louisiana. Along the way, he earned a doctorate in library science from Texas Woman's University.
Throughout his career, Heezen has seen firsthand the continuing evolution of public libraries as they try to serve a public seeking more than old books stored in dusty places.
"Libraries have realized, and librarians understand," he says, "that it's not about what we think is good for the patron, it's about what the patron wants and needs at that stage in their lives.
"The seven most dangerous words in a library: 'But we've always done it this way.' And there's another variation on that, 'But we've never done it that way.' Those are the two things that can kill the future of a library."
When he came to Las Vegas to interview for the director's job, Heezen visited a few library branches and saw staff helping patrons.
"In fact," he says, "I witnessed two elderly people at different libraries — and they had no idea who I was; I didn't introduce myself — (who) walked up to the desk and said, 'I want to thank you for the great service you've just given me.' That, to me, is a goose bumps moment."
Then, at Spring Valley Library, Heezen says, "I saw the (young adult) librarian in a program with 20 teenage boys, and I thought, 'They get it. They understand.' And, so, when I went into the interview process, I was no longer, 'Well, I'm just here in Las Vegas to visit and maybe I'll get a job.' I wanted the position.
"And, based now on what I've seen of the staff, no one has proven that inclination to be incorrect. It's a fabulous system."
He even sees similarities between the Las Vegas-Clark County district and his previous district in Louisiana. There, well-paying jobs in the oil fields could be had with little advanced schooling, and the oil industry insulated the area from serious economic swings until it didn't. So, patrons would turn to the library to help them prepare themselves for new careers and new avocations.
"That sounds a little like the casino industry," Heezen says.
"I have talked to a couple of people from casinos, employees who said they were getting great incomes working at the casinos. But at the same time, they feel like their soul wasn't being satisfied. They weren't finding the kind of growth they wanted in their lives. That's what libraries are all about: helping people find their passion.
"If we can help people discover what their passion is, we've done our job."
Heezen says his first priority here is to listen to the staff.
"These are people who are out there working with the public every day, and sometimes the person who works at the circulation desk will have insights that an administrator will not," he says.
Another priority will be building relationships and partnerships with, government leaders, businesspeople and library patrons,
"I'm a very strong believer in community involvement," Heezen says, "and if we aren't involved in the community, then we've stumbled."
Heezen has been in town for the past few months, but his wife, Candace, will join him here early next year after finishing projects at Kilgore College in Texas, where she works in the office of career services and service learning.
Heezen plainly is happy to be here and happy to be working in a profession that he says can change people's lives.
He recalls that, while working as a young adult librarian in Salt Lake City, he spoke to a class of high school students, reading passages from books and then encouraging them to read the books themselves to see how the stories end.
It turned out to be a detention class, Heezen says, and "I left the class totally depressed. I thought, 'I haven't made a difference in any of these kids' lives,' and, for me, it was about making a difference in kids' lives."
Later that day, after he returned to the library, "up walked a girl who said, 'My name is Regina, my dad drove me here, and I want that book.' I thought, 'Oh, lord, please let me have that book.' "
The library did. He gave it to her.
"The next Friday, right after school, she showed up, (saying), 'My name is Regina, my dad drove me here, and I want to look at another book just like that last one.' I thought, 'OK,' and I found one for her.' I wasn't at work the next week — I had to work Saturday and was off Friday or whatever — and the next Friday, 'My name is Regina, my dad drove me here, where were you last Friday?' "
Regina became a regular and even came to help at the library. About a year and a half later, while Heezen was serving as a branch manager north of Salt Lake City, their paths crossed again.
"In walks this young lady who said, 'I don't know if you remember me, but my name is Regina and my dad drove me here,' " Heezen says.
Over a Coke in the staff lounge, she thanked him.
"I said, 'Thank me for what?' Heezen said. "She said, 'Because of you, I started reading. And, because I started reading, I just got a full scholarship to the University of Utah.'  "
"I just get goose bumps," Heezen says, smiling. "You can help clients every single day and never know what kind of impact you've made on them, but you have a feeling that, at some point you have impacted their lives."
Contact reporter John Przybys at jprzybys@reviewjournal.com or 702-383-0280.