New York-New York preserves 9/11 memorial
September 11, 2011 - 1:01 am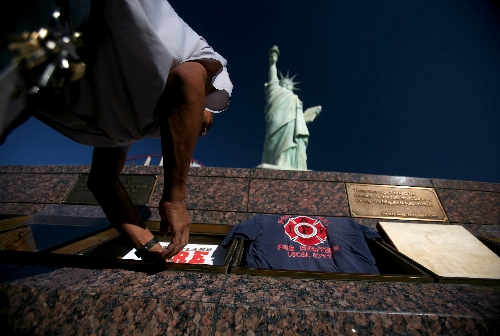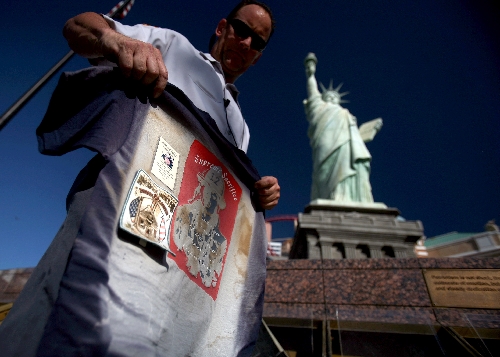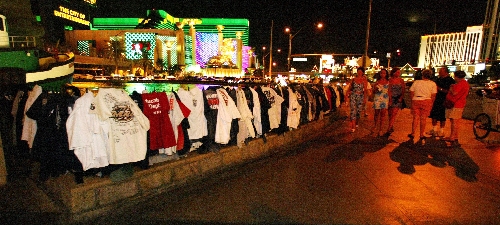 Matt Vehlies, 47, once touched a section of the World Trade Center on display at a fire station because it was a piece of New York.
It made him remember the events of 9/11: The three people he saw jump from the twin towers; the strange triangle-shaped object he couldn't identify near the train station that turned out to be an arm; the pristine white sheet of paper that fluttered around his ankles after drifting down from the 102nd floor of One World Trade Center. The firefighter buddies and acquaintances who died that day.
When he moved to Las Vegas in 2004, Vehlies made a habit of visiting the tribute wall in front of the New York-New York on the Strip. He would scan the granite display, reading messages left as tribute in front of the hotel in the days after 9/11, searching for names he knew. He found several.
It was not lost on him that he — a native New Yorker and volunteer firefighter who was across the street from the World Trade Center on the day that terrorists attacked the United States — visited a themed casino seeking a connection to his friends and his home.
But, to him, the harbor with its tugboat, Statue of Liberty replica and permanent 9/11 display, represented a little piece of New York.
"It's good that it's there. It's something that's needed," Vehlies says. "I think New York-New York did the right thing by keeping it there."
New York-New York hotel representatives haven't identified exactly what came first; flowers or candles, maybe a T-shirt or hat. But at some point on Sept. 11, 2001, a tourist or local, maybe even a hotel employee, paid tribute to the victims of the terrorist attacks in New York City, Washington, D.C., and a field in Pennsylvania by leaving a memento in front of the Strip hotel.
That memento begat another and another until, only days after the historic attack against the United States, thousands of items lined the wrought-iron fence surrounding the themed casino's harbor.
As far as casino representatives and local researchers know, it marked the first time in Las Vegas history that a hotel-casino became a public shrine devoted to a national event. In 2002, the resort worked with the Gaming Studies department of the University of Nevada, Las Vegas to catalog and preserve the artifacts, some of which are displayed in a protective case on the corner of Tropicana Avenue and the Strip.
This was new territory for the hotel. Strip casinos are in the business of entertaining, not preserving history. Casinos, Vehlies says, don't even remind people of the time; why would they remind the public of a national tragedy?
"It's going totally against their grain. They could have taken the shirts and just tossed them," Vehlies says. "It was a class move. That's a casino that just gives a crap."
Hotel representatives never imagined that the New York-New York would become more than just a Strip resort to some people, not when the hotel was being designed or built and especially not after the attacks on 9/11, says MGM International Resorts spokesman Gordon Absher. No one pretends that the themed casinos are real or a true representation of the places they are modeled after.
"We are aware of who we are. We're a casino, a resort. We're a fun place to visit," says hotel President Cindy Kiser Murphey. "Obviously, 9/11 changed the worldview of New York City and that changed our responsibility. We're responsible for representing New York. When it went through that incredible tragedy, it became our responsibility to represent it respectfully."
It's a unique position for a Las Vegas hotel to be in and management is careful about how the hotel's role in the tribute is perceived. Yes, they built and paid for it and are caretakers of it. But the display and what it stands for belongs to the public. You won't see it mentioned in advertising for the property and they don't allow any sort of promotion or political activity surrounding it, Kiser Murphey says.
"I think that we have been very careful from the beginning. It was very, very important for this resort to be respectful and find a way to handle the objects that were left to preserve them for the future," Kiser Murphey says. "First and foremost, we do not market it. We do not have any events regarding it. This is a tribute to the people who are connected to 9/11. We're proud they choose us and we do everything to respect their wishes."
When Vehlies' friend, Mike Tomko, saw the display in 2002, he cried.
Tomko, 53, was a firefighter in Long Island, N.Y., on 9/11. He lost several friends when the twin towers collapsed that day; the events of 9/11 and the rescue and recovery operations are indelibly etched in his memory. It was like a nightmare you can't wake from, he says.
When he moved to Las Vegas in 2002, he gravitated to the ad hoc memorial. At the time, it was still exposed to the elements. Its scope was massive and impressive, he says.
"I could not believe people were coming there to pay their respects," Tomko says of the hotel display. "This was so overwhelming, to see people standing there, reading the shirts, you could see tears in their eyes. It sent chills down my spine." 
On the day Tomko saw the memorial at New York-New York, he decided to hold a tribute to his fallen brothers on the anniversary of 9/11. That first gathering drew about a dozen people, most of them with connections to New York. Last year, the annual tribute attracted more than 350 people. Tomko expects more than 500 this year.
This is not a hotel-sponsored event nor is it a public event. It's not a day for speeches from politicians, he says. This is a moment for him to pay tribute to his friends, tell stories about them and bond with others who have their own memories of 9/11. The resort does not organize the tribute but it supports Tomko and his friends.
Around 6:30 p.m. on Sept. 11, Tomko, Vehlies and the others will gather on the sidewalk in front of New York-New York. At 7 p.m., they will lead a parade across the Brooklyn Bridge replica, pause in front of the tribute wall for a moment of silence and then march through the casino. Their destination is Nine Fine Irishmen, where they will toast their brother firefighters.
"We don't like politicians and we don't like media," Vehlies says. "This is done by firemen for firemen. It's a time to celebrate their lives. We tell the same stories and the same jokes every year but we raise our glasses every few minutes and say a toast. We always promised our friends we'd never forget."
Contact reporter Sonya Padgett at spadgett@ reviewjournal.com or 702-380-4564. Follow @StripSonya on Twitter.
'This Means Something'
Ten years after 9/11, people are still leaving tributes in front of the New York-New York hotel on the Strip. To date, 5,522 items have been cataloged and stored by Dave Schwartz, UNLV's Gaming Studies Research Center coordinator.
The majority of items are T-shirts, Schwartz says, left by police or firefighters from around the world. Many are signed by entire firefighting battalions. Other items were left by family members who lost a loved one.
One T-shirt reads: "In Memory of Capt. Carl DiFranco. We miss you and love you. The DiFranco family, Staten Island. 10-24-01."
Another shirt simply reads: "Thank you USA. Spanish Harlem Ladder 43, FDNY." On the right side, someone illustrated a pierced, crying heart.
"I think it just says something interesting about Las Vegas that so many people brought these shirts here and thought about it before they came," Schwartz says. "Clearly this means something to people."