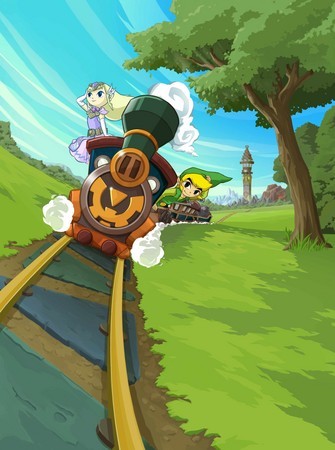 At the beginning of "The Legend of Zelda: Spirit Tracks," you (a boy-knight) walk into what appears to be a house of ill-repute. There, a vixen slinks about in a bikini top and washcloth and warns you away thusly:
"This isn't a place for kids, kid. Now run home to Mommy."
That adult exchange is funny and rare in this hand-held DS version of "Zelda," which is itself no place for an adult, even though adult critics and adult fans of the "Zelda" series sing its praises online.
I don't even see how this heavily hyped game is interesting to older kids, since it's barely more complex in creativity or visual appeal than 1991's "Legend of Zelda" for the Super Nintendo. Which was great — 18 years ago.
The plot: You play as Link, the green-suited elflike boy. You live in an old kingdom crowned by young Princess Zelda. Her kingdom is overtaken by evil Chancellor Cole. Cole kills Zelda within minutes of the game's start. Yes, kills.
But Zelda's spirit lives on as a bubble, sometimes as a ghost, sometimes as a spirit inside an armored suit that you (the gamer) control by pointing it here and there.
So you and spiritly Zelda spritely travel towers, forest, villages and other kingdom locales by foot and by ghost train. Can Link and Zelda defeat Cole and reclaim her body to live again?
The best way to think about "Spirit Tracks" is to remember how "Zelda" looked and played two decades ago. Characters look tiny, like comprehensible collections of dots. Settings are glorified maps. You dagger-stab innocent trees and bushes to win jewels out of them. You dagger-stab small and innocent forest creatures to win jewels out of them.
You solve the same old, tired kinds of "Zelda" puzzles to get through maps. To get across one small bridge, you throw a flower-bomb at a button, which extends a bridge across a pass. You sprint across this bridge to throw another flower-bomb against a wall, to create a hole to climb through.
Ugh.
There also are long, insufferable cinema scenes to sit through — or scenes that come as close to cinema as this little Nintendo DS title attempts; they are a series of cartoon cells, more or less, featuring dialogue pop-ups to read.
Meanwhile, look at all the splendorous DS games out there, such as "Risk"-esque "Civilization Revolution," the morally bankrupt "Grand Theft Auto: Chinatown Wars," the evolutionary invention of "Scribblenauts" and many other titles.
That is, even the computer-light DS offers evolved games full of wonder and creativity and newness and (above all else) addictively fun game play.
I fear "Spirit Tracks" wouldn't grab me even if it didn't suffer a lackluster fighting technique (you twist a stylus on the DS touchscreen) or its sloppy method to make characters walk (you push the stylus on the touchscreen).
I welcome "Zelda" fans and Nintendo fanboys to tell me I'm dumb. I acknowledge I am childless, and children are a target demographic. Feel free to take that into account. But childless or not, I'm childlike. I love a good adventure. I'm confident this is not one.
("The Legend of Zelda: Spirit Tracks" by Nintendo retails for $35 for DS — Plays mediocre, like a very old Super Nintendo game. Looks passable for the DS. Moderately challenging. Rated "E 10+" for mild fantasy violence. One star out of four.)
Contact Doug Elfman at delfman@reviewjournal.com. He blogs at reviewjournal.com/elfman.
NEW IN STORES
"Guitar Hero: Van Halen" is yet another band-specific disc for you "Guitar Hero" gamers. This one comes with 25 Van Halen tunes, plus 19 songs by other rockers.
As usual with "Guitar Hero," you can play this disc with four people: a singer, a drummer, a guitarist and a bassist.
But you can't drop in or out, as you can in the new "Guitar Hero 5."
You can play as David Lee Roth or Eddie, Alex or Wolfgang Van Halen. You can't play as Sammy Hagar, Michael Anthony or Gary Cherone.Among Van Halen songs are no Van Hagar hits: "And the Cradle Will Rock," "Beautiful Girls," "Dance the Night Away," "Everybody Wants Some!!" "Hot for Teacher," "Ice Cream Man," "(Oh) Pretty Woman," "Jamie's Cryin'," "Jump," "Panama," "Runnin' with the Devil" and "You Really Got Me."
Among non-Van Halen songs: Billy Idol's "White Wedding," Fountains of Wayne's "Stacy's Mom," The Offspring's "Pretty Fly (for a White Guy)," Queen's "I Want It All" and Foo Fighters' "Best of You."
The Tuesday release retails for $60 for Xbox 360 and PS 3; $50 for Wii; $40 for PS 2. It's rated "T" for mild lyrics and mild suggestive themes.